Samsung Reveals Galaxy Note 2, Plans U.S. Version
Article Comments 43
Aug 29, 2012, 12:00 PM by Eric M. Zeman
updated Aug 29, 2012, 12:01 PM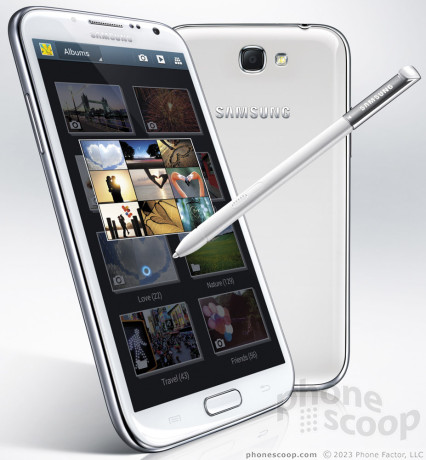 Samsung today announced the Galaxy Note 2, which offers a larger screen than the original in a design that closely resembles the Galaxy S III. The Note 2 has a 5.5-inch Super AMOLED display with 1280 x 720 pixels. The original Note had a 5.3-inch display with 1280 x 800 pixels. The pixel measurements of the Note 2 give it a 16:9 ratio. Samsung has improved the S Pen itself (longer and thicker) as well as the S Pen apps and features on the device. For example, Air View allows users to hover with the S Pen over an email, image gallery, or video to preview the content without having to open it. It also adds Quick Command, which lets users open frequently used apps with a flick of the S Pen. The Note 2 will be driven by a quad-core Exynos processer at 1.6GHz per core mated to 2GB of RAM. The Note 2's main camera rates 8 megapixels and can capture 1080p HD video, while the user-facing camera rates 1.9 megapixels. They use back-side illumination for better low-light performance. Connectivity options include HSPA+ at 21Mbps and LTE, though Samsung has yet to specify which spectrum bands the Note 2 supports. The Note 2 will also include Bluetooth 4.0, Wi-Fi, GPS, NFC, MHL, a bevy of sensors and a 3,100mAh battery. Last, the Galaxy Note 2 will come in 16GB, 32GB, and 64GB variants, and offers a microSD card slot for additional storage. The device will ship with Android 4.1 Jelly Bean. The Galaxy Note 2 will ship in European markets first, but Samsung Mobile says a version for U.S. carriers will debut before the end of the year.
source: Samsung
At the Samsung Mobile Unpacked event held today at IFA, in Berlin, Samsung introduced the GALAXY Note II, a whole new level of innovation for the GALAXY Note category. The new Samsung GALAXY Note II enables unique experiences in personalized and expressive content creation, making it the ultimate smartphone for on-the-go creativity.
"Last year at IFA, we launched the GALAXY Note, which opened a new category of smart mobile devices. This year, again at IFA, I am proud to announce the GALAXY Note II, which will encourage users to 'unleash their inner creativity.' With a perfect viewing experience and unique and differentiated features, users can discover information and capture their ideas faster, express thoughts freely and manage tasks more efficiently. For anyone who wants to be creative, expressive and unique, the Samsung GALAXY Note II will be the ideal device, allowing users to live a life extraordinary," said JK Shin, President of IT & Mobile Communications Division at Samsung Electronics.
Since the first introduction of the GALAXY Note category, Samsung has continued to enhance and expand the GALAXY Note product experiences. In May 2012, Samsung introduced 'Premium Suite,' a software upgrade which provided enhanced user experiences. With the Ice Cream Sandwich OS upgrade, Samsung offered innovative new features such as Shape Match and Formula Match, providing a new way for organizing and expressing ideas in their personal and professional life. Also in August, Samsung expanded the category further with the GALAXY Note 10.1, which has a 10.1-inch large screen, a Multiscreen feature for the ultimate multitasking, and enhanced features for users' productivity, creativity and learning abilities. With further enhancements, Samsung GALAXY Note II will help users unleash their inner creativity by letting them discover information faster, capture ideas, and express them in a more organized and efficient manner.
Perfect viewing experience
The GALAXY Note II features a 5.5" (140.9mm) HD Super AMOLED screen, providing breathtaking visuals and crystal clear detail. Its 16:9 screen ratio ensures an immersive and enriched cinema-like video viewing experience, perfect for watching HD videos on-the-go. Its larger screen allows users to see content clearly and vividly, with much enhanced readability. In addition to the stunning content consumption experiences on a larger screen, users will also be able to accomplish more tasks efficiently and create content freely on-the-go, as the GALAXY Note II comes with a thinner and portable body.
Easy multitasking
Air View allows users to hover with the S Pen over an email, S Planner, image gallery, or video to preview the content without having to open it. This feature enables users to quickly search and see more information in one view without screen transitions.
Thanks to the breadth of the GALAXY Note II's amazing viewing experience, a feature called Popup Note extends the concept of Popup Play, which lets users open an S Note instantly as a pop-up window anywhere on the screen. For example, when a user pulls out the S Pen during a phone call, the S Note application automatically pops up on the screen, allowing users to jot down a quick note.
In addition, the device's new gesture pad feature, called Quick Command, lets users quickly activate frequently used apps with the S Pen. The command pad appears when a user just swipes upward on the screen with the S Pen button pressed. Users can quickly send an email, make a call, or search a location as they draw pre-registered marks on the command pad or register a unique mark to allow for quick and easy access.
Furthermore, users will be able to share their experiences with others quickly and easily using Screen Recorder. It allows users to record a whole sequence of actions taken on their screen — a demonstration of how to use an application, for example — and then share it with friends for comment, or just for fun.
Amazing expression tools - Advanced S Pen & S Note
The new S Pen is longer, thicker and ergonomically designed for the perfect grip. Therefore, it provides a more precise, comfortable, and natural writing and drawing experience.
The S Pen's advanced features also provide enhanced capabilities to capture ideas and inspirations instantly, and to combine handwriting with any digital content directly on the screen. By simply pressing the dedicated S Pen button, the S Pen magically recognizes that users want to clip or edit the selected content on the screen. The Easy Clip feature allows users to instantly outline and crop any content on the screen in any shape to save, share or paste. Once done cropping the image, users can freely edit the cropped content through coloring, shading, or their own personal handwriting. It is quick and easy.
Another amazing expression feature called Idea Visualizer allows users to easily add illustrations by handwriting keywords on the S Note. It provides illustration images that match the handwritten keywords. It's a fancy illustration match function that will allow users to express, organize and visualize ideas in a more innovative and creative way. Users can even customize and add in their own illustrations library.
Powerful Performance
Powering content creation, sharing and multitasking capabilities, the GALAXY Note II comes with the latest hardware technologies. A mighty 1.6GHz Quad-Core processor and HSPA Plus or 4G LTE connectivity delivers easy multitasking, lightning-fast screen transitions, powerful browser performance, and minimal app load time. The GALAXY Note II is powered by Androidâ"¢ 4.1, Jelly Bean. This brings stunning graphical capabilities and an upgraded Google Now service, including new features such as contextual search, to the GALAXY Note II. The memory options are 16 GB, 32 GB, and 64 GB with an expandable micro SD memory slot. Thanks to a 3,100mAh battery, users can enjoy multimedia content, always be productive on the go, and capture ideas whenever, wherever without suffering from power limitation.
The GALAXY Note II comes with an 8 megapixel rear-facing and 1.9 megapixel front-facing camera with HD video recording. The camera has great features like Buddy Photo Share, Burst Shot and Best Photo, which were introduced on the GALAXY S III earlier in the year. In addition to that, the GALAXY Note II features a unique camera function called Best Faces. Best Faces allows users to choose the most preferred face or pose of each person from group portrait photos. Users can also personalize photos by leaving handwritten notes on the backside of a photo using the S Pen. Handwritten Photo Notes can be shared with others in jpg format.
Available in Marble White or Titanium Gray color options, the Samsung GALAXY Note II is set to launch in October starting in major European, Asian, and Middle East markets.
The Samsung GALAXY Note II will be on display at the Samsung booth # 20 at IFA 2012 from Aug 31 through Sep 5. For more information on GALAXY Note II, please visit www.samsungmobilepress.com.
Full details, video content and product images are available at Samsung's IFA 2012 microsite: http://www.samsungifa2012.com or mobile site: m.samsungifa2012.com as well.
A bigger screen... but a lower resolution?
I'm sorry, huh? 🤣
A higher res screen probably would have pushed the price point above what they wanted. Does it really matter?

It's a 720P screen, have you ever been watching a blu-ray or movie at 720P and thought, wow, those pixels are way too large? Probably not...
(continues)
Obviously, they're trying to fit the resolution to a standard. And if 720 p resolution looks good on a 42" TV, why wouldn't it look good on a 5.5" screen? Maybe they're not breaking the mold here, but that certainly wouldn't stop you from buying an iP...
(continues)
Awesome
This is going to be such an awesome device. I must have one. Who was the company that doesn't innovate again?
Aaahh..but you misunderstand, creating a brand new form factor, a little too big for a smartphone but too small for a tablet, isn't 'innovative', real innovation consists of taking last year's iPhone model, adding a slightly faster processor and a lon...
(continues)
"a version for U.S. carriers will debut before the end of the year."
Will they release it with a dual core like they did the SIII or put in the quad core? Also will they release it with the 64GB model or release later just as the SIII as well along with the black model?
This is not the only device with a stylus
My brother-in-law bought a stylus for his Iphone because he is a hunter and wears gloves during the fall and winter. He says the stylus is amazing tool when he is out hunting because he can text and call without taking his gloves off. The stylus works for all capacitve screens.
Almost true. You need to get a special stylus for a Capacitive screen if a stylus was something that your phone did not support before. The stylus would be made of metal, or the body of it would be metal, which would transfer your skins electrical si...
(continues)
What a difference!
I remember when the Note was originally announced it seemed like everyone here at Phone Scoop was bashing it...talking about how stupid it was to have something that is too big to be a phone and too small to be a tablet...

But it turns to have been a huge hit....and now it seems like everyone here at Phone Scoop is talking about how awesome the Note is and how they want the Galaxy Note II....

It seems everyone has changed their tune...or at the least doubters have been silenced... 😎
So...Big Red??? Is Vz ever going to get this phone?? What happened to the Journal?!!
I wonder if Sprint is finally going to get this....
Sprint receives almost every other major Samsung device - I wonder if they'll finally jump on this one too?
OMG ! Please let this be the Sprint line up! 🤤