Samsung Galaxy Note II (GSM)
Info Photos News Forum 100+ Reviews 16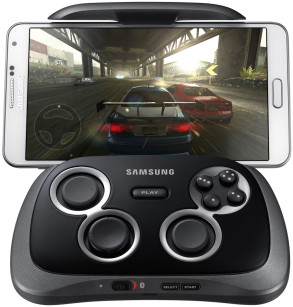 Samsung today announced the GamePad, a gaming accessory for its Android smartphones. The GamePad resembles a gaming control unit from today's living room gaming consoles. It supports a number of Samsung smartphones, cradling devices with screens ranging from 4 inches to 6.3 inches. It connects to smartphones via Bluetooth and an associated application. The GamePad provides physical controls for games, and connects to TVs through an HDMI cable or AllShare Screen Mirroring. The GamePad requires Android 4.3 Jelly Bean and Samsung recommends it be used with devices such as the Galaxy S III and S4, and the Note II and Note 3. The GamePad includes support for NFC for easy device pairing. The Mobile Console app for the GamePad is available for download through the Samsung App store. The Samsung GamePad is launching first in European markets with others to follow in the coming weeks. Samsung has not shared specific plans to offer the GamePad in the U.S. yet.
---
Samsung today announced that its older smartphones can now interact with the Galaxy Gear smartwatch. Specifically, the Android 4.3 system update, which is being pushed out to some devices in other countries, enables compatibility between the Gear and the Galaxy S4, S III, and Note II. A separate, non-system level update will be delivered to the Galaxy S4 mini, S4 Active, Mega 5.8, Mega 6.3, and S4 zoom that enables the Gear. This separate update will be pushed out beginning later this month. Timing for each device will vary by country and carrier.
---
T-Mobile today announced a promotion that will allow customers to purchase the Samsung Galaxy Note 3 for $0 down. T-Mobile typically asks for about $100 down on most flagship devices. The Note 3 carries a retail price of about $700. With no downpayment, however, T-Mobile customers who buy the Note 3 will need to make 24 monthly payments of $29.50, which totals $708 over the course of two years. T-Mobile is offering the same $0 option for the LG G2, Samsung Galaxy S4, and Galaxy Note II. The monthly costs for these phones are $25, $25, and $24, respectively. T-Mobile didn't say how long the promotion would run.
---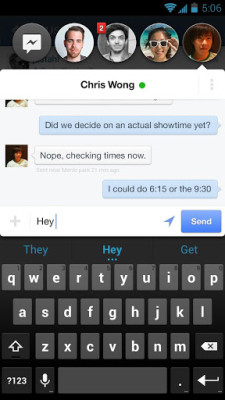 Facebook today made Facebook Home, its new launcher and user interface overlay, available to select Android smartphones. Facebook Home replaces the stock launcher on the device with one that presents Facebook content, such as the news feed, on the home screen. Facebook Home is preinstalled on the HTC First, which also happens to go on sale today from AT&T for $99, but it can also be installed on the HTC One X, One X+, One, and Samsung Galaxy S 3 and Note II. Separately, Facebook also updated the Facebook Messenger application for Android devices. The revised Messenger app carries over one of the main features of Facebook Home, called Chat Heads (pictured). With Chat Heads active, Android device owners can keep conversations with friends always at hand by placing a little icon with the friend's head in it on the home screen. Both Facebook Home and Facebook Messenger are free to download from the Google Play Store.
---
T-Mobile today announced that its variant of the Samsung Galaxy Note II will receive a maintenance update that enables multiscreen functionality. The update, which also fixes bugs, will be pushed out over the air and via Kies beginning December 19.
---
Samsung today provided information about a software update for the Galaxy S III. The Premium Suite is an add-on that includes a handful of new features such as a split-screen mode similar to the one on the Galaxy Note II. This will let the GSIII operate two different apps at the same time, each appearing in its own window on the display. Other features of the Premium Suite include better control over browser font size, contextual awareness (opens music app when headphones are plugged in, etc.), and easier photo sharing via NFC. The Premium Suite is being rolled out to devices in other markets around the world first. U.S. carriers have not indicated when they might make the update available to their own customers.
---
Apple has filed a request with the U.S. District Court for the Northern District of California in an attempt to add six more Samsung devices to an existing lawsuit against the Korean company. The new devices are the Galaxy S III, Galaxy Note II, Rugby Pro, and Galaxy III Mini, as well as the Galaxy Tab 8.9 WiFi and Galaxy Tab 2 10.1. Apple alleges that these newer devices infringe on many of the same patents it accused Samsung of violating in a lawsuit it filed in February of this year. Apple said that if it isn't allowed to add these device to the existing case, it will be required to file an entirely new lawsuit. This is a separate case from the one that delivered a guilty verdict against Samsung in August of this year.
---
T-Mobile USA today made the Samsung Galaxy Note II available for sale via its web site. The Note II, which features a 5.5-inch display, quad-core processor, and 8-megapixel camera, is available at two separate price points. Customers looking for a traditional two-year contract will need to pay $369.99 after a mail-in rebate for the Note II. Alternately, customers wishing to subscribe to one of T-Mobile's Value Plans can make a $249.99 downpayment on the Note II, followed by 20 monthly payments of $20 on their bill via T-Mobile's Equipment Installment Plan (EIP).
---
T-Mobile today announced its initial batch of handsets compatible with the new Isis mobile payments service are the Samsung Galaxy S III, Galaxy S Relay 4G, and the Galaxy S II. Owners of these handsets in the trial markets of Austin and Salt Lake City can go to their local T-Mobile store to receive the special SIM card needed to activate Isis. T-Mobile expects the Galaxy Note II and the HTC Amaze 4G will be Isis compatible by the end of the year. Isis lets Android smartphone owners make tap-and-go payments with their handsets at select retailers.
---
Isis has confirmed that its mobile payment service will finally get off the ground in the coming days. "Isis will be launching in Austin and Salt Lake City on Oct. 22. By year end, as many as 20 Isis Ready handsets are expected to be in market. We look forward to sharing more details on Oct. 22," the company said in an email sent to The Verge. Isis was expected to launch its mobile payment service earlier this year, but faced delays. Isis didn't say if it will launch across all its carrier partners (AT&T, T-Mobile, Verizon) simultaneously, or if there will be a staggered launch. Isis also didn't specify what handsets will work with the service. An Isis application recently appeared in the Google Play Store, though it can only be seen by T-Mobile-branded smartphones. In August, a software update distributed to the Samsung Galaxy S II added Isis compatibility.
---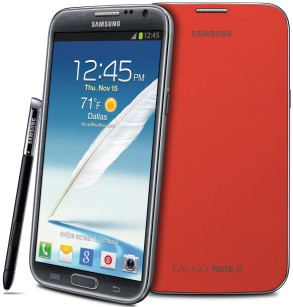 Samsung today announced that AT&T, Sprint, T-Mobile USA, U.S. Cellular, and Verizon Wireless will all sell their own variants of the Galaxy Note II. Samsung said that availability and price will be announced by each carrier separately, though it noted that all the carriers will offer the Note II by mid-November. It will run on the LTE 4G networks of AT&T, Sprint, U.S. Cellular, and Verizon Wireless, as well as the HSPA+ network of T-Mobile USA. The Note II takes the design language of the Galaxy S III and expands it to include a 5.5-inch display. It has a 1.6GHz quad-core Exynos processor, a redesign S Pen, and expanded S Pen apps.
---
The Samsung Galaxy Note II doesn't have any U.S. carriers yet, but Phone Scoop spent some time with it anyway. Here are our initial impressions of Samung's latest phablet.
---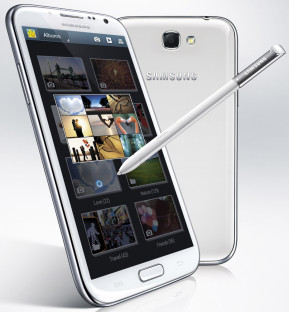 Samsung today announced the Galaxy Note 2, which offers a larger screen than the original in a design that closely resembles the Galaxy S III. The Note 2 has a 5.5-inch Super AMOLED display with 1280 x 720 pixels. The original Note had a 5.3-inch display with 1280 x 800 pixels. The pixel measurements of the Note 2 give it a 16:9 ratio. Samsung has improved the S Pen itself (longer and thicker) as well as the S Pen apps and features on the device. For example, Air View allows users to hover with the S Pen over an email, image gallery, or video to preview the content without having to open it. It also adds Quick Command, which lets users open frequently used apps with a flick of the S Pen. The Note 2 will be driven by a quad-core Exynos processer at 1.6GHz per core mated to 2GB of RAM. The Note 2's main camera rates 8 megapixels and can capture 1080p HD video, while the user-facing camera rates 1.9 megapixels. They use back-side illumination for better low-light performance. Connectivity options include HSPA+ at 21Mbps and LTE, though Samsung has yet to specify which spectrum bands the Note 2 supports. The Note 2 will also include Bluetooth 4.0, Wi-Fi, GPS, NFC, MHL, a bevy of sensors and a 3,100mAh battery. Last, the Galaxy Note 2 will come in 16GB, 32GB, and 64GB variants, and offers a microSD card slot for additional storage. The device will ship with Android 4.1 Jelly Bean. The Galaxy Note 2 will ship in European markets first, but Samsung Mobile says a version for U.S. carriers will debut before the end of the year.
---