Samsung Galaxy Express
Info Photos News Forum 9 Reviews 3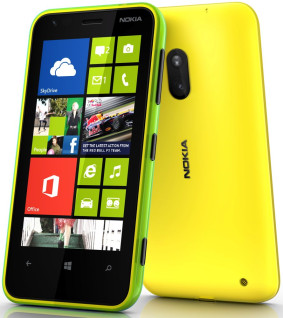 Aio Wireless, a subsidiary of AT&T, today launched its new, no-contract wireless service in the U.S. The wireless network is first available in Houston, Orlando, and Tampa, and will gradually expand across AT&T's footprint around the U.S. over the course of the next year. Aio offers unlimited talk, text, and data plans that range from $35 to $70 per month to feature phones, smartphones, and tablets. Data speeds will max out at 4Mbps over AT&T's HSPA+ 4G network. In addition to the handsets it sells, Aio will also provide service to people who bring in their own, unlocked devices. One of the first devices offered by Aio is the Nokia Lumia 620 (pictured). The Lumia 620 is a Windows Phone 8 smartphone that has a 3.8-inch screen, 5-megapixel camera with 720p HD video record, and Nokia-exclusive applications. It costs $179.99 and does not require that customers sign a contract. Aio offers a handful of other smartphones, including the Samsung Galaxy Express for $249.99, the Samsung Galaxy Amp for $99.99, the ZTE Prelude for $49.99, and the Apple iPhone 4/4S for prices ranging between $349.99 for refurbished models to $499.99 for new models. Feature phones offered by Aio include the Samsung Denim for $29.99 and the ZTE Atair for $49.99. Aio hopes to compete with other prepaid brands, such as Sprint's Virgin Mobile and T-Mobile's Ultra Mobile.
---
AT&T today said Samsung Galaxy Express owners can expect to see their devices update to system Android 4.1 Jelly Bean in the coming days. The update adds the usual Jelly Bean enhancements, including Google Now. The free update can be installed over the air.
---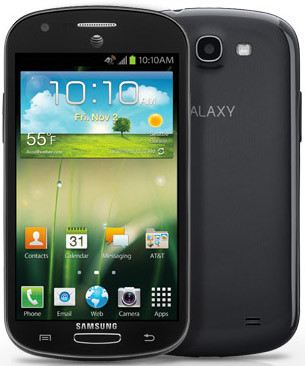 AT&T today announced that the Samsung Galaxy Express will reach AT&T's retail stores and web site beginning November 16. This mid-range Android smartphone runs Ice Cream Sandwich and includes a 4.5-inch Super AMOLED Plus display, 1.5GHz dual-core processor, 2,000mAh battery, NFC, memory card slot, and 5-megapixel camera. It will cost $99.99 with a new two-year contract. AT&T is also releasing the Liberate MIFi mobile hotspot on November 16. It will cost $49.99 with a new two-year agreement. It has a touch screen display and offers 11 hours of continuous LTE 4G connection time.
---
The Samsung Rugby Pro is a rugged Android smartphone and the Galaxy Express is a smaller brother to the Galaxy S III. Read on for Phone Scoop's first impressions.
---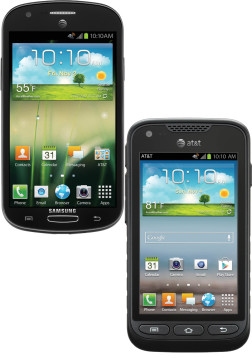 Samsung and AT&T today announced the Galaxy Express and Galaxy Rugby Pro Android smartphones. Shared features of these two devices include Android 4.0 Ice Cream Sandwich, LTE 4G, and 5-megapixel cameras with video capture.
Express: This bar-style phone has a 4.5-inch Super AMOLED Plus display, 1.5GHz dual-core processor, and 2,000mAh battery.
Rugby Pro: This mil-spec rated phone includes a 4-inch WVGA Super AMOLED Display, protection from water, shock, and dust, and encryption and EAS corporate email support. The Rugby Pro can also be used with AT&Ts push-to-talk service.
AT&T also announced that it will soon offer the Galaxy Note II smartphone and the Galaxy Tab 2 10.1 tablet. All of these devices will be available from AT&T in the coming months. Pricing was not disclosed.
---