Hands-On: Samsung Rugby Pro and Galaxy Express
Rugby Pro Galaxy Express Comments 3
Oct 4, 2012, 6:58 PM by Eric M. Zeman and Rich Brome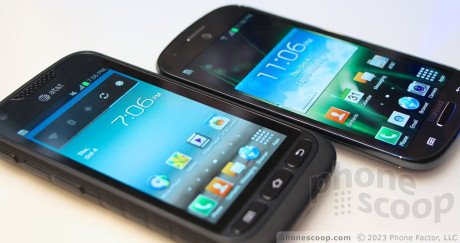 The Samsung Rugby Pro is a rugged Android smartphone and the Galaxy Express is a smaller brother to the Galaxy S III. Read on for Phone Scoop's first impressions.
Advertisements article continues below...
Just because you need a rough-and-tumble device doesn't mean you can't have a good smartphone. The Galaxy Rugby Pro from Samsung is a high-end rugged phone that can take a beating even though it offers some refined features.
The first thing you'll notice is that the device is a bit beefy. This is part-and-parcel to the rugged lifestyle. It's made of strong plastics and materials that are meant to take a beating and keep on working. It feels solid has heck. I actually smashed it on the counter at the event and the phone didn't even blink. Yeah, it's tough.
The feel of the phone is quite good. It's not a slender, dainty thing, but that's fine. The strength of the materials is appealing. I found the phone easy to hold and use, though the thick profile means it won't slip into a pocket so easily.
Because rugged devices are often used by dudes who might be wearing gloves, the controls are large and blunt. They stick out, are easy to find, have good travel and feedback, and simply work as buttons are meant to work. They shoot for function over form.
You'll notice a screw on the back cover of the Rugby Pro. That screw holds the battery cover in place. It needs to be rotated about 180 degrees to release the battery cover, which fits snugly over the battery. This design is meant to help keep water out of the Rugby Pro. Same goes for the large rubber flaps that cover the headphone and microUSB ports. These flaps need to be pried out with a thumbnail. It can be irritating if you listen to music often, but such is the price of water resistance.
Looking at the display, you'd never know it was on a rugged device. It's bright, sharp, and colorful, just as most other Galaxy-branded smartphones out there.
The user interface is the same TouchWiz-cum-Android 4.0 Ice Cream Sandwich software that we've seen on the Galaxy S III and several other phones from Samsung recently. It works, it's organic, it makes dripping and leaf sounds rather than bleeps and blurps. The UI worked extremely well and was just as fast as the UI I've seen on other Galaxy devices.
It's a hunk of a phone, but one that serves a purpose and does what it is supposed to.
'Wiz-cum-'Cream
Well, that's an interesting UI/OS combination. 🤣
A rather unfortunate wording I think....
🤣

I wonder what Rich and Eric were looking at together when typing this up..