Samsung Outs Galaxy Express and Rugby Pro for AT&T
Article Comments 3
Sep 28, 2012, 9:59 AM by Eric M. Zeman @zeman_e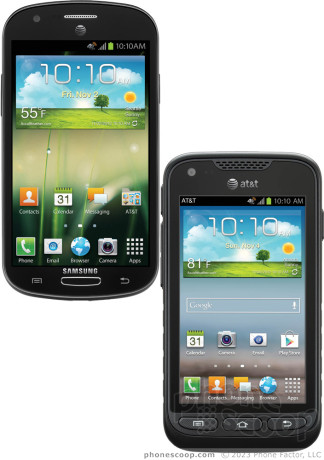 Samsung and AT&T today announced the Galaxy Express and Galaxy Rugby Pro Android smartphones. Shared features of these two devices include Android 4.0 Ice Cream Sandwich, LTE 4G, and 5-megapixel cameras with video capture.
Express: This bar-style phone has a 4.5-inch Super AMOLED Plus display, 1.5GHz dual-core processor, and 2,000mAh battery.
Rugby Pro: This mil-spec rated phone includes a 4-inch WVGA Super AMOLED Display, protection from water, shock, and dust, and encryption and EAS corporate email support. The Rugby Pro can also be used with AT&Ts push-to-talk service.
AT&T also announced that it will soon offer the Galaxy Note II smartphone and the Galaxy Tab 2 10.1 tablet. All of these devices will be available from AT&T in the coming months. Pricing was not disclosed.
I wish we had more options
I wish we had more rugged smart phone options.. What i wouldnt give for a "life-proof" Galaxy s3......
push to talk?
i had no idea att still had the push to talk service.
It is there, but almost no one uses it, and when I was an at&t I never had a single person ask me to add PTT to their plan.....and I didn't even know what the pay per use rate was....