Samsung Galaxy Rugby Pro
Info Photos News Forum 41 Reviews 1
AT&T and Samsung have made the Android 4.1 Jelly Bean update available to the Galaxy Rugby Pro. The update is being pushed out over the air in phases, but can also be installed via Samsung's Kies software. In addition to the standard Jelly Bean features, the software update adds more effects for the camera, Pop-Up Play picture-in-picture video playback, Easy Mode for simpler operation, and the Swype keyboard. The update is free to download and install.
---
Apple has filed a request with the U.S. District Court for the Northern District of California in an attempt to add six more Samsung devices to an existing lawsuit against the Korean company. The new devices are the Galaxy S III, Galaxy Note II, Rugby Pro, and Galaxy III Mini, as well as the Galaxy Tab 8.9 WiFi and Galaxy Tab 2 10.1. Apple alleges that these newer devices infringe on many of the same patents it accused Samsung of violating in a lawsuit it filed in February of this year. Apple said that if it isn't allowed to add these device to the existing case, it will be required to file an entirely new lawsuit. This is a separate case from the one that delivered a guilty verdict against Samsung in August of this year.
---
AT&T announced that the Samsung Galaxy Rugby Pro wil be available online and in stores starting October 21. The device, which is a ruggedized Android smartphone with a 4-inch display, 5-megapixel camera, and PTT, costs $99.99 with a new contract.
---
The Samsung Rugby Pro is a rugged Android smartphone and the Galaxy Express is a smaller brother to the Galaxy S III. Read on for Phone Scoop's first impressions.
---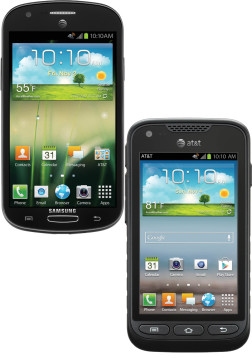 Samsung and AT&T today announced the Galaxy Express and Galaxy Rugby Pro Android smartphones. Shared features of these two devices include Android 4.0 Ice Cream Sandwich, LTE 4G, and 5-megapixel cameras with video capture.
Express: This bar-style phone has a 4.5-inch Super AMOLED Plus display, 1.5GHz dual-core processor, and 2,000mAh battery.
Rugby Pro: This mil-spec rated phone includes a 4-inch WVGA Super AMOLED Display, protection from water, shock, and dust, and encryption and EAS corporate email support. The Rugby Pro can also be used with AT&Ts push-to-talk service.
AT&T also announced that it will soon offer the Galaxy Note II smartphone and the Galaxy Tab 2 10.1 tablet. All of these devices will be available from AT&T in the coming months. Pricing was not disclosed.
---