Samsung Galaxy Note
Info Photos News Forum 100+ Reviews 16
AT&T today announced that it is offering Android 4.1.2 Jelly Bean to the original Galaxy Note. Jelly Bean introduces Google Now, actionable notifications, and many under-the-hood improvements to the code. In addition to the standard Jelly Bean features, this update also makes tweaks to the Popup Note and Popup Video tools that are part of Samsung's Touchwiz software. Android 4.1.2 for the Samsung Galaxy Note must be downloaded and installed via Samsung's Kies desktop software.
---
Samsung today named the smartphones and tablets that it plans to update to Android 4.1 Jelly Bean. In an email sent to The Verge, Samsung spokesperson Kiyung Nam said the Galaxy S II, Note, S Advance, S II LTE, Chat, Ace 2, Beam, Ace Plus, Mini 2, and S Duos smartphones will receive Jelly Bean. In addition to these phones, four tablets will also receive Jelly Bean, which are the Tab 2 7.0, Tab 7.0 Plus, Tab 2 10.1, and Note 10.1 The Jelly Bean updates are scheduled to being via Kies later this year.
---
Apple has asked a federal court overseeing one of its lawsuits against Samsung to add several devices to the list of smartphones and tablets being targeted. Among the new devices are the Galaxy S III, Galaxy Note, and Galaxy Note 10.1. This particular lawsuit, which is different from the one in which Apple recently notched a victory, claims Samsung is infringing on its patent in a total of 22 devices. Separately, Apple has requested that U.S. District Court judge Lucy Koh, who oversaw its courtroom victory over Samsung, move a planned injunctive relief hearing up. Apple wants sales of eight devices banned in the U.S. following the guilty verdict. Judge Koh won't hear Apple's request until December 6. Apple believes this long wait is unfair.
---
Samsung and AT&T today announced that owners of devices such as the Galaxy S III will be able to charge purchases in Samsung's Media Hub directly to their AT&T account. Direct carrier billing will first be supported in the GS3, Captivate, and Galaxy Exhilarate. It will be added to the Galaxy Note and Galaxy S II upon updating to Android 4.0 Ice Cream Sandwich. AT&T customers will be able to buy or rent movies, television seasons, and individual television episodes, and the charges will appear on their next wireless bill. Samsung says Media Hub purchases can also be shared across five Media Hub-enabled devices, such as Samsung's Galaxy Tab and Smart TVs.
---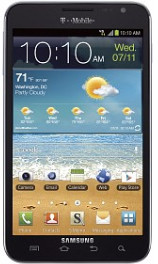 T-Mobile USA today announced the pending availability of the Samsung Galaxy Note, which it says will arrive in the coming weeks. T-Mobile's variant of the Galaxy Note includes the same 5.3-inch display, 8-megapixel camera, and S Pen functionality of the AT&T version, but will ship with Android 4.0 Ice Cream Sandwich, Samsung's Premium Suite S Pen enabled applications, and support for T-Mobile's HSPA+ network at 42Mbps. It also bears the SAFE (Samsung Approved for Enterprise) designation, includes on-device AES256-bit encryption, provides Wi-Fi Calling capabilities, and includes T-Mobile's 4G Pro App Pack (DropBox, LinkedIn, Evernote, and others). T-Mobile said the device will be available at both stores and online, but has not yet provided pricing information.
---
T-Mobile today revealed via one of its official Twitter accounts that it will soon offer the Samsung Galaxy Note. T-Mobile said more details will be available soon. The Note is already sold by AT&T.
---
Samsung and AT&T have revealed that the Galaxy Note will receive Android 4.0 Ice Cream Sandwich starting July 10. In addition to updating the device from Android 2.3 to Android 4.0, the new system software also adds what Samsung calls the "Premium Suite." The suite chiefly adds more functionality to the S-Note application. Some of the new features include a range of functions that make it easier to write and format text, re-draw shapes into proper polygons, and convert handwritten text to typed text. S-Note also now works with Wolfram Alpha, and can be used to work out math problems. Users simply draw the equation on the screen and Wolfram Alpha delivers the result. Last, the update also adds a S-Memo widget to the Note, and made it easier to create custom greeting cards with the My Story app. The update may reach some users as early as today, but it scheduled to roll out in waves beginning Tuesday.
---
AT&T today published a list of devices that it plans to update to Android 4.0 Ice Cream Sandwich in the coming months. The devices include the LG Nitro; the Motorola Atrix and Atrix 4G; the Pantech Burst and Element; and the Samsung Captivate Glide, Galaxy Note, Galaxy S II, Galaxy S II Skyrocket, and Galaxy Tab 8.9. These devices will all be updated in the coming months, according to AT&T, but more precise times weren't provided.
---
Samsung today announced that it will be distributing a large "Premium Suite" system update to the Galaxy Note during the second quarter that includes Android 4.0 Ice Cream Sandwich and other new features. The update will add a number of new S Pen-optimized apps to the Note, including Shape Match and Formula Match, which help correct and digitize geometric shapes and numeric formulas. The Premium Suite also includes My Story, another S Pen app that lets owners create greeting cards using various types of content (photos, videos, etc.). Samsung said the exact timing and delivery of the upgrade is dependent on local carriers. AT&T sells the Galaxy Note in the U.S., and hasn't specified when this update will be available.
---
AT&T and Samsung today announced that the Galaxy Note Android smartphone will be available starting February 19. It will cost $299.99 with a new agreement. Pre-orders start on February 5. The Note has a 5.3-inch display and supports AT&T's LTE 4G network.
---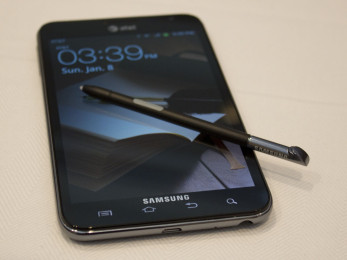 AT&T revealed that it will sell Samsung's monstrously large Galaxy Note smartphone/tablet. With its 5.3-inch display, the Note defies categorization.
---
AT&T today announced six new LTE phones, some with record-breaking high-resolution cameras.
Sony Ericsson Xperia Ion, an Android phone with a 12-megapixel camera with Sony Exmor R sensor and 4.7-inch full HD display. A front camera also supports 720p capture. It also sports HDMI-out and is PlayStation Certified.
HTC Titan II, with a 16-megapixel camera and a 4.7-inch Super-LCD display. Powered by a Qualcomm 1.5 GHz Snapdragon S2 processor.
Samsung Galaxy S II Skyrocket HD, with a full HD display measuring 4.65 inches, powered by a 1.5 GHz dual-core processor.
Samsung Galaxy Note, with a huge 5.3-inch display that borders on tablet size. A stylus is included, but not required. 1.5 GHz dual-core processor.
Samsung Exhilarate, an affordable LTE smartphone with a 4-inch Super AMOLED display and made from 80 percent recycled post-consumer materials.
Pantech Burst, with 4-inch Super AMOLED display and Android.
The last two devices will be available for less than $50 each.
---
Official Samsung posters on display at the CES event show the device with an AT&T logo, seemingly confirming that the phone/tablet device is coming to the carrier. An official announcement is expected on Monday.
---