Kyocera Milano / Jitterbug Touch
Info Photos News Forum 3 Hands-On › Our Review ›
Great Call today announced changes to its smartphone plans that provide more data to users without increasing the monthly cost. The plans are available to owners of the Jitterbug Touch and Jitterbug Touch 2 devices. Plans start as low as $2.49 per month, which buys access to 20MB of data (up from 10MB). Other tiers offer 100MB for $5 per month, 200MB for $10, 500MB for $15, 1GB for $25, and 2GB for $45. Overage fees for all data plans have been halved from $0.20 per megabyte to $0.10 per megabyte. The new plans are effective beginning today.
---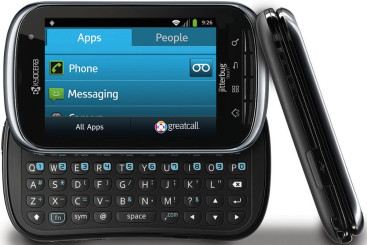 Jitterbug today annnounced the Jitterbug Touch, an entry-level smartphone that is meant to make it easy for first-time smartphone owners to adjust to their new device. The Jitterbug Touch is a sideways slider based on the Kyocera Milano chassis, which includes a 3-inch QVGA display, full QWERTY keyboard, 3.2-megapixel camera, 512MB of on-board storage, support for microSD cards, Bluetooth 2.1+EDR, GPS, and Wi-Fi. Rather than run the standard Android user interface, the Jitterbug Touch uses GreatCall's custom user interface that has been dramatically simplified for first-time users. It offers a bevy of the services that make Jitterbug popular with members of the AARP, such as 5Star Urgent Response, Shake for Help, and MedCoach. The Jitterbug Touch does not require a contract. It costs $169 ($149 for a limited time), and is available directly from GreatCall.
---
The Milano is the newest Android smartphone from Kyocera. It features a sideways sliding keyboard and a compact form factor, but it is more QMD than smartphone.
---