Hands-On: Kyocera Milano for Sprint
Article Comments
Sep 14, 2011, 11:43 PM by Eric Zeman
updated Sep 15, 2011, 8:17 AM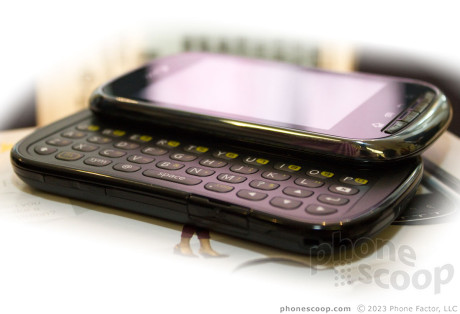 The Milano is the newest Android smartphone from Kyocera. It features a sideways sliding keyboard and a compact form factor, but it is more QMD than smartphone.
The Kyocera Milano is a small-ish Android smartphone for Sprint. It may not be as compact or as powerful as some of the competition, but it is a solid little smartphone that competes more with quick-messaging devices in terms of the form factor.
There's no doubt that the Milano is a thick phone, and the materials are definitely not the best I've ever touched. While it may be a bit on the thick-and-heavy side, and the materials are more creaky than killer, it is still easy to use and feels good in the hand overall.
When closed, the form factor is compact and feels good without the keyboard extended. I found the touch screen and user interface to be responsive and, for the most part, what people would expect from an Android 2.3 Gingerbread phone. The physical buttons below the screen felt good and worked well.
The controls on the sides all felt good and were easy to find. I thought the search key was the worst of the bunch, but that's not exactly a tragedy. The volume toggle and lock/power key (which are critical) both worked perfectly.
The slider mechanism was definitely on the cheap side, but it functioned well. I had no trouble opening or closing the Milano. The QWERTY keyboard found underneath was roomy and the keys had excellent travel and feedback across the keyboard. I had no trouble using it to peck out a few test messages while futzing with it this evening. I'd have preferred to see a separate row for number keys, but it all worked out OK. It gets brownie points for the dedicated @ key, space bar, and period key.
As far as Android devices go, it is a long way from the King of the Hill, but most QMDs would be far, far worse in overall features and opportunities. Sprint's pricing and plan options will play a big role in how successful this phone is.
No messages