Samsung Galaxy S II / SGH-i777
Info Photos News Forum 97 Reviews 16
Samsung today said that it would fight Apple's request to ban its products in the U.S. through any available means. "We will take all necessary measures to ensure the availability of our products in the U.S. market," said the company in a statement. Samsung said it will file motions seeking to stop the injunction, appeal the injunction (if granted), and even modify its devices so they no longer infringe, according to a Samsung representative who spoke to the Wall Street Journal. Following its initial victory over Samsung in court, Apple requested that preliminary sales bans be placed on eight Samsung devices, including the Galaxy S II, Droid Charge, and others. The judge overseeing the case won't rule on Apple's request until September 20.
---
Samsung and AT&T today announced that owners of devices such as the Galaxy S III will be able to charge purchases in Samsung's Media Hub directly to their AT&T account. Direct carrier billing will first be supported in the GS3, Captivate, and Galaxy Exhilarate. It will be added to the Galaxy Note and Galaxy S II upon updating to Android 4.0 Ice Cream Sandwich. AT&T customers will be able to buy or rent movies, television seasons, and individual television episodes, and the charges will appear on their next wireless bill. Samsung says Media Hub purchases can also be shared across five Media Hub-enabled devices, such as Samsung's Galaxy Tab and Smart TVs.
---
T-Mobile USA today announced a major retail availability expansion of its prepaid cellular service business. Starting in July, T-Mobile's prepaid and Monthly4G no contract services can be purchased at more than 6,400 Dollar General stores around the country. A range of T-Mobile's plans will be available, as will the Samsung T139 handset.
---
AT&T has made the Android 4.0 Ice Cream Sandwich update available to the Samsung Galaxy S II. Owners of the S II can download the update via Samsung's Kies software tools directly on their device.
---
Samsung today announced that it has begun pushing the Android 4.0 Ice Cream Sandwich system update to some variants of the Galaxy S II. The upgrade will first arrive in Poland, Hungary, Sweden, and Korea today, followed by a gradual roll out to other markets. Samsung said that the Galaxy S II LTE will also receive Android 4.0. U.S. carriers have not yet disclosed plans concerning Android 4.0 for their variants of the Galaxy S II.
---
U.S. Cellular today announced the availability of the Samsung Galaxy S II for $229.99 after $100 mail-in rebate. The S II includes a 4.52-inch display, 1.2GHz dual-core processor, 8-megapixel camera, and Android 2.3 Gingerbread.
---
Visa announced that it has certified the first selection of NFC-equipped smartphones to use PayWave, Visa's mobile application for payments at retail locations. The handsets include the Samsung Galaxy SII, LG Optimus NET NFC, BlackBerry Bold 9900, Bold 9790, Curve 9360, and Curve 9380. By certifying this collection of smartphones, mobile operators and retailers can now partner with financial institutions to offer Visa mobile payment services to consumers.
---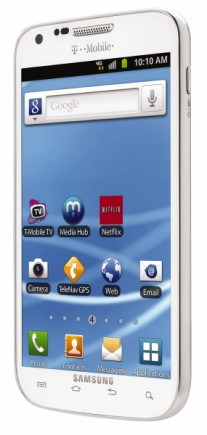 Samsung and T-Mobile USA today announced that they will offer a white version of the Samsung Galaxy S II smartphone "in time for the holidays." Exact pricing and launch details were not provided, though Samsung said more information will become available in the coming weeks.
---
AT&T today announced that it is boosting the footprint of its Long Term Evolution 4G network on November 20. The handful of new markets include Charlotte, N.C.; Indianapolis, Ind.; Kansas City, Mo.; Las Vegas, Nev.; Oklahoma City, Okla.; and San Juan, Puerto Rico. These six markets bring the total number of markets covered by LTE to 15, increasing AT&T's LTE coverage to 70 million Americans — which was its goal for 2011. For a limited time, customers who purchase the new LTE-enabled Samsung Galaxy Tab 8.9 will also receive a Samsung Galaxy S II Skyrocket or Samsung Galaxy S II smartphone at no cost. A two year agreement is required on the smartphone.
---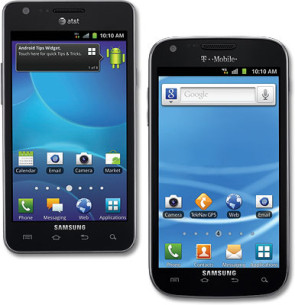 AT&T and T-Mobile today announced that they will both be getting versions of the Samsung Galaxy S II. Confusingly, they will both bear the name "Galaxy S II", but will have different specs, including different screen sizes. The T-Mobile version will have a 4.52-inch display, like the Sprint Epic 4G Touch, while the AT&T version will have a 4.3-inch display (though both will use Samsung's Super AMOLED Plus display technology.) The AT&T version will also sport a 1.2-GHz dual-core processor, 16 GB of internal memory, 8-megapixel main camera with 1080p video capture, 2-megapixel front camera, and HDMI output. All new Galaxy S II phones also include extensive support for enterprise systems such as Exchange ActiveSync 14, Cisco VPN, and Sybase MDM. AT&T claims its models will be the thinnest, at 8.89mm. T-Mobile released little information on its model, although Samsung is releasing more information tonight (see our hands-on article.) Neither carrier revealed a release date, although Samsung is citing a "fall" release.
---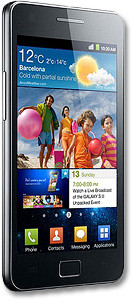 Samsung today announced the Galaxy S II, its latest Galaxy line smartphone. The Galaxy S II is extremely thin at 8.49mm, and it uses the latest Super AMOLED plus display technology for its 4.27-inch display. It has quad-band GSM/EDGE and quad-band HSPA at 21Mbps, Bluetooth 3.0 HS, GPS, Wi-Fi, and FM with RDS radios, and a dual-core 1GHz processor. The S II's main camera captures 8 megapixels, full 1080p HD video and has auto-focus and a flash. The secondary camera has 2 megapixels. Media can be shared via DLNA, an the S II will come with either 16GB or 32GB of onboard storage, in addition to a slot for microSD cards up to 32GB. The S II runs Android 2.3 Gingerbread and includes a number of Samsung software elements, such as TouchWiz, Social Hub, Media Hub, Readers Hub, and Game Hub. The S II features a new, customizable live panel, which users can use to pull down web content, such as RSS feeds. Samsung has added business-centric features, such as device encryption, Cysco VPN software, Sybase's Afaria device manager, Cisco WebEx and Cisco's VoIP application. It comes with support for an NFC chip, but this option would need to be selected by network operators selling the device.
---