Samsung Galaxy S II Packs 21Mbps HSPA+ , Gingerbread
Article Comments 22
Feb 13, 2011, 2:00 PM by Eric M. Zeman
updated Feb 13, 2020, 5:43 PM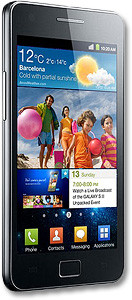 Samsung today announced the Galaxy S II, its latest Galaxy line smartphone. The Galaxy S II is extremely thin at 8.49mm, and it uses the latest Super AMOLED plus display technology for its 4.27-inch display. It has quad-band GSM/EDGE and quad-band HSPA at 21Mbps, Bluetooth 3.0 HS, GPS, Wi-Fi, and FM with RDS radios, and a dual-core 1GHz processor. The S II's main camera captures 8 megapixels, full 1080p HD video and has auto-focus and a flash. The secondary camera has 2 megapixels. Media can be shared via DLNA, an the S II will come with either 16GB or 32GB of onboard storage, in addition to a slot for microSD cards up to 32GB. The S II runs Android 2.3 Gingerbread and includes a number of Samsung software elements, such as TouchWiz, Social Hub, Media Hub, Readers Hub, and Game Hub. The S II features a new, customizable live panel, which users can use to pull down web content, such as RSS feeds. Samsung has added business-centric features, such as device encryption, Cysco VPN software, Sybase's Afaria device manager, Cisco WebEx and Cisco's VoIP application. It comes with support for an NFC chip, but this option would need to be selected by network operators selling the device.
nice
i agree samsung as a manufacturer sucks,their efforts are always halfassed and their implementations always have something missing in them ...they are good at marketing though, and putting "face-value" to their products..this is one good example..i must agree this phone looks really really good...physically and specwise but still leaves a lot to doubt.
No thanks SamSUCK
You won't pull me in with your fancy SAMOLED screens. You don't support your devices and you do things wrong like using your own file system (RFS = Retarded File System) which gives your Android phones lag. Then you pathetically try to copy iOS by implementing TouchPISS which is ugly and patronizing. If I wanted a phucking iPhone I'd buy one a-holes!

Last but not least, you always somehow seem to phuck something up by always falling short. Like not include a feature such as a camera flash, or take away 720p video recording. You always phuck up somewhere. Not to mention the signature SamSUCK cheap plasticky build quality.
i would have to second this....minus the cussing =))
When is it going on sale?
When is it going on sale, and is it going to T-Mobile?
With At&t's focused switched from the iPhones to Andriod Handsets, I would guess this bad boy is headed to At&t. T-Mo would blow away AT&T with this phone and I just don't see T-Mo having the pull to get this phone over At&t.
GUARANTEED GOING TO TMOBILE
its true dont hate

in no wya shape or form would at&t get this im sorry guys
I'm so incredibly disappointed with AMOLED (in all it's generations) that I'll never consider another one.

That's to say nothing of Samsung's inability to get the most popular Android handset on earth (the original Galaxy S series) running an OS le...
(continues)
i want this so bad
😁 😁 😁 😁 😁 😁 😁 😁 😁 😁 😁 😲 😲 😲 😲 😲 😲 😲 😲 😲 😲 😲 😲 😲 😲 😲 😲 🤤 🤤 🤤 🤤 🤤 🤤 🤤 🤤 🤤 🤤 🤤 🤤 🤤 🤤 🤤 🤤 🤤
Dose any one know the release date and is it gonig to T-Mobile?
Missing buttons?
Where are the Home key and the Search key?
Wow!
I'm surprised how quick we got this! I just read about this a few weeks ago. There's no technology lag between Korea and the US cell market now...I guess the US is finally getting out of the cellular stone age 🙂