Review: Samsung Galaxy S II for T-Mobile
Form Basics Extras Wrap-up Comments 5
Is It Your Type? Body The Three S's
Oct 21, 2011, 5:01 PM by Eric M. Zeman
T-Mobile scores the best version of the Samsung Galaxy S II with its large display, faster processor, and zippier wireless data radio. But those aren't the only noteworthy features of this superlative smartphone.
Advertisements article continues below...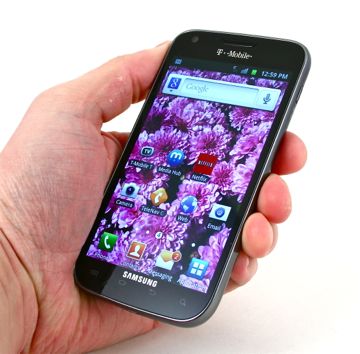 While most major carriers are offering a Samsung Galaxy S II, T-Mobile pulled a quick one on its carrier competitors by scoring two major spec jumps in its variant of the Galaxy S II: it has a faster processor and a much faster wireless radio. Aside from these two advantages, however, does the T-Mobile version of the Galaxy S II offer anything its siblings don't?
Actually the TMO version has 2.3.5 for NFC
Since it has NFC capabilities (also hardly mentioned, though I know they are rarely used thus far) the T-Mobile Galazy S II has GB 2.3.5, which is required for NFC support.
Nice, do you think it will be updated to 4.0 within its life cycle?
You're correct.

Review corrected.

Thanks!
also works on att 3g!!!!
but phone is locked to tmobile!
i paid 28.99$ to unlock it and use on att 3G !