Samsung Galaxy S II / SGH-T989
Info Photos News Forum 100+ Reviews 16
T-Mobile USA today announced the availability of the Samsung Galaxy S II through 2,600 Walmart stores for $299. The device can be paired with one of T-Mobile's no-contract Monthly4G plans or Walmart's Family Mobile plans.
---
T-Mobile today made a maintenance update available to the Samsung Galaxy S II. The GSII remains at Android version 4.0.3, but the new software build includes an "ISIS/NFC update." ISIS is the Visa-backed mobile payment conglomerate of which T-Mobile is a part. ISIS is expected to launch services soon, which will also be offered by AT&T and Verizon Wireless. There's no explanation from T-Mobile as to what specifically this ISIS/NFC update entails. The update must be installed via Samsung's Kies desktop software.
---
Samsung today said that it would fight Apple's request to ban its products in the U.S. through any available means. "We will take all necessary measures to ensure the availability of our products in the U.S. market," said the company in a statement. Samsung said it will file motions seeking to stop the injunction, appeal the injunction (if granted), and even modify its devices so they no longer infringe, according to a Samsung representative who spoke to the Wall Street Journal. Following its initial victory over Samsung in court, Apple requested that preliminary sales bans be placed on eight Samsung devices, including the Galaxy S II, Droid Charge, and others. The judge overseeing the case won't rule on Apple's request until September 20.
---
T-Mobile has provided its Samsung Galaxy S II owners with the option of downloading and installing Android 4.0.3 Ice Cream Sandwich. The Galaxy S II shipped with Android 2.3 Gingerbread in 2011. The update will only be available via Samsung's Kies software, and cannot be downloaded over the air. T-Mobile warned that the update will wipe the home screen layout. Android 4.0 brings a significant number of new features to the Galaxy S II, and revises the appearance and behavior of the user interface.
---
T-Mobile today indicated via its official Twitter account that it will begin delivering the Android 4.0 Ice Cream Sandwich system update to the Samsung Galaxy S II via Kies starting on June 11.
---
U.S. Cellular today announced a trio of new plans for customers of its pre-paid wireless services. The least-expensive feature phone plan costs $35 per month and offers 400 voice minutes voice, 400 text messages, and 400 picture messages. Feature phones can also choose a $50 monthly plan that includes unlimited voice, unlimited messaging, and 1GB of data. Last, U.S. Cellular is offering a $65 monthly option for smartphones that includes unlimited voice, unlimited messaging, and 2GB of data. Select smartphones can use the smartphone plan, including the Samsung Galaxy S II, Mesmerize, and Repp; the Motorola Electrify; the HTC Merge and Wildfire S; and the Huawei Ascend II.
---
Samsung recently updated the web site listing which of its devices will receive Android 4.0 Ice Cream Sandwich system updates. The update adds several devices being sold by T-Mobile, including the Galaxy S II, and Galaxy S Blaze 4G smartphones, and the Tab Plus 7.0 and Tab 10.1 tablets. Samsung didn't provide a timeframe suggesting when the updates might arrive.
---

Phone Scoop met with T-Mobile today and was able to spend some time with its new newest — and fastest — 4G phones, the HTC Amaze 4G and the Samsung Galaxy S II 4G. Here are our initial impressions.
---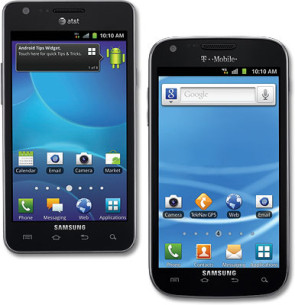 AT&T and T-Mobile today announced that they will both be getting versions of the Samsung Galaxy S II. Confusingly, they will both bear the name "Galaxy S II", but will have different specs, including different screen sizes. The T-Mobile version will have a 4.52-inch display, like the Sprint Epic 4G Touch, while the AT&T version will have a 4.3-inch display (though both will use Samsung's Super AMOLED Plus display technology.) The AT&T version will also sport a 1.2-GHz dual-core processor, 16 GB of internal memory, 8-megapixel main camera with 1080p video capture, 2-megapixel front camera, and HDMI output. All new Galaxy S II phones also include extensive support for enterprise systems such as Exchange ActiveSync 14, Cisco VPN, and Sybase MDM. AT&T claims its models will be the thinnest, at 8.89mm. T-Mobile released little information on its model, although Samsung is releasing more information tonight (see our hands-on article.) Neither carrier revealed a release date, although Samsung is citing a "fall" release.
---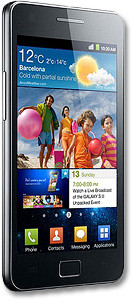 Samsung today announced the Galaxy S II, its latest Galaxy line smartphone. The Galaxy S II is extremely thin at 8.49mm, and it uses the latest Super AMOLED plus display technology for its 4.27-inch display. It has quad-band GSM/EDGE and quad-band HSPA at 21Mbps, Bluetooth 3.0 HS, GPS, Wi-Fi, and FM with RDS radios, and a dual-core 1GHz processor. The S II's main camera captures 8 megapixels, full 1080p HD video and has auto-focus and a flash. The secondary camera has 2 megapixels. Media can be shared via DLNA, an the S II will come with either 16GB or 32GB of onboard storage, in addition to a slot for microSD cards up to 32GB. The S II runs Android 2.3 Gingerbread and includes a number of Samsung software elements, such as TouchWiz, Social Hub, Media Hub, Readers Hub, and Game Hub. The S II features a new, customizable live panel, which users can use to pull down web content, such as RSS feeds. Samsung has added business-centric features, such as device encryption, Cysco VPN software, Sybase's Afaria device manager, Cisco WebEx and Cisco's VoIP application. It comes with support for an NFC chip, but this option would need to be selected by network operators selling the device.
---