Motorola Photon 4G / Electrify
Info Photos News Forum 93 Reviews 23
Motorola has updated the list of devices that will receive updated versions of Android and is revealing for the first time those slated to get Android 4.1 Jelly Bean. The Droid RAZR M, RAZR HD, and MAXX HD are all schedule to receive the Jelly Bean update before the end of the year. Other devices that will be updated to Android 4.1 include the Atrix HD, Photon Q, Electrify 2, and the Droid RAZR, RAZR MAXX, 4, and Bionic. Motorola didn't say when this second group will receive Jelly Bean. Devices not on these lists are likely to be updated only as far as Android 4.0 Ice Cream Sandwich.
---
Motorola has indicated that the Android 4.0 update for the Droid Bionic that was scheduled to occur in during the third quarter of this year has been delayed until the fourth quarter. No details were provided as to why, but Motorola VP of product Punit Soni promised that the update will be delivered before the end of the year. Soni also noted that the company will try to be more transparent about when device updates will be delivered, and will also try to make the updates more timely. Motorola said it will have more information about updates for the Photon 4G / Electrify soon.
---
Sprint today detailed changes headed to the Motorola Photon 4G by way of a maintenance update for its system software. The update makes it easier to import contacts from an SD card, improves music playback via streaming music services, boosts the performance of the mobile hotspot feature, and makes it easier to create and accept calendar meeting requests on the phone. In addition to the bug fixes and performance tweaks, the new system software also adds new features. Primarily, the Photon now supports 1080p HD video capture, and includes new video settings that make playback more responsive. The update does not include Android 4.0 Ice Cream Sandwich. According to Sprint, it will be pushed out over the air during the course of the next few days.
---
Motorola has provided an update to its support forum pages, outlining when some devices can expect to see the Android 4.0 Ice Cream Sandwich update. The RAZR and RAZR MAXX should see Android 4.0 during the second quarter, while the Atrix 2, Atrix 4G, Droid 4, and Bionic should see ICS during the third quarter. The Photon 4G is slated to receive ICS during the fourth quarter. Most other Motorola Android devices will remain at Android 2.3, 2.2, or 2.1.
---
Voyager Mobile today announced that its no-contract wireless services will be available starting May 15. Voyager is a new company that has leased access to Sprint's EVDO 3G and WiMax 4G networks and is offering two service plans. The first plan costs $19 per month and includes unlimited talk and text. The second plan costs $39 per month and includes unlimited talk, text, and data. Both plans are pre-paid, but do not include local, state, and federal taxes. According to Voyager, the company will sell most of the popular Android devices that are available from Sprint, such as the Motorola Photon 4G, Samsung Galaxy Epic 4G Touch, Motorola XPRT, and others. Voyager Mobile will also offer two USB dongles, a mobile hotspot, and Android-based tablets from HTC and ZTE. The company will have a web-based sales footprint in 18 states on May 15, and will eventually be available across the U.S. in the coming weeks. Voyager Mobile hopes its products will be available in various nationwide retail locations in the future.
---
Motorola and Sprint are rolling out a system update to the Motorola Photon 4G. Chief among the changes is support for Google Talk with video chat. Photon 4G owners will be able to conduct live, two-way video chats with other Google Talk contacts once the update is installed. Other features added to the Photon 4G include support for Motorola's LapDock accessory and webtop mode; improved in-car audio quality; improved performance of the panorama shooting mode; and the introduction of international roaming 3G UMTS hotspot functionality for a single Wi-Fi device. Instructions for installing the update are available from Motorola's suport site.
---
Sprint today announced that the Motorola Photon 4G, a new WiMax Android smartphone, will be available in Sprint stores and online starting July 31. It will cost $199.99 with a new agreement. The Photon sports Android 2.3, a 1GHz Nvidia Tegra 2 dual-core processor, GSM/WCDMA world roaming, 8 megapixel camera, front-facing camera, and 4.3-inch qHD touch screen. Sprint Premiere Customers will be able to purchase the Photon 4G online only starting July 28. The device will be compatible with a wide array of accessories, including a wireless keyboard, media dock, and navigation dock.
---
Phone Scoop spent some time with Motorola's two new Android handsets for the Sprint network. Here are our first impressions of these two beauts!
---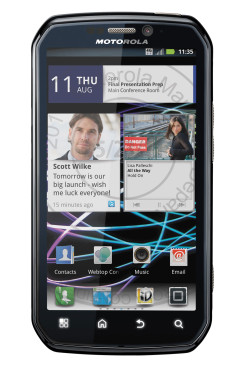 At an event in NYC today, Sprint and Motorola announced the Photon 4G. Much like the Atrix, the Photon supports a laptop dock or HD multimedia dock - and Webtop app - that lets it run a Firefox browser like a desktop PC. It also sports a kickstand for multimedia viewing on the go. The Photon sports Android 2.3, a 1GHz Nvidia Tegra 2 dual-core processor, WiMAX 4G data, GSM/WCDMA world roaming, 8 megapixel camera, front-facing camera, and 4.3-inch qHD touch screen. On the memory front, is includes 1 GB of "PC-grade" application memory, 16 GB of built-in storage memory, plus a memory card slot supporting cards up to 32 GB, for 48 GB storage total. It will be available in the third quarter of 2011.
---