Sprint Reveals Motorola Photon 4G
Article Comments 23
Jun 9, 2011, 11:35 AM by Rich Brome @rbrome
updated Jun 9, 2011, 11:58 AM
Updated: added release timeframe / added details / added links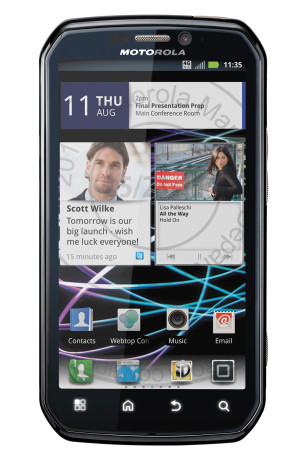 At an event in NYC today, Sprint and Motorola announced the Photon 4G. Much like the Atrix, the Photon supports a laptop dock or HD multimedia dock - and Webtop app - that lets it run a Firefox browser like a desktop PC. It also sports a kickstand for multimedia viewing on the go. The Photon sports Android 2.3, a 1GHz Nvidia Tegra 2 dual-core processor, WiMAX 4G data, GSM/WCDMA world roaming, 8 megapixel camera, front-facing camera, and 4.3-inch qHD touch screen. On the memory front, is includes 1 GB of "PC-grade" application memory, 16 GB of built-in storage memory, plus a memory card slot supporting cards up to 32 GB, for 48 GB storage total. It will be available in the third quarter of 2011.
NO-TO-ROLA
Just like the Verizon Droid Bionic this phone is announced now but wont be launched anytime soon, if ever. I currently have a Sprint and a Verizon phone and ready to commit to one. ITS A RACE- Bionic or Photon wichever ACTUALLY launches first will win me!
Just to let you kniw Verizon's LTE puts out much, much better speeds because of the 700mhz frequency. The fastest speed I've gotten is 35mbps, Samsung Droid Charge, Las Vegas, using the speedtest.net app.
i may get this phone... if...
it has the updated radio for 800mhz SMR cdma
I'm right there with ya, Jonathan. AndroidCentral says that according to Motorola reps the Photon WON'T have a locked bootloader which was one of my fears. If this beast has SMR support, I'm SOLD! I wonder if it has hit the FCC yet...
I don't know what to expect until I see it, they said the EVO 3D wouldn't have the 850 CDMA capability but I saw a note that it was listed in the FCC application.
woow feel bad for verizon
sprint lil by lil will be taking the #1 spot
and they getting the iphone too OOOH MAN!!! sprint keep releasing this monsters!!!! with that 69.99 plans verizon better come out with a plan real SOOON
Awesom specs, but...
an ugly design in my opinion. The angled corners just dont do it for me. I'll be a bit jealous of people using the phone but i just can't see myself carrying that ugly thing around. 😛
checked eric's pics of the photon..the edges doesnt seem sharp to me..i kinda liked this phone, made me changed my mind about the moto android devices "face" design, cause i disliked the orig droid's "face"
Latest info. from moto says the bootloader WILL be locked.
It's a shame, I was going to get this phone instead of the HTC EVO 3D (in a contest of 3D screen vs. GSM capabilities, the GSM capabilities are more important). However, now that I hear the bootloader will be locked, I am definitely getting the EVO instead. Moto's bloatware/blurware is particularly egregious and not being able to run stock Android on this device is deal breaker for me (as I am sure for many others).

Stupid, self-inflicted wounds like insisting on locking bootloaders while essentially all of the competition leaves theirs' unlocked will be the downfall of this company. Sometimes you've got to wonder what goes through the heads of those executives. Note HTC's latest revenue numbers: up 116% yoy. Get a clue Motorola!
They better release this before the iPhone 4S
Cause if not, it's DOA. Doesn't matter about the 4G. People will ALWAYS choose the iPhone. Especially if this is priced @ $249 and the iPhone @ $199. This will be a hard sell.
There are 2 things this badboy has going for it has an Nvidia dual core processor that will allow it to be a "playstation" phone and compete head to head with iphone. It has a crapload of storage memory and a giant hi res screen... People don't "alway...
(continues)
you're still assuming that the iphone4s is a reality
Why would it be DoA? There is no iPhone on Sprint. Oh sorry, you meant 50 million customers would switch carriers to get the next gen iphone. Gotcha.
Ccamera
"a front facing camera".

Any word on the quality of that camera?

Camera aside, it looks like a beautiful phone.
VGA... im wondering the specs on the GSM