LG Spectrum
Info Photos News Forum 26 Reviews 7
Verizon Wireless has detailed a forthcoming system update headed to the LG Spectrum. While the update does not install Android 4.0 Ice Cream Sandwich, it does deliver a large number of bug fixes and feature improvements. Some benefits of the update include improved security, a calendar bug fix, fewer force closes, and new multitouch gestures in the camera, as well as updates to apps such as Gmail, the browser, Google Play, and Verizon-branded services. LG Spectrum owners will be notified when the update is ready for their device.
---
Verizon Wireless today published a list of its Android devices that it plans to update to Android 4.0 Ice Cream Sandwich. The devices include the: HTC ThunderBolt, Droid Incredible 2, Rhyme, and Rezound; Motorola Xoom, Bionic, RAZR, RAZR MAXX, Droid 4, and Xyboards 8.2/10.1; Samsung Galaxy Tab 7.7/10.1; and the LG Spectrum. Verizon said that it will add to this list over time. Verizon didn't say anything other than "later this year" regarding when these devices will be updated. Some of the manufacturers of these devices have provided guidance on the timing of the updates. For example, Motorola said its devices won't see Android 4.0 until some time in the third quarter of the year, while HTC has indicated that Android 4.0 might arrive during the first half of the year.
---
Verizon Wireless today announced that the LG Spectrum is now available for sale at Verizon Wireless retail stores and online for $199.99 with a new contract. The Spectrum runs Android 2.3 Gingerbread (upgradeable to Android 4.0) and supports Verizon's LTE 4G network.
---
The new LG Spectrum and Motorola Droid 4 for Verizon both contain unannounced global GSM/WCDMA roaming capability that will be enabled later this year. None of Verizon's current 4G LTE phones support global roaming, in part because of a network issue. Verizon spokeswoman Brenda Raney said "The LTE phones work globally in over 40 countries that currently use CDMA technology…. For the new LTE phones to provide global roaming voice and data in non-CDMA countries, we are working on a few network enhancements so we can provide customers with the best voice and data roaming experience. We anticipate this capability to be available this year, likely the first half of the year."
---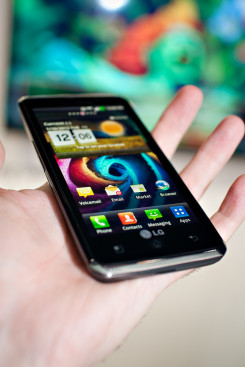 The Spectrum is LG's new flagship 4G LTE phone from Verizon. The display is huge and HD, yet it's thinner than last year's Revolution. How does it shape up?
---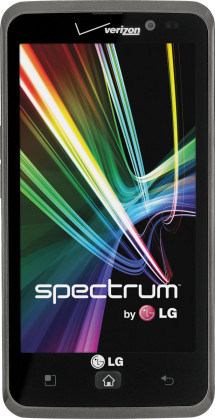 LG today announced the Spectrum for Verizon, following in the footsteps of the Revolution announced at this time last year. The Spectrum sports 4G LTE and a 4.5-inch true HD IPS display, like the Nitro for AT&T. It also sports a Qualcomm 1.5 GHz dual-core processor, 8-megapixel main camera, and 1.3-megapixel front camera. Other notable features include a Corning Gorilla Glass front, 16 GB included memory card, DLNA wireless video streaming, and HDMI output via MHL. The Spectrum will be available January 19th for $200 with 2-year contract.
---