HTC EVO Design 4G / Hero S (CDMA)
Info Photos News Forum 77 Reviews 5
FreedomPop today announced the availability of its first smartphone. It is selling the HTC EVO Design for $99 without a contract. The smartphone, though several years old, can access Sprint's CDMA and WiMAX networks for data and voice services. FreedomPop is not selling new smartphones; instead, the EVO Design has been refurbished and loaded with FreedomPop's software. Rather than use traditional voice, FreedomPop's voice calls are sent over the data network through VoIP technology. FreedomPop offers 200 voice minutes, 500 texts, and 500MB of data free each month, and today introduced a plan that includes unlimited texting and calling for $10.99 a month. FreedomPop is an MVNO that uses Sprint's network. In August, it announced that it is transitioning from Sprint's WiMAX network to Sprint's LTE network, but it is so far offering only one LTE-capable product (a mobile hotspot). FreedomPop said that it will offer LTE-capable smartphones later this year, though price points will be closer to $200.
---
Sprint today announced that both the HTC EVO 3D and EVO Design 4G will be updated to Android 4.0 Ice Cream Sandwich starting in early August. Users will be notified automatically when the update is available to their device. The update can be downloaded and installed over the air. Sprint expects the update to take several weeks to reach all users.
---
Sprint's pre-paid businesses Boost Mobile and Virgin Mobile USA today announced new 4G plans and 4G devices. Both companies are using Sprint's WiMax network to provide 4G services, which are available in 71 markets, in addition to Sprint's existing CDMA 3G footprint. Both devices have been updated to Android 4.0 Ice Cream Sandwich and Sense 3.6. Each has its own, carrier-skinned appearance, but otherwise the hardware is completely unmodified when compared to the Sprint versions that have been available since 2011.
Boost Mobile: Boost is offering unlimited (voice, messages, data) pre-paid 4G service starting at $55 per month. The Android Monthly Unlimited plan for 4G devices is compatible with Boost Mobile's Shrinkage policy, which drops the monthly fee by $5 for every six months of on-time payments. Starting May 31, Boost customers can purchase the HTC EVO Design 4G for $299.99.
Virgin Mobile: Virgin's 4G service plans start at $35 per month, which includes unlimited data and messaging, but not unlimited voice. Voice can be added separately. Virgin is offering the HTC EVO V 4G, which also goes on sale May 31 for $299.99, for this Beyond Talk plan. Additionally, Virgin is adding the Overdrive Pro 3G/4G mobile hotspot and U600 3G/4G USB Stick to its Broadband2Go service. These devices costs $149.99 and $99.99, respectively.
---
HTC today published in a blog post a list of 16 smartphones that will be updated to Android 4.0 Ice Cream Sandwich. The devices include the Amaze 4G, Desire S, Desire HD, EVO 3D, EVO Design 4G, Incredible S, Sensation, Sensation XL, Sensation 4G, Sensation XE, Raider, Rezound, Rhyme, Thunderbolt, and Vivid. HTC said that it is still in the early stages of rolling out Android 4.0 to the Sensation and Sensation XE. The next phones in line for Android 4.0 updates are the Sensation 4G and the Sensation XL. HTC cautions that wireless network operators play a role in the update process, so it can't lock down firm timelines with respect to the exact availability of updates.
---
HTC today provided more details via its Facebook page on when it will update its existing smartphones to Android 4.0 Ice Cream Sandwich. The first batch includes the Sensation, Sensation 4G and Sensation XE by the end of March, with the Sensation XL soon after. HTC says that owners of the Rezound, Vivid, Amaze 4G, EVO 3D, EVO Design 4G, Incredible S, Desire S, and Desire HD will receive Android 4.0 later this year. HTC will provide more specific details about the upgrades in the coming weeks.
---
Sprint has begun distributing system updates to the HTC EVO 4G, Samsung Epic 4G, and HTC EVO Design 4G smartphones. The updates remove Carrier IQ's software, as well as fixes bugs, boosts performance, and resolves security issues. The updates are being distributed over the course of the next 10 days.
---
Following HTC's announcement earlier today, Sprint confirmed via its community support forums that it will update the HTC EVO Design 4G and the HTC EVO 3D to Android 4.0 Ice Cream Sandwich in early 2012. Sprint said that Android 4.0 will be pushed out to these devices over the air. It also said that Android 4.0 will be available to "other key products in our line-up." Sprint said that more information will be provided in due time.
---
HTC announced today via its Facebook page that it plans to update a number of its smartphones to Android 4.0 Ice Cream Sandwich in early 2012. In the U.S., HTC will update the Rezound, EVO Design 4G, and Amaze 4G. In world markets, HTC will update the Sensation, Sensation XL, and Sensation XE, as well as the EVO 3D. HTC said that the devices will be updated in cooperation with their network operator partners; more specific details aren't yet available. HTC said that it is still evaluating its device portfolio and will have more to announce in the coming weeks.
---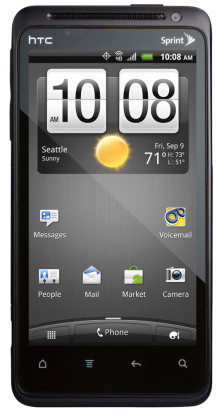 Sprint took the wraps off a new EVO-branded handset today called the HTC EVO Design 4G. The Design 4G is a rebadged version of the Hero S. It is a slim tri-mode CDMA/WiMax phone that also offers world-wide roaming thanks to GSM/HSPA+ network compatibility. It features a 4-inch qHD display, dual-core 1.2GHz processor, 768MB of RAM, Android 2.3 Gingerbread with HTC Sense 3.0, and a 5-megapixel camera. Other features include a 1.3-megapixel user-facing camera, Wi-Fi, Bluetooth 3.0, gyroscope, compass, proximity, and ambient light sensors. The EVO Design 4G goes on sale October 23 for $99.99 with a new two-year service agreement after a $50 mail-in rebate.
---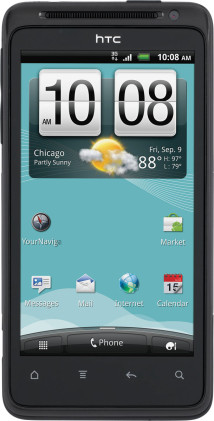 The US version of HTC's Hero S - just released for US Cellular - contains hardware supporting Sprint's unique network, including WiMAX, and CDMA in the ESMR (old iDEN) band, according to the FCC approval documents for the phone. Much like the Motorola Electrify for US Cellular is essentially the Photon with WiMAX disabled, HTC has done the same for the Hero S. The FCC has approved a version of the Hero S for Sprint with WiMAX, and a distinct variant for US Cellular that FCC documents describe as having WiMAX "operation disabled by software change only." The original Hero was Sprint's first Android phone. The new "S" model contains major upgrades, including a 1.2 GHz Snapdragon S2 processor, qHD display, global GSM/WCDMA roaming, and a front-facing camera. Sprint has yet to announce plans to carry the Hero S, and HTC and Sprint declined to comment.
---