HTC and Sprint Announce the EVO Design 4G World Phone
Article Comments 11
Oct 19, 2011, 9:14 AM by Eric M. Zeman
updated Oct 19, 2011, 9:29 AM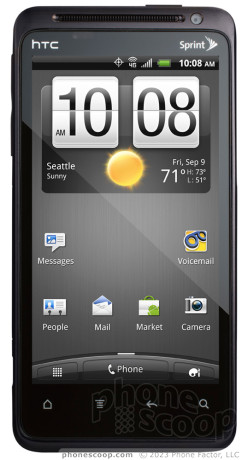 Sprint took the wraps off a new EVO-branded handset today called the HTC EVO Design 4G. The Design 4G is a rebadged version of the Hero S. It is a slim tri-mode CDMA/WiMax phone that also offers world-wide roaming thanks to GSM/HSPA+ network compatibility. It features a 4-inch qHD display, dual-core 1.2GHz processor, 768MB of RAM, Android 2.3 Gingerbread with HTC Sense 3.0, and a 5-megapixel camera. Other features include a 1.3-megapixel user-facing camera, Wi-Fi, Bluetooth 3.0, gyroscope, compass, proximity, and ambient light sensors. The EVO Design 4G goes on sale October 23 for $99.99 with a new two-year service agreement after a $50 mail-in rebate.
Mid level phone
This is truly a mid-level phone.
1st it is less than $200.
2nd it does not have dual core.
3rd the camera is 5mp.
4th 768meg of ram.
5th lower res. WVGA
6th no NFC
1. Price has absolutely nothing to do with how a phone is classified. Carriers do have sales you know 🙂

2. It doesn't need a dual core CPU, the S2 Snapdragon it carries already has a FSB Speed that is just as fast as the T250 Nvidia Tegra

3. Th...
(continues)
The EVO is the best phone.
There is no comparison.

ever.
Too bad it's not on Vz
Coming from the DINC1 this would be great for me, I really would like something like this, bigger screen and world capability; damn.
Not Dual Core
If it's a rebadged Hero S, than it's probably not a dual core. It would be the 1.2GHz Single Core Snapdragon. Still a pretty zippy phone though. At least, the Hero S version is.
Yup. All of the other sites are reporting this as a single core. Still might not be a bad replacement (not an upgrade) for the Evo 4G. I am still waiting for the upgrade to the Evo 4G without the 3D gimmick.