BlackBerry Bold 9930
Info Photos News Forum 99 Reviews 15
Wi-LAN has filed a lawsuit against Research In Motion alleging that the BlackBerry maker is infringing on a single patent related to Bluetooth technology. Wi-LAN says a number of RIM's smartphones, such as the Bold, Pearl, Storm, and Torch, infringe on the patent. It is seeking damages and an injunction to halt sales of the devices in the U.S. Wi-LAN is a patent licensing firm. It has filed similar lawsuits against Apple, HTC, and Sierra Wireless over LTE technology. The lawsuit was filed in the U.S. District Court for the Southern District of Florida.
---
Research In Motion was hit with a lawsuit by NXP, which alleges that RIM's BlackBerry Torch, Curve, and Bold smartphones infringe on six of its patents. NXP wants sales of the devices halted, and compensatory and triple damages. It's not immediately clear to which technologies the patents pertain.
---
Verizon Wireless has made operating system updates available to both the Research In Motion BlackBerry 9930 Bold and 9850 Torch. Both are being updated to OS version 7.0.0.374 and include extensive change logs. Both devices see numerous bug fixes and performance enhancements (touch screen and trackpad responsiveness, etc). Verizon recommends that all users update when possible. The update is available from the BlackBerry Desktop Manager software or Verizon's support site.
---
Research In Motion today announced a forthcoming update to its BlackBerry 7 platform that will add an application called Tag. The application makes use of the near-field communications chip on recently released BlackBerry smartphones so users can share contact information, documents, URLs, photos, and other multimedia content by tapping their BlackBerry smartphones together. BlackBerry Tag will also let people add one another as contacts on BBM. The application will work on handsets such as the BlackBerry Bold 9900/9930 and Curve 9350/9360/9370. RIM didn't say when the update is scheduled to arrive,
---
Research In Motion and HID Global today announced that the BlackBerry Bold 9900/9930 and the BlackBerry Curve 9350/9360 will add support for HID's iCLASS digital keys and readers within the near-field communications chip. By including support for HID's digital key readers, users of these BlackBerry devices will be able to use their phone as an identity card, such as those used to access office buildings and other controlled locations. The companies believe businesses and universities will find this feature appealing, as it may allow them to offer alternatives to key cards for entering buildings. The companies are piloting the technology now, and it should be available in the Curve and Bold lines by early 2012.
---
Sprint today announced that it will release both the BlackBerry Bold Touch 9930 and the BlackBerry Torch 9850 starting Sunday, August 21. The 9930 will cost $249.99 with a new two-year contract, and the 9850 will cost $149.99 with a new two-year contract after a $50 rebate. Both devices are world phones, and have 1.2GHz processors, 5 megapixel camera, and run BlackBerry OS 7.
---
Verizon Wireless has made the Research In Motion BlackBerry Bold Touch 9930 available for sale via its web site. It runs the new BlackBerry 7 platform, and has a touch screen and QWERTY keyboard. It costs $249.99 with a new two-year contract.
---
Sprint today announced that it will sell variants of the BlackBerry Bold Touch 9930 and the BlackBerry Torch 9850 later this fall. Pricing and the exact availability were not disclosed. U.S. Cellular noted that it will offer the Torch 9850, too.
---
During its recent shareholder meeting, Research In Motion's executives said that the company is on track to release seven new smartphones in what it says will be its biggest product launch ever. RIM originally planned to release the Bold Touch 9900/9930 this summer. The phone's launch was later delayed. RIM co-CEO Mike Lazaridis said at the shareholder meeting that the company delayed the Bold Touch to make sure it was up to market standards. Lazaridis believes the technology planned for the Bold Touch, based on BlackBerry 7, "jumps a generation" compared to previous BlackBerries. RIM didn't provide any information about the other planned handsets, nor did it say when they are expected to hit the market. RIM hasn't introduced a new BlackBerry since 2010.
---
Research In Motion indicated via its blog today that it is now taking application submissions for its forthcoming BlackBerry 7 platform. RIM has posted a step-by-step guide for developers so they may properly test and post their applications. BlackBerry 7 will first be available on the Bold 9900/9930 this summer. RIM hopes developers will have apps ready for the new system software by the time it launches.
---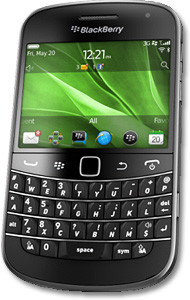 Research In Motion today announced a new series of Bold handsets, the 9900 and 9930, which marry a traditional BlackBerry QWERTY keyboard with a touch screen. The new Bolds are the first BlackBerries to include near-field communications (NFC) for mobile payments. They also include a magnetometer, which supports augmented reality applications. Both devices feature a 2.8-inch capacitive touch display with 640 x 480 pixels; 1.2GHz processor with 768MB of memory; 8GB of on-board memory and support for microSD cards; 5 megapixel camera with 720p HD video capture; and accelerometer and proximity sensor. On the radio side, it comes in two configurations, one quad-band GSM/EDGE with tri-band HSPA+, and one dual-mode CDMA EVDO Rev. A, quad-band GSM/EDGE, and dual-band HSPA+. Both include Bluetooth 2.1+EDR and 802.11b/g/n Wi-Fi. Both devices will be available later this summer. Price points weren't announced.
---