LG Thrill 4G / Optimus 3D
Info Photos News Forum 40 Reviews 9
A company called Graphics Properties Holdings recently filed a lawsuit against Apple, HTC, LG, RIM, Samsung, and Sony, alleging that the companies' products violate its intellectual property. Specifically, the lawsuit covers a patent pertaining to how mobile devices process data and text into pixels on a display. The lawsuit names the Apple iPhone, HTC EVO 4G, LG Thrill, RIM BlackBerry Torch, Samsung Galaxy S/S II, and Sony Xperia Play as violating the patent. Graphics Properties, which has already sued some of these same companies under a different name, is seeking damages and royalty agreements.
---
AT&T today indicated that it is offering the Android 2.3 Gingerbread system update to the LG Thrill 4G. The update must be installed via a Windows PC, and cannot be downloaded over the air.
---
LG today indicated via its Facebook page that it will update a handful of its Android smartphones to Android 4.0 Ice Cream Sandwich. The first wave of phones LG is committing to update includes the Optimus 2X, the Optimus Black, the Optimus 3D, and the Optimus LTE. These phones are available in markets outside the U.S. LG said that it is still evaluating whether or not it can upgrade other devices, such as those sold by T-Mobile (G2X) and AT&T (Thrill 4G). LG will provide more details on the upgrade schedule later this year.
---
We spent some time with the newly-refined LG Thrill 4G for AT&T. As we've reported before, it's essentially the same phone as the Optimus 3D announced at MWC this February. In fact, at CTIA in March, AT&T showed off that European version and called it the Thrill. But now LG has actually finished customizing a few things for the AT&T version, and we had our first chance to see that version tonight. Read on to see what's new.
---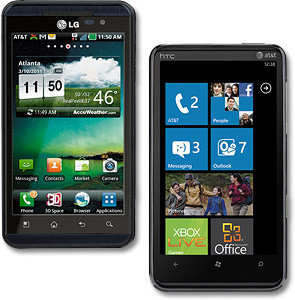 AT&T today announced two new high-end smartphones. The LG Thrill 4G is AT&T's version of the LG Optimus 3D announced last month. The HTC HD7S is AT&T's version of the HD7, already available from T-Mobile USA.
The LG Thrill 4G is the first phone announced by a US carrier with a glasses-free 3D display, and a 5-megapixel 3D camera. Other features include Android 2.2, 16 GB of memory, HD video capture, dual-core 1 GHz processor and "4G" data. It will be available in "coming months."
The HTC HD7S is a Windows Phone 7 device sporting a 1 GHz processor and a 5-megapixel camera. The large 4.3-inch display is a Sony SuperLCD, an upgrade over the screen on the HD7 version offered by T-Mobile. It will be available in the "coming weeks."
---
We had time to play with LG's new Optimus 3D, with 3D display, 3D camera, and dual-core, dual-channel architecture. See what we think about this unique new phone.
---