Hands-On with The New LG Thrill 4G
Article Comments
Jun 22, 2011, 10:13 PM by Rich Brome @rbrome
updated Jun 27, 2011, 11:28 AM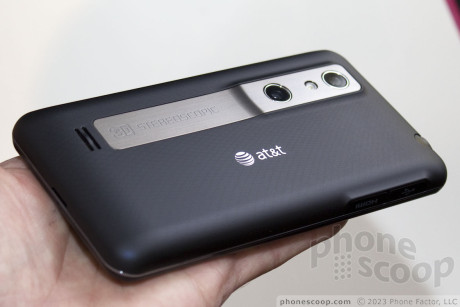 We spent some time with the newly-refined LG Thrill 4G for AT&T. As we've reported before, it's essentially the same phone as the Optimus 3D announced at MWC this February. In fact, at CTIA in March, AT&T showed off that European version and called it the Thrill. But now LG has actually finished customizing a few things for the AT&T version, and we had our first chance to see that version tonight. Read on to see what's new.
Advertisements article continues below...
The only new hardware detail that's specific to AT&T's LG Thrill 4G - compared to the European Optimus 3D - is a new back cover. But it's really nice. It's a blue color with a great soft-touch finish that has the perfect amount of rubbery feeling - such that you always have a good grip - yet will still slip into a pocket smoothly. It's seriously one of the nicest-feeling finishes I've touched on a phone in a long time, and a big step up from the plain matte black plastic on the European version. It also has a subtle diamond pattern that's attractive and tasteful. A strip of brushed metal around the camera adds class, or would, if it didn't have a huge, tacky "3D STEREOSCOPIC" logo stamped into it.
On the software side, AT&T was quick to point out that they've cut down on the bloatware, which is nice to hear, although unfortunately, the preloaded apps they have put on there aren't removable. (Personally, I wouldn't mind bloatware if you could just un-install what you didn't want.)
One handy pre-loaded app is an AT&T barcode scanner. Why Google doesn't make that standard on Android is beyond me.
No messages