Samsung Fascinate / Mesmerize (Galaxy S)
Info Photos News Forum 100+ Reviews 41
In the wake of its courtroom victory against Samsung, Apple today asked the court to ban sales of eight Samsung devices found to infringe on its design and other patents. The devices include the Galaxy S 4G, S2 (AT&T and T-Mobile), S2 Skyrocket, S2 Epic 4G, S Showcase, Droid Charge, and Galaxy Prevail. Apple is hoping the court will grant a preliminary ban on these devices while seeking a final, permanent injunction barring their sale in the U.S. A San Jose jury found Samsung guilty of willful infringement of Apple's intellectual property and awarded it damages of more than $1 billion. Samsung is preparing to challenge the verdict.
---
U.S. Cellular today announced a trio of new plans for customers of its pre-paid wireless services. The least-expensive feature phone plan costs $35 per month and offers 400 voice minutes voice, 400 text messages, and 400 picture messages. Feature phones can also choose a $50 monthly plan that includes unlimited voice, unlimited messaging, and 1GB of data. Last, U.S. Cellular is offering a $65 monthly option for smartphones that includes unlimited voice, unlimited messaging, and 2GB of data. Select smartphones can use the smartphone plan, including the Samsung Galaxy S II, Mesmerize, and Repp; the Motorola Electrify; the HTC Merge and Wildfire S; and the Huawei Ascend II.
---
Verizon Wireless today announced that it will begin distributing the Android 2.2 Froyo update to the Samsung Fascinate starting Thursday, April 21. Customers will be able to download the update manually from the Fascinate's support site.
---
Verizon Wireless today announced that it is offering system updates to the Motorola Droid Pro and Samsung Fascinate Android devices. Neither of the updates adds new features, but they offer a number of bug fixes and enhancements to both devices (including updated Verizon V CAST apps). Users can wait for an over-the-air update, or manually download and install the new system software.
---
U.S. Cellular today announced that it will be offering the Samsung Galaxy S Mesmerize starting October 27 for $199 after rebate. It is a rebadged Fascinate (Verizon) and offers all the same hardware features.
---
Verizon Wireless has confirmed to Phone Scoop via email that the Samsung Fascinate, which shipped with Bing as the default search engine, will be able to download the official Android Google Search application once the Fascinate is updated to Android 2.2. Verizon Wireless would not confirm when that update is scheduled to take place, but suggested that users who want to use Google Search instead of Bing set Google.com as their Android browser home page. Verizon Wireless spokesperson Brenda Raney said, "You can go to Google's home page and download an icon from that page and use Google as an alternative search option." Alternately, Raney said that Fascinate users can "download Voice Search from the Marketplace and when you use Voice Search, it searches in Google." Though the Android 2.2 update will allow Fascinate users to download, install, and use Google Search, Google Search will not replace Bing as the main search engine that launches when the "Search" button is pressed. That button will always launch Bing, even after Google Search is installed.
---
Verizon Wireless today announced that the Samsung Fascinate Galaxy S Android device will be available from its online store starting Wednesday, September 8, and will be available in Verizon retail stores starting Thursday, September 9. The Fascinate will cost $200 after mail-in rebate with a new contract.
---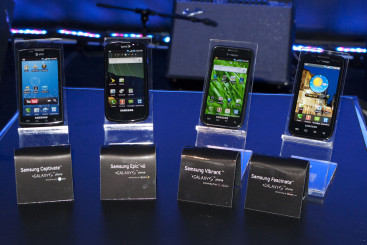 Hands-on with the new Samsung Galaxy S series phone, including the Captivate for AT&T, Fascinate for Verizon, Epic 4G for Sprint, and Vibrant for T-Mobile.
---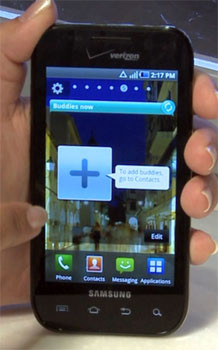 Samsung today revealed the first images of the Fascinate, its Galaxy S variant for Verizon Wireless. The high-end Android phone was announced yesterday. Look for our hands-on report on all four Galaxy S phones for the US later tonight.
---
Samsung today capped off its massive Galaxy S U.S. launch by announcing the Samsung Fascinate for Verizon Wireless, and the Samsung Galaxy S for U.S. Cellular. The phones are nearly identical in their hardware. Both use Android 2.1, a 4-inch Super AMOLED display, and a Samsung 1GHz Cortex A8 "Hummingbird" processor. Both the Fascinate and Galaxy S use 802.11n Wi-Fi, and each features a five megapixel camera with 720p video recording. Both phones also use Samsung's custom interface on top of Android, with Samsung's Social Hub software. The Samsung Fascinate on Verizon Wireless will get Wi-Fi hotspot capabilities, in addition to a slew of Verizon's own branded services, including the V Cast Music with Rhapsody store, V Cast Video, VZ Navigator and Visual Voice Mail, among others.
---