Motorola Droid X
Info Photos News Forum 100+ Reviews 73
Verizon Wireless has published support documentation outlining the Android 2.3 Gingerbread system update for the Motorola Droid X. Gingerbread brings a wide number of updates and changes to the Droid X, including new user interface colors and schemes, customizable dock icons, better word prediction and dictionary support, more calendar options, numerous updates and fixes for the email application, better low-light camera performance, and improved battery life with Bluetooth. Verizon Wireless said the update will begin to be pushed out starting Friday, May 27. Verizon hasn't said when the Droid X2 will also receive Gingerbread.
---
Verizon Wireless is rolling out a firmware update to the Motorola Droid X. Most of the changes reflected make improvements to bugs or other issues on the existing Droid X software. Some of the fixes are applied to the stability of the Android 2.2.1 Froyo OS, Microsoft Exchange ActiveSync, Visual Voicemail, and the MP3 player. Verizon Wireless is also taking the opportunity to install some new applications, including Verizon's Madden NFL Football game, Adobe Flash Player 10.1, the MyVerizon app, and a new Data Widget to the home screen.
---
Verizon Wireless sent word that Motorola Droid X owners will see the Android 2.2 FroYo update starting tomorrow. Users can manually update through the About Phone > System Updates menu.
---
Verizon will be the exclusive retailer of the SanDisk 32GB microSD card. The card is available for $150, or $100 with a Motorola Droid X purchase.
---
Android Central reports that Motorola Droid X units already in hands are receiving an over-the-air software update. The phone is not due to be available to the general public until this Thursday, July 15. The new update brings the phone to software version 1.13.604. The update seemed to be an 18MB file, and no specific feature details were offered.
---
Phone Scoop goes hands-on with the new Motorola Droid X. Based on our first impressions, it is the finest handset Motorola has ever produced. Verizon has a winner on its hands. Full review coming soon!
---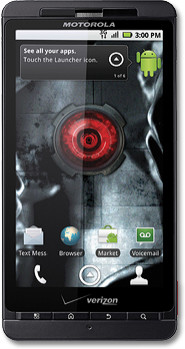 Today Verizon Wireless, Motorola, Google and Adobe took the stage at a press conference in New York City to announced the new Droid X, Verizon's latest in its series of Android devices. The Droid X is a slab-style touch phone. It has a 4.3-inch screen with WVGA resolution (854 x 480 pixels), HD video capture and playback, HMDI out, streaming DLNA support and streaming video content. It can use its internet connection to create Wi-Fi hotspots for up to 5 other devices (additional $20 per month). It also has a 1GHz Texas Instruments OMAP processor and an 8 megapixel camera with mechanical shutter, autofocus and dual LED flash. It will come with a lot of video content, such as V CAST Video, NFL Mobile App, BlockBuster, Skype Mobile and Back-Up Assistant. It as 8GB of internal storage and supports up to 32GB in the microSD slot. The Droid X will be preloaded with Swype for easier typing on the software QWERTY keyboard. Other radios include Bluetooth, GPS and Wi-Fi. The Droid X will run Android 2.1 Eclair at launch, but will receive the Android 2.2 Froyo and Flash Player Mobile 10.1 via an over-the-air software update by the end of the summer. The Droid X will be available July 15 for $200 after a $100 mail-in rebate. Verizon Wireless said that any customer who's contract ends in 2010 will be able to upgrade to the Droid X at the upgrade price point.
---
Verizon Wireless has published a teaser site for the Motorola Droid X. The site mentions that the Droid X has a 4.3-inch display, an HDMI out port, and can record video at 720p. Verizon Wireless is expected to formally announce the Droid X on June 23.
---