LG enV Touch VX-11000
Info Photos News Forum 100+ Reviews 71
Here is an in-depth video tour of the LG enV Touch for Verizon Wireless. It offers the touchscreen experience and has a full QWERTY keyboard for messaging. Is the best of both worlds good enough?
---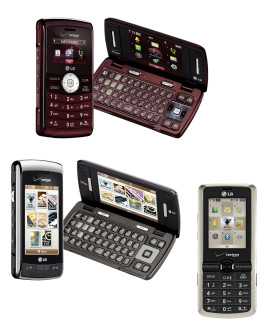 Today Verizon Wireless announced three new LG phones that are headed to its network, the enV3, enV Touch and Glance. All three carry threaded messaging capabilities, GPS and Bluetooth.
enV3: This successor to the enV2 is a sideways clamshell with full QWERTY keyboard. Its 3 megapixel camera has a flash and video capture, as well as Smile Shot and Panorama shooting modes. It has a 2.6-inch internal display, support for 16GB microSD cards, A2DP, 2.5mm headset jack and can be used as a wireless modem tethered to a laptop. It will be available May 29 for $130 after rebate with new agreement.
enV Touch: This successor to the Voyager has a 3-inch resistive touch display with haptic feedback on the outside and a 3-inch standard display on the inside. It shares many features with the enV3, but those that set it apart include a 3.2 megapixel camera with autofocus, flash and image editor, and a 3.5mm headset jack. It will cost $150 after rebates with new agreement and will be available June 5.
Glance: This monoblock device has a 1.3 megapixel camera, 2.5mm headset jack, and speakerphone. It will be available for $50 after rebate with new agreement on June 5.
---