LG's enV3, enV Touch and Glance All Arrive at Verizon
Article Comments 8
May 28, 2009, 8:04 AM by Eric M. Zeman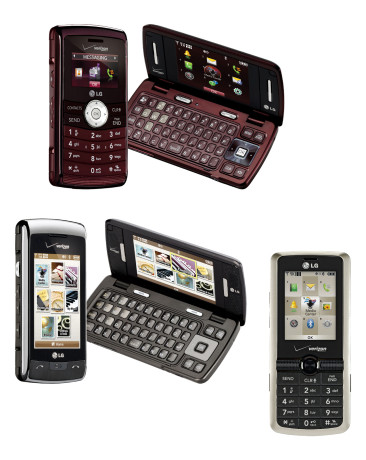 Today Verizon Wireless announced three new LG phones that are headed to its network, the enV3, enV Touch and Glance. All three carry threaded messaging capabilities, GPS and Bluetooth.
enV3: This successor to the enV2 is a sideways clamshell with full QWERTY keyboard. Its 3 megapixel camera has a flash and video capture, as well as Smile Shot and Panorama shooting modes. It has a 2.6-inch internal display, support for 16GB microSD cards, A2DP, 2.5mm headset jack and can be used as a wireless modem tethered to a laptop. It will be available May 29 for $130 after rebate with new agreement.
enV Touch: This successor to the Voyager has a 3-inch resistive touch display with haptic feedback on the outside and a 3-inch standard display on the inside. It shares many features with the enV3, but those that set it apart include a 3.2 megapixel camera with autofocus, flash and image editor, and a 3.5mm headset jack. It will cost $150 after rebates with new agreement and will be available June 5.
Glance: This monoblock device has a 1.3 megapixel camera, 2.5mm headset jack, and speakerphone. It will be available for $50 after rebate with new agreement on June 5.
Leavin at&t
ill be leavin at&t for the enV touch. I almost left them for the voyager but stayd with my BB curve, now that this is hittin stores, ill gladley join Verizon
EnV 3
I saw a dummy model of the EnV3. The front display is much larger and there is a key for a favorites list on the upper left hand side. I am excited to see if it has threaded messaging. Plus I heard a rumor that the price is gonna be less. 😁
It has threaded messaging, and according to the release it looks like it will support full HTML browsing.
:/
what makes the glanc worth $50?
the verizon wireless logo
Maybe because the phone will have an actual cost of 200+?

It's one of the few bar style phones (which believe it or not a lot of people around here like) has threaded sms (which is easier for people to follow), the camera, and a slim design.

...
(continues)
enV Touch
I have the enV Touch, huge step up from the voyager at a cheaper price. Multitabbed browser, multi tasking, shortcuts, threaded messaging. Much better chance of being considered "The Iphone Killer". Won't be but it will be better competition.