Review: LG enV3
Form Basics Extras Video Wrap Up Comments 1
Is It Your Type? Body The Three S's
Jun 19, 2009, 8:15 AM by Eric M. Zeman
LG's latest QWERTY phone for Verizon boasts a nice hardware upgrade, but falls a little flat with the Verizon software and lack of social networking features.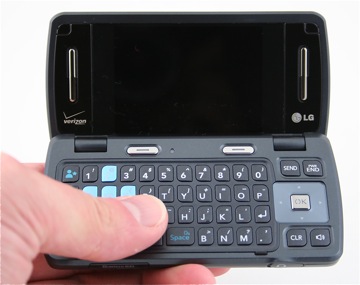 The enV3 is the latest messaging phone from LG that offers the text-happy user a full QWERTY keyboard on the inside with a standard numeric dialpad on the outside. The enV3 includes some definite improvements over the enV2, such as a larger external display, and offers more for the SMS-freak to love. Given that this is the fourth generation of this device, however, we expected a bit more.
LG ENV 3
I purchased the new Env 3 a couple of weeks ago. I love it. I was use to flip phones, and typed fast on them, i didnt know if i would get used to the keyboard. But i am glad i got it. The camera resolution was better than my Chocolate 3. I had bought the body glove cover to protect my phone, and an extended battery, i found out the case does not fit with the extended battery. Oh well. I may need it just in case of another hurricane! (i live in Houston) Overall i am loving my new phone!