Nokia 3650
Info Photos News Forum 6 Reviews 51
fastmobile today officially launched their fastchat™ instant communications service for the U.S. market. With fastchat, users can push-to-talk, send and receive instant text messages, picture messages, SMS, PC-based IM and email globally. The service works with supported handsets, (currently the Nokia 3650 and Sony Ericsson P800,) regardless of carrier or country. BREW and Java handsets on CDMA networks will be supported later this year. The fastchat application can be downloaded from Handango or the fastmobile web site, and service subscription costs $9.95/month.
---
Opera Software yesterday made available its smartphone browser to owners of the Nokia 7650 and 3650 Series 60 Platform phones. The software lets users browse full HTML web sites. Opera's Small-Screen Rendering (SSR) technology massages Web pages to fit on a smaller screen, eliminating horizontal scrolling. Nokia 3650 users can try the browser free for a 14-day trial. Users can purchase the browser for EUR 19.95 for a limited time. Opera intends to offer their browser also for future smartphones based on Series 60 Platform.
---
T-Mobile USA today launched the country's first video messaging services. The service is available with the Nokia 3650 phone, which can capture and send video clips with sound up to 10 seconds. The Nokia 3650 is available immediately from T-Mobile for under $200 after rebate.
---

Nokia today unveiled a several new phones and accessories in conjunction with the CeBIT exhibition kicking off this week in Hannover, Germany:
6220: Tri-band (900/1800/1900) GSM/EDGE camera phone with color display and MMS. Available in Europe, Africa and Asia in Q3.
3300 : Two different models, confusingly with the same model number, for Europe and the Americas. Americas model is GSM 850/1900, with music/messaging focus: split-QWERTY keypad, instant messaging, MP3, FM stereo - available early fall 2003. European model is GSM 900/1800 with game-pad key layout.
Nokia Digital Pen: Accessory that transmits sketches and handwritten notes to a phone via Bluetooth, for sending via MMS.
Nokia Image Viewer: Connects to a TV or projector - displays images from a phone via Bluetooth.
Nokia Add-on Lens : Allows 3650 camera phone to take macro shots.
---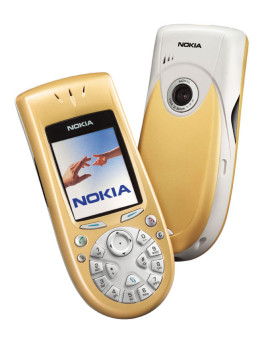 Nokia today unveiled the Nokia 3650 phone, featuring an integrated high-resolution camera, camcorder, video player and multimedia messaging (MMS) functionality. The 3650 is a tri-band mobile phone operating on GSM 900, 1800, and 1900 MHz networks. The phone includes an integrated VGA camera, a 4096-color display, and a unique circular keypad. Java™ technology allows users to download third-party games and applications. For entertainment, the Nokia 3650 phone supports multi-party game play over infrared and Bluetooth. Shipments are expected to begin early 2003. Nokia today also announced the 3510i color-display phone for Europe and Africa.
---
Nokia will unveil several new mobile phone models on Friday, including one with a color screen and a built-in camera, according to media reports. Nokia will hold a news conference in France tomorrow. Nokia has already unveiled six color-screen models this year, but has said it will unveil a further four. Swedish Web site Mobil and newsletter Telekom Online reported that Nokia would unveil the 3650 model, with a big color screen and a built-in digital camera, expected to be available for sale in the first quarter of next year. Steven Knuff, spokesperson for Nokia, had no comment.
---