Acer
Phones & Info News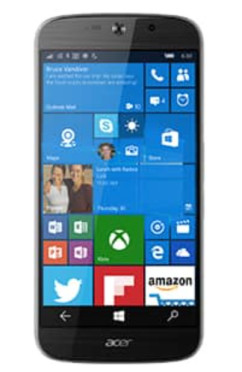 Acer's Jade Liquid Primo landed in the Microsoft Store today for $649. The device runs Microsoft's Windows 10 platform with Cortana, OneDrive, and Office. The Jade Liquid Primo includes a 5.5-inch full HD screen and is powered by a hexa-core Snapdragon 808 processor with 3 GB of RAM and 32 GB of storage. The main camera captures 21-megapixel images and includes a dual-tone LED flash, while the selfie camera shoots 84-degree wide-angle images at 8-megapixels. Other specs include support for memory cards up to 128 GB, 2,870mAh battery, NFC, USB Type-C, GPS, Bluetooth, dual-band WiFi, and a bevy of sensors. The Acer Jade Liquid Primo is available directly from Microsoft's web site, unlocked with support for GSM-based networks (LTE Cat 6), for $649.
---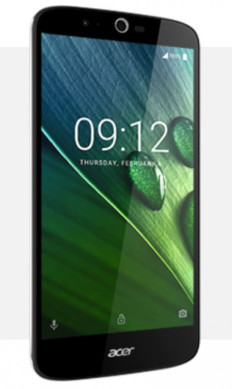 Acer recently revealed that the Liquid Zest Plus smartphone will go on sale in the U.S. for $199 beginning in July. Acer previewed the phone in April. It features a 5,000mAh battery with Quick Charge support that provides "days" of uptime. Other features include a 5.5-inch HD screen, MediaTek processor, 2 GB of RAM, and 16 GB of storage. The phone's main camera has a 13-megapixel sensor with laser-assisted and phase detection autofocus. The 5-megapixel selfie camera has a wide angle of view. The phone ships with Android 6.0 Marshmallow.
---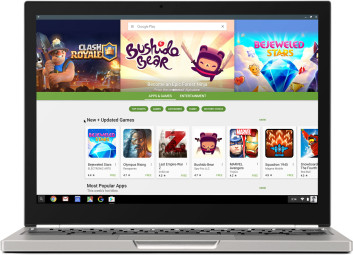 Google today said its Chrome operating system will soon have access to the Google Play Store and the Android apps therein. ChromeOS will support all Android phone and tablet apps, including games, productivity apps, and social networking. Android apps can run in three different window sizes in ChromeOS and users will be able to move the windows around and multitask as needed. Keyboard, mouse, and touch input will all work together within Android apps, and Android-based notifications will be pushed to Chromebooks as well as phones. Moreover, users will be able share files seamlessly between Chrome and Android devices through a new Files app. Google says developers can add admin-level network support to their Android apps for Chrome so businesses and schools can control options such as Bluetooth and WiFi. Android games should run very well on Chromebooks, according to Google. Google Play for Chrome will be available to developers on the Asus Chromebook Flip, Acer Chromebook R 11, and the Chromebook Pixel with a wider launch expected later this year. Google says it will add support for Android apps to more Chromebooks over time. ChromeOS is Google's light-weight, browser-based operating system that runs on inexpensive laptops.
---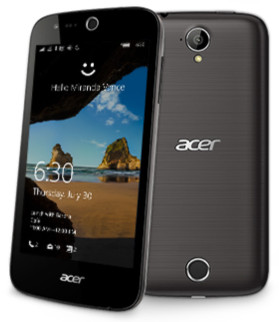 Microsoft recently added the Acer Liquid M330, a low-cost handset running Windows 10 Mobile, to its U.S. web store. The M330 includes a 4.5-inch screen with 854 by 480 resolution and is powered by a Snapdragon 210 processor with 1 GB of RAM, 8 GB of storage, and support for 64 GB memory cards. The phone has two 5-megapixel cameras. The rear-facing camera includes autofocus and a flash, while the front-facing camera is fixed focus. It includes a standard batch of radios, such as Bluetooth, GPS, and WiFi, and limited LTE support including bands 2, 4, 7, and 12. This makes it somewhat compatible with the 4G networks operated by AT&T and T-Mobile. The M330 supports two SIM cards. The phone is available directly from Microsoft for $99.99 It is sold unlocked.
---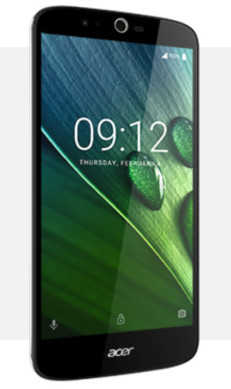 Acer today provided a preview of the Liquid Zest Plus, an Android phone that features a 5,000mAh battery with Quick Charge support that provides "days" of uptime. Other than the battery, the Liquid Zest Plus includes an average feature set, including a 5.5-inch HD screen, MediaTek processor, 2 GB of RAM, and 16 GB of storage. The phone's main camera has a 13-megapixel sensor with laser-assisted and phase detection autofocus. The 5-megapixel selfie camera has a wide angle of view. The phone ships with Android 6.0 Marshmallow. Acer could not confirm pricing details, nor could it say if the phone will be sold in the U.S.
---
Several consumer protection advocates are asking the Consumer Financial Protection Bureau to investigate T-Mobile's business practices. In particular, the groups believe T-Mobile's "no-contract" advertising is deceptive, and its debt-collection policies are predatory. The groups say T-Mobile links month-to-month service with two-year equipment financing plans, which are, in effect, contracts that result in financial penalties if broken. Moreover, the groups say T-Mobile engages in an abusive pattern of debt-collection practices by providing customers with little or no warning before sending debt to collection agencies, and by providing inaccurate information to collection agencies. The groups also believe T-Mobile's arbitration clause exacerbates the issue by placing legal barriers in consumers' way when seeking redress. The groups include Change to Win, Color of Change, League of United Latin American Citizens (LULAC), U.S. Action, and Consumer Federation of California. "T-Mobile's unethical behavior is particularly troubling because the company's customer base is disproportionately made up of people of color, and Latino and African American consumers are more reliant on mobile for phone service and internet access," said Brent Wilkes, Executive Director of LULAC. T-Mobile CEO John Legere responded to the accusations via Twitter. In a since-deleted Tweet, Legere said, "We stand by our ads! We haven't been accused of false advertising by any regulatory body." The CFPB has not responded publicly to the groups' request.
---
Opera today said a total of 14 smartphone makers are now preinstalling its Opera Max data savings software on their devices. Max can reduce data use on Android smartphones by about 50% by compressing images, video, and other data as it transits the network. This includes apps outside of the browser, such as Instagram and YouTube. The list of phone makers putting Opera Max on their phones includes Acer, Cherry Mobile, Evercoss, Fly, Hisense, Mobiistar, Micromax, Oppo, Prestigio, Samsung, Symphony, Tecno, TWZ, and Xiaomi. Opera Max is intended mostly for people using metered data connections. Opera hopes to see Opera Max on 100 million Android phones by 2017.
---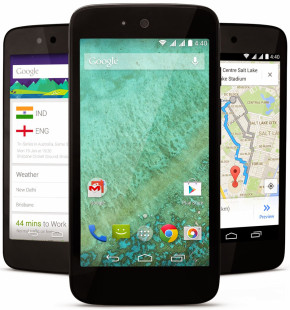 Google and its partners today revealed the first three Android One handsets. Google initially spoke about Android One in June. The idea behind Android One is to bring low-cost handsets to the largest-possible populations around the world. To that end, Google worked with hardware makers, component suppliers, and wireless network operators to develop inexpensive smartphones for India. The first three devices are the Karbonn Sparkle V, the Micromax Canvas A1, and the Spice Dream UNO. The phones include front and rear cameras, large touch screens, MediaTek processors, dual SIM card slots, memory card slots, FM radios, and removable batteries. All three phones are being sold for about $105. According to Google, the devices ship with Android 4.4 KitKat, but will be among the first to receive Android L later this year. Google, rather than the local network operators, will provide all the system updates for these devices. Google said it has signed more manufactures to the Android One project, including Acer, Alcatel Onetouch, Asus, HTC, Intex, Lava, Lenovo, Panasonic, Xolo, and chipmaker Qualcomm. Google plans to expand the Android One program to Indonesia, the Philippines, Bangladesh, Nepal, Pakistan, and Sri Lanka later this year, with more to follow throughout 2015. The main goal is to connect as many people as possible - more than 5 billion - to the internet.
---
Alliacense today announced new patent litigation it is filing against 13 different companies, many of which make mobile products. Alliacense alleges that the companies involved are violating the patents held by MMP Portfolio, which is a patent-holding and licensing firm contributed to and run by a number of other organizations. The companies being sued include Acer, Amazon.com, Barnes & Noble, Garmin, HTC, Huawei, Kyocera, LG Electronics, Nintendo, Novatel Wireless, Samsung Electronics, Sierra Wireless, and ZTE. Alliacense and MMP have filed complaints with the U.S. International Trade Commission seeking to prevent the companies involved from importing the infringing products. It also filed action seeking damages for past infringement that includes triple unpaid royalties and interest, plus attorney's fees; and injunctions barring future products from entering the U.S. Alliacense and MMP Portfolio didn't specify the nature of the patents involved in the litigation.
---
Eastman Kodak on Monday filed a lawsuit in Manhattan against Apple, claiming that the iPhone maker is wrongfully asserting ownership of 10 patents and thereby throwing a wrench into Kodak's efforts to sell those patents. Kodak is accusing Apple of attempting to "delay and derail" its patent sale. In a statement, Kodak said, "Apple's strategy has been to use its substantial cash position to delay as long as possible the payment of royalties to Kodak and to interfere [with the sale]. Apple and FlashPoint (an Apple spin-off that is also claiming ownership) are seeking to benefit from Kodak's difficult financial position, which will be exacerbated if the debtors cannot obtain fair value for the patents." Kodak is requesting that Apple's ownership claims of the patents in question be dismissed.
---
Microsoft today announced that more hardware makers will soon be bringing Windows Phone 7 devices to market. Acer, Fujitsu Limited, and ZTE Corporation all join Dell, HTC, LG, Nokia, and Samsung. The first Nokia WP7 device will have Mango.
---
Phone Scoop spent a few moments with Acer's massive new Android device, the Iconia Smart. Is there anything redeeming about the awkward 21:9 display?
---