Acer Jade Liquid Primo Hits Microsoft Store
Article Comments 3
Jul 18, 2016, 2:27 PM by Eric M. Zeman @zeman_e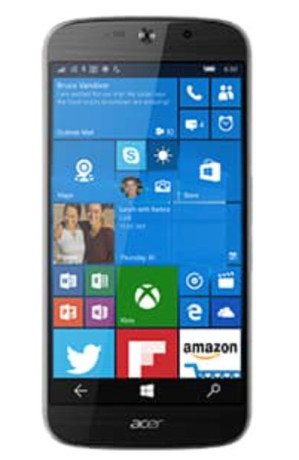 Acer's Jade Liquid Primo landed in the Microsoft Store today for $649. The device runs Microsoft's Windows 10 platform with Cortana, OneDrive, and Office. The Jade Liquid Primo includes a 5.5-inch full HD screen and is powered by a hexa-core Snapdragon 808 processor with 3 GB of RAM and 32 GB of storage. The main camera captures 21-megapixel images and includes a dual-tone LED flash, while the selfie camera shoots 84-degree wide-angle images at 8-megapixels. Other specs include support for memory cards up to 128 GB, 2,870mAh battery, NFC, USB Type-C, GPS, Bluetooth, dual-band WiFi, and a bevy of sensors. The Acer Jade Liquid Primo is available directly from Microsoft's web site, unlocked with support for GSM-based networks (LTE Cat 6), for $649.
more info at Microsoft Store »
wow they might actually sell 100 of these!
What a waste...WINDOWS...SMH
I have found Windows 10 Mobile to be far more productive, and more pleasant to use, than either Android or iOS.

Everyone has their own likes & dislikes, but for me Windows 10 Mobile has a much richer user-interface, the total package is better in...
(continues)