Consumer Cellular
Info & Phones News Forum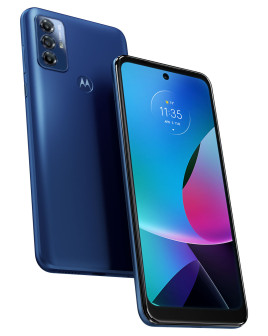 Motorola today announced the new moto g play (2023). This update to the 2021 model has 90 Hz display refresh and a 16 megapixel camera (compared to 13 megapixel on the model it replaces). Other features of this affordable 4G phone are similar, including a 5,000 mAh battery, 10-watt fast charging, fingerprint reader on the back, and a headset jack. It's powered by a MediaTek Helio G37 chipset paired with 3 GB RAM and 32 GB storage (expandable via memory card). Extra cameras include a 2 megapixel macro camera and depth camera. The front camera is 5 megapixel. The unlocked moto g play (2023) goes on sale December 12th for $170. Later, it will come to Metro, Dish, Xfinity, US Cellular, Consumer Cellular, Spectrum, and Optimum.
---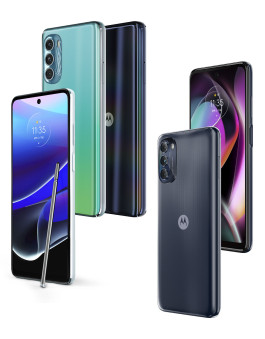 Motorola has announced two new mid-range phones with 5G. Both are essentially 5G upgrades of existing 4G models already announced for 2022. Both will come to a wide range of US carriers, including AT&T, Cricket, Boost, US Cellular, and Xfinity Mobile. Both have a 50 megapixel main camera, 5,000 mAh battery, 10-watt fast charging, fast-refresh display, water resistance, fingerprint reader, expandable storage, and a headset jack.
The moto g stylus 5G (2022) has a three key upgrades compared to both last year's model and this year's 4G model: a 120 Hz display (a first for the g series in the US), a Snapdragon 695 chip, and NFC. The LCD display measures 6.8 inches with FHD+ resolution. The phone also has an 8 megapixel wide/macro camera and 16 megapixel front camera. Naturally, it has a built-in stylus. While the base version has 4 GB RAM and 128 GB storage, versions will also be available with 6 or 8 GB RAM and 256 GB storage. Verizon will also offer a version with mmWave 5G. Motorola will sell it unlocked for $500 starting April 28th. Carriers are expected to sell it for less, at dates to be announced. It will come in two colors: seafoam green and steel blue.
The moto g 5G is essentially a 5G version of the moto g power (2022). Like that model, it has a 6.5-inch LCD display with HD+ resolution and 90 Hz refresh. The selfie camera does get a bump up to 13 megapixel. Extra rear cameras are a depth camera and 2 megapixel macro camera. It's powered by a MediaTek Dimensity 700 chip paired with 4 GB RAM and 64 GB storage. An unlocked version will also be available with 6 GB RAM and 256 GB storage. Motorola will sell it unlocked for $400 starting May 19th. Carriers are expected to sell it for less, at dates to be announced.
Both phones come with Android 12 and Motorola promises one major OS upgrade (to Android 13). Motorola is also committing to three years of bi-monthly (every other month) security updates.
---
Qualcomm today announced the X70 5G modem, S5 and S3 Sound Platforms for Bluetooth audio products, and FastConnect 7800 subsystem with Wi-Fi 7. The highlight of the X70 is a new set of AI processing technologies to improve modem performance. The X70 also include 4x downlink carrier aggregation, across TDD and FDD, sub-6 and mmWave. It also supports uplink carrier aggregation and switched uplink support across TDD and FDD. Qualcomm claims the X70 is the only solution capable of supporting every commercial 5G band in the world. It also supports standalone mmWave networks. The X70 has a upgradeable architecture "allowing rapid commercialization of 5G Release 16 features through software updates". The modem should make it into commercial devices by the end of the year, and it expected to be integrated into forthcoming Snapdragon SoC chips. Qualcomm's new chips for Bluetooth earbuds and similar products are the Qualcomm S5/S3 Sound Platform. These chips support new Bluetooth LE Audio features such as audio sharing, broadcasting, stereo recording, and gaming mode. They also support new high-quality modes for music and voice, more reliable wireless connections, and improved Adaptive Active Noise Cancellation. In addition to these features, the S5 adds a customizable DSP that allows manufacturers to add innovative, exclusive features. Commercial products using the S3/S5 are expected to ship in the second half of 2022. The FastConnect 7800 is Qualcomm's newest Wi-Fi/Bluetooth subsystem, which — like the X7 — will mainly reach consumers as an integrated part of forthcoming Snapdragon SoC chips. The key feature of the 7800 is support for Wi-Fi 7 and High Band Simultaneous (HBS) Multi-Link technology. This will allow ultra-fast connections using four simultaneous links in 5 GHz and/or 6 GHz bands. The 7800 also supports Bluetooth 5.3 and a feature called Intelligent Dual Bluetooth, which enables up to 2x range, as well as faster pairing and connection switching. Qualcomm says the first products using FastConnect 7800 will be available in the second half of 2022.
---