IFA 2017
IFA is Europe's big annual gadget show, and it increasingly plays host for new phone announcements. We're expecting news from LG, Samsung, Sony, Motorola, Huawei, and more. We're in Berlin all week bringing you in-depth hands-on reports.
All Sony Samsung LG Google more... Discuss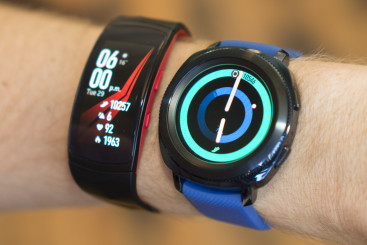 Samsung today announced several new wearables at IFA. They include the Gear Sport smartwatch, the Gear Fit2 Pro fitness band, and the Gear IconX 2018 wireless earbuds. With an expanding range of devices, Samsung hopes people will find the wearable that suits them best. Here are our initial thoughts on these new accessories.
---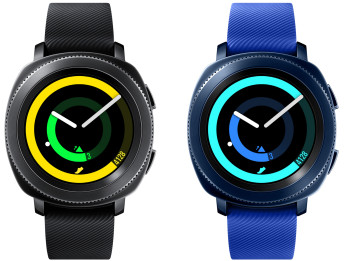 Samsung today introduced the Gear Sport smartwatch. The watch includes a 1.2-inch OLED display and measures 42.9mm, which Samsung says should fit most people well. It is powered by a dual-core 1 GHz processor and includes 768 MB of RAM and 4 GB of storage for music and other files. The device packs a 300mAh battery that Samsung says is good for about two days of use, though tracking workouts via GPS will cut down battery life. Other specs include Bluetooth 4.2, accelerometer, barometer, light sensor, and optical heart rate monitor. It can charge wirelessly and includes NFC for Samsung Pay mobile payments. The device runs Tizen OS 3.0 with some tweaks from Samsung. In particular, Samsung has refreshed its Health and Nutrition platform with more advanced calorie counting and workout tracking. The wearable can automatically track a wide variety of workouts and provide data such as step counts, distance traveled, floors climbed, and more. The Gear Sport includes Samsung's rotating bezel to manage the user interface. Two musical buttons along the side also help manage the UI. The device relies on standard 22mm bands and Samsung will provide a variety of straps in materials such as plastic, leather, and woven fabric. The Gear Sport is waterproof to 50 meters and can handle salt water swimming. It also meets mil-spec standards for protection from abuse, such as drops and shock. The Gear Sport is compatible with most Android handsets and even the Apple iPhone. Pricing and availability were not disclosed.
---
Samsung today updated its dedicated fitness band, the Fit2 Pro. This wearable features a 1.5-inch curved OLED display and runs Samsung's Tizen operating system. The device features a plastic build with a buckle-style strap to keep it firmly in place. The wearable is water resistant to 50 meters and can tackle salt water for ocean-based swimming. Samsung says it meets mil-spec certification for protection from abuse, such as drops, shock, temperature extremes, and high altitude. The Fit2 Pro includes an optical heart rate monitor and can check the wearer's heart rate as often as every second. Other features include GPS for tracking workouts and a bevy of fitness apps, as well as integration with Samsung's Health and Nutrition platform. The wearable includes 512 MB of RAM and 4 GB of storage for holding up to about 500 songs for listening on the go. The Fit2 Pro will be available for preorder starting August 31 and it ships starting September 15. It will cost $199 and will be sold by Samsung as well as Best Buy, B&H, and Macy's. It comes in black and red.
---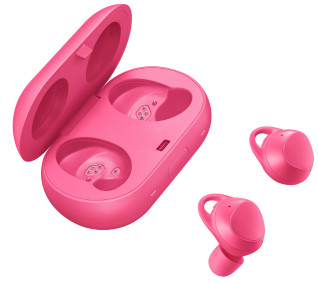 Samsung today announced the Gear IconX 2018 wireless earbuds. These Bluetooth headphones are separate buds that come in a charging case. The new model resembles the previous generation but makes dramatic improvements to battery life. Where the originals had just 1.5 hours of playback time per charge, the IconX 2018 offers up to 4 hours of talk time and 5 hours of music streaming. The charging case can replenish the earbuds once, and supports rapid charging to deliver an hour of play time after just 10 minutes. The earbuds include personal coaching (via mobile app) that can help track and guide owners through workouts. The buds can store about 500 songs thanks to 4 GB of storage. Users control volume and other actions via capacitive buttons placed on the outside of each bud. The IconX supports Samsung's Bixby voice assistant (or Google Assistant and/or Alexa) based on user preferences. The IconX will go on sale later this year. Pricing wasn't disclosed. They come in gray, black, and pink.
---