Hands On with Samsung's Gear Sport, Fit2 Pro, and IconX
Article Comments
Aug 30, 2017, 11:30 AM by Eric M. Zeman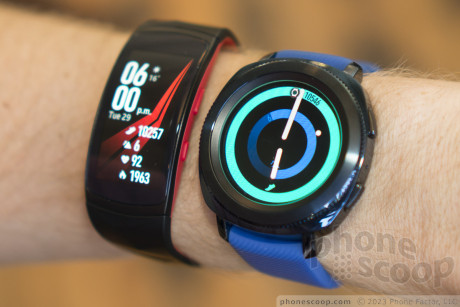 Samsung today announced several new wearables at IFA. They include the Gear Sport smartwatch, the Gear Fit2 Pro fitness band, and the Gear IconX 2018 wireless earbuds. With an expanding range of devices, Samsung hopes people will find the wearable that suits them best. Here are our initial thoughts on these new accessories.
Advertisements article continues below...
Samsung has updated its roster of wearables and now has a fairly complete set of devices. The Gear Sport slides in below the high-end Gear S3 smartwatch, while the Fit2 Pro and IconX 2018 replace older products from last year. We got to spend some time with each of these new wearables. Here are our first impressions.
Gear Sport
Samsung says wearables are on the upswing. Whether it's a smartwatch or a fitness band, people like to keep something on their wrist that provides data other than just the time and date. Some of the top features requested by people are fitness tracking, communications, and news and entertainment. That's why the Gear Sport is a smartwatch running Samsung's Tizen platform.
The Gear Sport has a sporty design and targets health and fitness users more so than power users. It comes with a 42.9mm display, which Samsung says should fit most people comfortably. The watch has standard 22mm bands that can be swapped out, with strap-matching watch faces to boot. The straps are made from a mix of materials, including vinyl, leather, and woven fabric. Each strap has its own feel and texture. My favorite is the woven fabric.
I like the size of the watch quite a bit. The screen is big enough so it is easy to use, but not so ridiculously large that it looks like you have a plate attached to your wrist. The device is made of plastic, not metal, but it doesn't feel cheap. It's definitely not a high-end wearable. Samsung says the Gear Sport is water resistant to 50 meters and can handle salt water. That means you can wear it in the ocean or the local pool for your weekly set of laps. The device is robust thanks to a mil-spec rating. Samsung says it can handle plenty of abuse, such as temperature extremes, altitude extremes, and of course drops and shock.
Like Samsung's other Tizen-based watches, the Gear Sport has a rotating bezel to control the user interface. Spin the bezel to cycle through your core set of favorite apps, which are pinned as shortcuts. A quick press of the upper button opens up the full app menu, which makes use of a rotating series of icons. Spin the bezel to select the app you want to open and then tap anywhere on the screen to open it. Samsung says the Gear Sport runs Tizen 3.0, a minor update to Tizen 2.3, which is currently running on the Gear S3 smartwatch. The buttons are large and easy to find, though as a lefty I wish they weren't on the right side of the watch. Travel and feedback was good.
The software does include some new stuff that's worth getting excited about. Samsung says it refreshed its Samsung Health and Nutrition suite of apps and made them more powerful for tracking workouts and other activities. The biggest addition is the calorie tracker, which can be used to augment calorie-based exercise regimes. The device tracks heart rate, steps taken, floors climbed, total distance, and other metrics throughout the day. The raw data can be parsed in the Samsung Health and Nutrition platform to provide you with detailed information on your daily activities. The watch can do things like automatically track workouts after it notices prolonged activity, and will even ensure you get credit for the workout from the moment it starts tracking activity. In a new twist, you can beam your individualized workouts from the watch to Samsung television sets for more visual assistance.
Other neat-o features include Samsung Connect for controlling your smart home stuff, Samsung Pay for mobile payments (NFC only), a PowerPoint controller, and even a virtual reality controller for the Gear VR headset.
The Gear Sport is compatible with most Android handsets and goes on sale later this year. Pricing wasn't disclosed.
Gear Fit2 Pro
This refreshed fitness band is aimed at people who want a fitness tracker that offers more than what's available on devices such as a FitBit, but those who also don't want a full-fledged smartwatch.
The Fit2 Pro is an all-plastic affair that looks like a FitBit on steroids. It features a narrow, curved 1.5-inch OLED display. The display is quite bright and easily visible outdoors under bright light. It includes 432 by 216 pixels and is protected by Gorilla Glass 3. The Fit2 Pro is touch sensitive and you can move through the user interface by swiping sideways.
Two buttons line the right side of the wearable for controlling the user interface a bit. A smaller button on the bottom takes you back one step, while the larger button opens the full menu and can be used to turn the display on or off. The buttons are a bit hard to find and rather stiff to use.
The strap moves to a buckle for affixing it to your wrist. Samsung made this change because the device is waterproof to 50 meters and the company envisions people will use it to actively track swimming workouts. It can handle salt-water swims, and meets mil-spec ratings for protection from abuse such as drops and shock.
Of course the wearable includes GPS for tracking workouts and will automatically track them if you forget. The heart rate monitor can track your pulse as often as every second, or once every 10 minutes. The device includes a 200mAh battery for two days of battery life, though Samsung says the 1-second heart rate check will dramatically cut down battery life (as will GPS tracking).
Other specs include Bluetooth 4.2, accelerometer, and barometer, 512 MB of RAM and 4 GB of storage (enough for about 500 songs). It supports offline playback for listening when on the go.
The UI is dead simple to swipe through. You can pin a number of app shortcuts to the home screen that you access by swiping sideways. The fitness apps are robust and provide an incredible amount of detail on activities such as steps, floors climbed, distance traveled, and more. These all sync to your Android or iOS smartphone for managing via the Health and Nutrition app.
The Fit2 Pro is the first of this trio of wearables to become available. It will be set for preorders starting August 31 and will ship September 15. It comes in all black, or black with red accents. The straps cannot be swapped. It costs $199.
Gear IconX 2018
Samsung made one huge improvement to its wireless earbuds: they have much better battery life.
The buds each have an 82mAh battery and the case offers 340mAh of additional capacity. The battery life has been boosted from a measly 1.5 hours on the original IconX to 4 hours of talk time and 5 hours of music streaming. That's a huge improvement, as battery life was one of my biggest gripes with the original. The battery case is good for one additional charge for the earbuds, and supports rapid charging to give you an hour of music playback in just 10 minutes.
The pill-shaped case is small and easy to handle. I like that Samsung switched the charging port from microUSB to USB-C. An indicator light on the back lets you know whether or not the case is charged, and two lights on the front let you know when the earbuds are charging. You open the case by pressing a small button on the front.
The buds fit into the charging case well and are small and light. Samsung says the IconX will come with an array of ear tips and wings to ensure a proper fit (we didn't stick them in our ears, sorry.) I like that Samsung carried over the capacitive control on the outer surface for managing playback, calls, and volume. What's more, the IconX work with Samsung's Bixby (or Google Assistant or Alexa) and can call up your assistant for posing voice-based queries.
You can take advantage of Samsung's software to track workouts with the IconX and even make use of the in-ear coach for motivation.
The IconX 2018 comes in black, gray, or pink and will ship later this year. Samsung didn't mention pricing.
No messages