Hands-On: ZTE's LTE Phones
Article Comments
Feb 27, 2012, 2:42 PM by Eric M. Zeman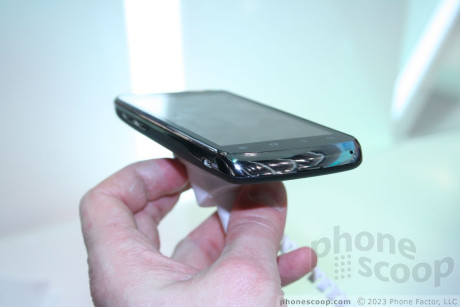 ZTE may have announced eight new smartphones, but only two are headed to the U.S., the PF200 and the N91. Here are our initial hands-on thoughts.
Advertisements article continues below...
PF200
ZTE's handsets are not the sexiest we've seen in Barcelona this week. We spent a few moments with the ZTE PF200 and weren't all that impressed.
This Android 4.0 phone phone is extremely light. The unit we used was not working, so it's possible it was a dummy — with no innards at all. The plastics were cheap and the device was not well assembled. The seams were all over the place and many of the components didn't work as they should.
For example, the power button was miserable. It had travel and feedback at all. It barely budged. The volume toggle wasn't much better. It was difficult to tell if you had pressed the button or not.
The display measures 4.3 inches across and offers qHD resolution, but we weren't able to power the phone on to see what it looks like.
On paper, it sports a 1.5GHz SnapDragon processor, 1GB of RAM, 4GB of storage, and includes support for AT&T's LTE bands. AT&T hasn't formally announced that this device will be sold for its network, but given its quad-band GSM/EDGE/HSPA support, there's few other places it would land.
Overall, it feels like what it is, a cheap Android phone.
N91
ZTE also had a phone on display called the N91 / N910. We're not sure which it is, and neither was ZTE. Whatever the official names it, this is one chubby phone.
The 4.3-inch display mandates a specific footprint in terms of length and width, but the depth is out of control on this handset. It's very, very fat — yet it's light as air. It feels like there's absolutely nothing inside the plastic shell. This one powered on, so there was a battery in there for sure.
I thought the materials on this device were a little bit better than the PF200. They still weren't top-of-the-line, but they were pretty good. Despite the girth of this phone, it was comfortable to hold thanks to its feather-like weight.
The buttons and controls were much better on this phone and all operated well. I didn't have any trouble with the buttons and was pleased with how they worked.
The display has a standard Android resolution of 480 x 800 pixels and looked pretty good. It was bright, colorful, and relatively sharp.
This phone runs Android 4.0 Ice Cream Sandwich. Even though it had only a 1.2GHz dual-core processor on board, it runs extremely smooth. There were no performance problems and screens transitioned quickly and without issue.
This phone supports CDMA networks as well as LTE. It also includes 512MB of RAM, and 4GB of internal storage, 5-megapixel main camera, VGA front camera, and DLNA wireless media streaming.
It's not bad, as long as you don't mind the thickness.
No messages