Hands-On: ZTE Anthem for MetroPCS
Article Comments
Sep 20, 2012, 8:00 PM by Eric M. Zeman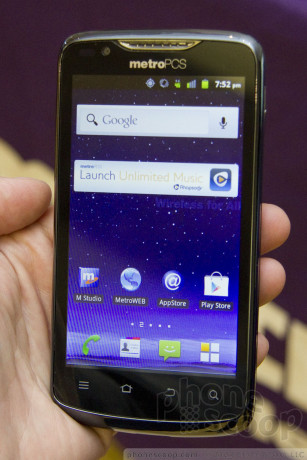 MetroPCS had the ZTE Anthem 4G on hand at an event in New York City. Here are our initial impressions.
Advertisements article continues below...
The new Anthem 4G is ZTE's first LTE-capable Android smartphone for the U.S. market. It is a huge, huge phone.
The Anthem uses black-on-gray coloring but manages to mix these oft-used shades in a way so that the Anthem has a look all its own. Perhaps most importantly, the sides and back of the device are covered by a rubbery coating that gives it a lot of grip. The coating is also lined with ridges. It sort of feels like a phone that would be easy to hold in the hottub, but it sadly isn't waterproof. Because the ridges on the battery cover are so pronounced, they are visible from an arm's length away, if not further. They add some much-needed personality to the Anthem. The rubbery ridges also mean the Anthem won't slip easily into your pocket.
As cool as this back and side surface are, they do nothing to help reduce the size of the Anthem. It's a really, really big phone. Thick, wide, and tall. It filled my entire palm, and was somewhat difficult to wrap my fingers all the way around.
The controls are well placed on the outer edges of the phone. I had no problem reaching them or using them. I was especially pleased with the feel of the volume toggle, which had a solid click to each directional.
The 4.3-inch display tuns a typical 800 x 480 pixels. As with the Alcatel Authority for Cricket, this screen size and resolution means you can pick out individual pixels from time to time. It's certainly not a bad-looking display, but it didn't dazzle me, either.
The stand-out feature, in my mind, is the micro-HDMI port. It's just not something you see on mid-range phones. It's a welcome addition to the Anthem, as it will make sharing content that much easier.
The Anthem runs Android 2.3 Gingerbread and has a dual-core 1.2GHz processor under the hood. I wish the device had Android 4.0, but the processor gave the Anthem plenty of power to open apps, surf the web, and push video to an external monitor.
The ZTE Anthem 4G will be available in the coming weeks for $219 after mail-in-rebate.
No messages