Review: BlackBerry Curve 9370 for Verizon
Form Basics Extras Wrap-Up Comments
Is It Your Type? Body The Three S's
Jan 23, 2012, 5:01 PM by Eric M. Zeman
RIM punches out a low-end Curve smartphone for Verizon Wireless. While the 9370 looks to be capable, it has a hard time keeping up with today's smartphones.
Advertisements article continues below...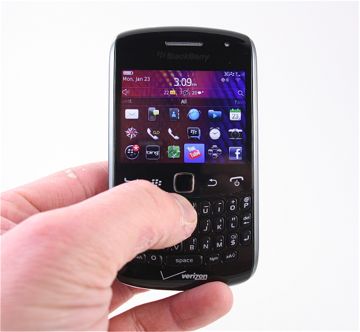 The BlackBerry Curve 9370 falls at the lower end of the BlackBerry range. It is meant to be a smaller, more entry-level phone rather than a full-powered flagship device. It is a diminutive smartphone that packs a strong punch for its tiny size. It includes the famous BlackBerry QWERTY keyboard and a good set of specs. It's a decent entry-level smartphone, but several factors hold the 9370 back.
No messages