RIM Debuts the BlackBerry Curve 9350, 9360, 9370
Article Comments 16
Aug 23, 2011, 7:07 AM by Eric M. Zeman
updated Aug 23, 2011, 11:47 AM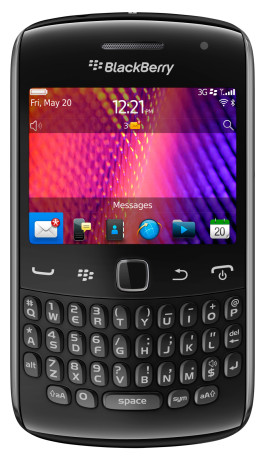 Research In Motion today announced a new line of BlackBerry Curve smartphones, the 9350, 9360, and 9370. All three devices offer identical hardware and run the new BlackBerry 7 operating system with the latest version of BlackBerry Messenger and the new BlackBerry browser. They each feature a 2.44-inch display with 360 x 480 pixels and RIM's Liquid Graphics; optical trackpad; 800MHz processor; 5-megapixel camera with flash, face detection, and VGA video capture; and built-in near-field communications. They also include GPS, Wi-Fi, Bluetooth, 512MB of RAM, and support microSD cards up to 32GB.
9370: The 9370 is a dual-mode world phone that has quad-band EDGE for roaming and CDMA/EVDO for use in the U.S. It has 1GB of internal storage.
9360: This version includes tri-band UMTS and quad-band EDGE support, and offers 512MB of storage.
9350: This version runs CDMA only and has 512MB of storage.
RIM expects all three models to become available starting in September. Pricing for each model was not announced.
Advertisements article continues below...
More junk from 2001
You have to be kidding me that they are making the same looking blackberry over and over and over? Im going to shot myself in the foot now, boring os, boring phone, just down right boring!
There are only so many ways you can design a phone with a full physical QWERTY keyboard and there are only so many ways you can design touch screen phones with glass slabs overlaying them.

This is an entry level blackberry for the business crowd an...
(continues)
Yawn
2008 Specs for other devices and BB OS7 is nothing to write home about.
Who gives a crap about 'spces'?

Seriously, I am getting sick of these high powered phones which have so many features that it overpowers the battery and you have to recharge it every 6 hours when you weren't even using it.

Instead of cramming in...
(continues)
You don't cram all the latest and greatest into an entry level smartphone.
The "specs" for the curve back in 2008 were far worse than what this has and because just about every carrier had it, it sold better than even the iPhone then.

nothing to ...
(continues)
Borrrring
RIM just doesn't get it. 🙄
Yeah, who needs a phone that is good for making phone calls, with an excellent antenna that rarely drops a signal and which has a battery that lasts a full day before recharging?