Hands On with the Samsung Galaxy Attain 4G
Article Comments
Jan 10, 2012, 8:59 PM by Rich Brome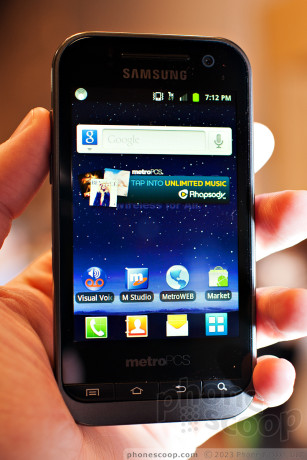 The Galaxy Attain is the result of trying to make a 4G LTE phone really affordable, for a prepaid carrier like MetroPCS. It's a cute little phone, with that blazing fast LTE inside. See how it stacks up in our hands-on.
The Attain is a small, pocket-friendly phone, especially compared to the giant phones you'll find at the high end of lineups these days. It's a bit on the thick side, but not too much for an LTE phones, and it'll still slip into a pocket easily. It's quite lightweight.
It's all plastic and feels like it, yet it feels quite solid and well-built. The buttons around the side are all excellent. The standard Android controls on the front are all real, physical buttons, and they're excellent.
The big catch is the display. That's clearly where Samsung cut corners to make this phone affordable. It's a tad dim, washed-out, and quite low-resolution compared to most other Android phones.
The software has all of Samsung's basic Android tweaks.
My personal favorite is the Samsung widget for managing your running apps. It tells you at a glance how many apps are running and color coding tells you of some are hogging your battery. A quick taps takes you into Samsung's task killer app, which makes it dead-simple to kill apps that are draining your battery in the background, like Facebook. It's a ton easier than most third-party task killers, and does a better job of killing all parts of an app in one tap.
The other preloaded Samsung apps are kind of confusing. There are three notepad apps by different names, and two apps called "tasks" that do completely different things. But these are small niggles.
If you can get past the screen, the Attain seems like a decent little Android phone. Look for it in the coming weeks for $200 after $50 rebate.
No messages