Review: Samsung Galaxy Attain 4G for MetroPCS
Form Basics Extras Wrap-Up Comments 5
Is It Your Type? Body The Three S's
Feb 4, 2012, 11:22 AM by Eric M. Zeman
Samsung brings a mid-range Galaxy-class device to MetroPCS's network in the Attain 4G. This simpler smartphone packs some surprises, along with some disappointments.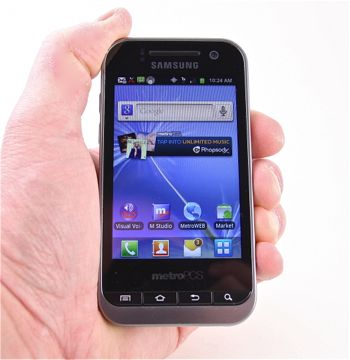 MetroPCS's latest LTE 4G smartphone is the Samsung Galaxy Attain 4G. It lands in the middle of the food chain in MetroPCS's lineup, and offers a good mix of features for the price. Android fans that want a pre-paid phone should take a look at the Galaxy Attain 4G.
From the "we don't give a crap" dept.
That mis-aligned mail icon is indicative of the overall quality Samsung puts into their phones.
All of the samsung phones / electronics that I have ever bought have not only lasted a long time, but work exceptionally well.
Call quality
I wonder if call quality is being sacrificed to due their limited amount of spectrum. They're sharing the same with LTE right? My friends have noticed that voice quality has deterioriated in the last couple of months in NYC. Even with full strength signal mind you.