Hands-On: Sony Xperia S
Article Comments
Jan 10, 2012, 3:43 AM by Eric M. Zeman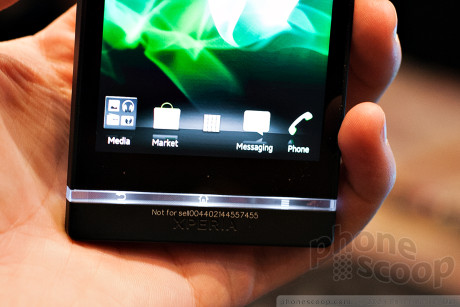 One of the first phones to bear only the "Sony" name, the Xperia S is a sleek Android smartphone.
Xperia S
The Sony Xperia S is a new Android smartphone. It runs Android 2.3 Gingerbread along with a minor Xperia user interface. It's a sleek smartphone that's made of solid materials and has a good feel in the hand.
The Xperia S is made of sleek plastics that don't feel cheap and have been fitted together well. As is true of many Sony smartphones, the Xperia S is rectangular and blocky looking, though it has a slightly rounded back cover. It fits well into the palm of the hand, but the sharp edges are a bit, uh, sharp from time to time.
The 4.3-inch 720p display looks really, really good. It's hard not to be impressed by 1280 x 720p HD displays, and the Bravia technology used in the Xperia S's display is very cool. I was unable to see individual pixels when I held it close to my eyes, and icons looked sharp and clean.
There's one odd thing to the Xperia S. One of the neat design cues is that it has a clear, crystal-esque bar running below the screen that lights up. The icons for the back, home, and menu Android controls are embedded in this strip. The problem is, the icons aren't where the actual buttons are. The buttons are actually *above* those little icons. It's not the end of the world, but will take first-time users a while to adjust to.
The controls aren't bad, though I wasn't a fan of the volume toggle. It is a bit too small to use. I like the positioning of the 3.5mm headset jack on top, and the microUSB port is no problem to use.
The user interface was lightning quick. In my experience, Sony smartphones can be a bit on the slow side, but the Xperia S solves that problem. The user interface is clean and sharp, and very, very quick. I enjoyed using it. The Xperia S will ship with Android 2.3, but will eventually be updated to Android 4.0.
No messages