Review: HTC Rezound for Verizon Wireless
Article Comments 6
Nov 21, 2011, 5:34 PM by Eric M. Zeman @zeman_e
HTC's first Beats Audio-enhanced phone lands at Verizon's doorstep with LTE 4G, a 720p HD screen, and custom headphones to bring a better audio experience. Here's Phone Scoop's in-depth report, wherein we put Beats Audio to the ultimate test.
AD article continues below...
Form
Is It Your Type?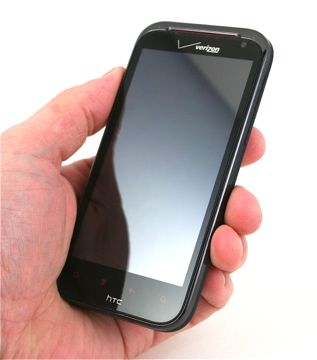 HTC rekindles the appealing design of the original Droid Incredible in the Rezound, a new LTE 4G Android smartphone that promises to put the audio beatdown on music lovers. The Rezound is the first HTC handset to offer Beats Audio integration to a U.S. audience. Has HTC's $300 million investment in Beats Audio led to a better music phone? Phone Scoop digs deep.
Body
The HTC Rezound carries forward design language that HTC and Verizon have used on previous devices, with a matte black finish and red accents. The front face is a bit on the staid side and the device is slightly thicker than I'd like a phone to be, but the overall look of the phone is pleasing and not altogether boring.
It feels great in the hand, thanks to the soft-touch battery cover and well-rounded edges. The quality of the materials (plastic and glass) is excellent, and the fit and finish of the manufacturing is very good. The pieces fit well and everything about the Rezound feels tight. I expect nothing less from a high-end HTC handset. It'll fit into your pocket, but those with tight jeans may have trouble with it. Also, the matte/soft-touch battery cover tends to get caught on the fabric if your pocket, making it difficult to retrieve without showing off your Hoover Flags.
The face of the Rezound stands apart from most other Android phones thanks to some very subtle design cues. First, the earpiece speaker grate is a thin red sliver of material at the very top of the phone. It's hard to see, but flashes out at you every so often when it catches some light. Second, the capacitive Android controls at the bottom of the screen are red, not white. OK, ok, not the biggest deal in the world, but a nice touch just the same.
The micro-USB port is on the bottom of the left side of the phone. It can be used with a normal microUSB cable for charging and data transfer, as well as be used with an MHL HDMI cable for connecting to HDTVs. I like that HTC used the MHL standard to roll them into one port, instead of two.
The volume toggle is on the right side of the Rezound, and it has to be the absolute worst button ever produced by HTC. It's too flush with the edge, making it almost impossible to find. Worse, it has the mushiest travel and feedback of any button I've ever pressed. It truly is terrible. Ditto for the all-important power/screen lock button on the top of the Rezound. I am actually shocked at how poorly these two buttons function. The 3.5mm headset jack is where HTC typically puts it, on the top surface.
The battery cover takes some work to pry off, but you'll be rewarded once it is removed with a neat-o transparent inner surface that is colored red. I like that HTC does this. Sure, you won't see it 99% of the time you use the phone, but its cool that HTC sometimes pays attention to little details like this that give phones a bit more personality.
The bad news is that the memory card can't be removed lest you first remove the battery. Boo, HTC; you guys know better than that.
The Three S's
Screen
The Rezound has a 4.3-inch Super LCD with 1280 x 720 pixels. It is one of a very few HD displays available in the U.S. It looks really, really good, though I wasn't as completely bowled-over as I was expecting to be. Held side-by-side with a qHD (540 x 960 pixel) display, the Rezound's didn't look noticeably sharper or brighter. In fact, brightness is lacking a bit in my opinion. Most of the content on the Rezound's display looks fantastic, especially pictures, video, and web pages. Web pages, in particular, look impressive because you can actually read the text of full HTML web sites when zoomed all the way out. The extra pixels are put to good use there, and I was actually able to playback some HD movie content and enjoy it at full resolution. Outdoor visibility is not all that great, however.
Signal
As a 4G device, the Rezound performed well in my tests in New York City. Both indoors and out, it was able to find Verizon's 4G LTE network with no problem, and remained attached the entire time I was in the city. It never dropped to 3G. Data speeds over 4G in NYC were inconsistent, though. The Rezound was noticeably faster when outdoors and slower when indoors. The fastest download speed I saw over 4G was 8.87Mbps and the fastest upload I achieved was 2.65Mbps, though both those results were outliers. Average speeds were slower.
As a 3G device, the Rezound did OK, but fell short of excellent. Held side-by-side with other Verizon devices, it typically showed one bar less of coverage in any given location. It also showed a slightly higher propensity to drop calls. It dropped two during my tests, while another Verizon handset made calls from the same location without dropping them. Data speeds via 3G were typical for Verizon's network.
Sound
The Rezound is an excellent voice phone. Not only is the earpiece incredibly loud, call quality is clean, free of static/noise, and has a pleasant, warm tone to it. Color me impressed. Set to max. volume, the Rezound is loud enough to be heard in even the noisiest environments (busy city streets, small room full of 100+ people talking, and even bars with karaoke blasting in the background). Call quality through the speakerphone was also very, very good, but the speaker itself is prone to distortion when set to the highest volume. Leave it set at about two-thirds and you be rewarded with crystal clear conversations that are plenty loud for most rooms. The ringers and alerts can be set loud enough to stir the corpses in your local cemetery. The vibrate alert is buzz-saw strong. (We're reviewing the Rezound's music (Beats) audio quality in a separate section.)
Battery
The Rezound is Dr. Jekyll and Mr. Hyde when it comes to battery life. In 3G-only coverage areas and the LTE radio turned off, I was consistently able to coax just over 30 hours of battery life out of the Rezound over the course of a week. That's not fantastic, but it is good enough to keep most people connected for an entire day.
Switch the LTE radio on while under 3G-only coverage, and battery life drops to about 24 hours.
Use the Rezound in an area with both 4G/3G coverage, and the battery will die off much faster. During a day in NYC, the Rezound fell from 100% charge to a 50% charge over the course of about six hours. The bottom line is that you'll have to tweak your settings and usage to get the best battery life out of the Rezound, but be prepared for less than a full day of charge if you're a heavy 4G user.
Basics
Menus
The Rezound runs HTC Sense 3.0 on top of Android 2.3.4 Gingerbread. As far as Sense phones go, the Rezound behaves exactly the same as about a dozen Sense phones that Phone Scoop has reviewed in recent months.
It has seven home screens (which can be whittled down to three if you wish), and offers plenty of HTC-designed widgets for various apps and services. The main menu is laid out in grid form by default, but can be switched to list view or sorted alphabetically or by date (most recently used). There are also HTC's sorting tools at the bottom, which let you see all the apps, frequently used apps, apps that you downloaded, and Verizon-branded apps.
There are three different HTC-designed skins that can be applied to the home screen, as well as seven different Verizon-designed scenes (effectively the same thing as a skin). There are six different lock screen styles to match the six different scenes, but you can mix them up if you want to.
Lastly, the lock screen can be customized with up to four different shortcuts that take you directly to an application rather than the home screen when the phone is unlocked.
Calls/Contacts
The Rezound's calling and contact features are identical to those of other Sense phones.
By default, the phone app opens with the dial pad on the bottom half of the screen and your top favorites above it. Press the favorite you want to call and bingo, you're connected. The call history tool makes it a cinch to add recent callers to your contacts list.
Since the phone and contact apps are somewhat merged into the same tool, it's easy to access contact details from the phone app, and the phone app from contact cards. Searching through your database is easy; simply start typing a name and Sense starts to search for it immediately. You usually only have to type a few letters to find the person for whom you are looking.
I like the tabs along the bottom of the phone app that let you quickly jump to your groups. You can also tap the microphone in the search bar to sort through contacts by speaking their names.
Messaging
Sense and Android together offer a wide range of messaging options on the Rezound, with all the basics covered and then some.
There are several different avenues to get your email. First, there is the generic email program. It offers a nice user interface for sorting through messages and works with pretty much any POP, IMAP, or Exchange email account you could throw at it. Then there's the native Gmail client, which continues to be one of the best mobile email experiences available.
The Rezound skips the native SMS app in favor of HTC's version. The main difference is that the HTC app is skinned to look like the software on the rest of the phone. It also offers a dynamic widget that lets you page through your messages from the home screen.
The native Google Talk IM app is on board and functions exactly as it does on other Android phones. Stunningly, the Rezound includes support for not only AIM, but Yahoo Messenger in the "accounts" tool. This means you can add these alternate IM services directly to your device without the need for third-party software. They are then accessed through an app in the main menu. When logged in, you will see notifications for new messages, etc.
There are a number of ways to connect to social networks with the Rezound. First, there's HTC's FriendStream. The FriendStream app reaches into your Facebook and Twitter accounts and pulls down status updates in a stream that you can look at quickly. You can also use HTC's Peep application for Twitter, though I prefer the official Twitter application. The native Facebook app is also better than FriendStream for more fully interacting with your account. Facebook is preloaded; Twitter isn't.
Extras
Beats Audio
I fully admit that the following is an over-the-top and ridiculous way to test the audio quality of a cell phone's music player, but hey, I had fun doing it and HTC thinks you should buy the Rezound for this feature. I didn't use any fancy graphs, or microphones, or test equipment, just consumer-grade stuff that anyone can buy, and my own two ears. So, here goes...
Hi, my name is Eric, and I am an audiophile. I am addicted to sound. I have more stereo equipment in my house right now than I care to admit, but I made use of it to put the Rezound to some rigorous audio quality tests.
Part of the magic that HTC wants you to believe in is that the Rezound comes with special Beats Audio software. True to HTC's word, in the HTC music player application, you can toggle two sound shapes: Beats Audio and HTC Sound Enhancer. Each has its own sound; they are definitely different, though whether or not one is better than the other is the question.
I used four songs to test this software: Lady Gaga's "Judas," Chris Cornell's "Blackhole Sun (acoustic)," Metallica's "One," and Coldplay's "Hurts Like Heaven." I chose these songs because they cover the range of what most people will listen to: club-style dance, acoustic/natural instrument and voice, hard rock/heavy metal, and modern pop/rock.
I queued up each song in HTC's media player as well as Google Music. Thanks to the multitasking nature of Android, I was able to jump back and forth between the two different media players to see if there was a difference in sound.
Using the included Beats headphones, the sound quality with the Beats software activated was definitely better than the HTC Enhancer and the Google Music app. It's evident that the included headphones are tuned really well to the software and the Rezound in particular, but the results aren't even.
To my ears, the Beats software is doing a few tricky things. First, the HTC Sound Enhancer profile is rather flat, giving roughly even clout to the low, mid, and high frequencies. The Beats software is boosting the bass (by a lot), dialing down the mids, and boosting the highs. It is also compressing the signal (reduces peaks and troughs), and upping the sound level a bit.
To the untrained ear, switching on the Beats Audio software means your music will be more bass-heavy, bright-sounding, and louder than the HTC Sound Enhancer. HTC's software sounds dull by comparison, as does the new Google Music application.
This means that Lady Gaga and Metallica sound really good with the Beats software, but Coldplay and Chris Cornell didn't sound as good. Where Lady Gaga and Metallica lean towards bass and treble mixes to begin with, Chris Cornell's naked voice and Coldplay's lush soundscapes have a lot more mid-range tones in them. With the mid-range dialed down by Beats, I felt that Chris Cornell and Coldplay's songs didn't sound as good as with the flat EQ of the HTC software and Google Music software.
I then repeated these same A-then-B listening tests with my own Shure SE310s and Bose Quiet Comfort 15 headphones. Now, both of these sets of headphones costs $300 each, which is thrice the off-the-shelf price of the URBeats headphones that the Rezound comes with. No offense to Beats engineering, but both the Shures and the Bose completely spanked the Beats in terms of overall audio quality in all four songs, with the Beats software turned on, turned off, and through the Google Music app. There is still a difference, however, with the Beats audio software turned on. You can head the EQ change, boosting the bass and treble, while compressing the signal and raising the volume.
Just to be a jerk, I decided to test the Rezound with it plugged into three different stereo systems. The first system included a $200 receiver and $200 bookshelf speakers. I noticed the same difference in terms of how the Beats Audio software works. Then I pumped it through my main home theater, which has a $400 receiver and about $1200 worth of high-end speakers, including floor-standing mains. With this system, I was able to more clearly hear how the Beats software had an effect on the four different songs. Through my main home theater, Chris Cornell and Coldplay sounded downright crummy with the Beats turned on. There was no warmth, and the lack of mids really hurt what Chris and the Coldplay gang were trying to achieve with their recordings. The Lady Gaga and Metallica, however, sounded a lot better.
Then, simply because I had to take it to the Nth degree, I hooked the Rezound up to my Public Address system (PA), which features two 550-watt active speakers, each with 15-inch woofers. These speakers are loud enough to fill a dance club with enough sound to make people's ears bleed. With the Beats Audio software turned on, Lady Gaga sounded amazing at club-like volumes, while Metallica sounded raw and gnarly at stadium-level volumes (my ears are still ringing). I still preferred the regular mode of listening for Chris Cornell, but Coldplay sounded good through my PA with Beats enabled.
As a control, I performed all the same tests with an iPhone. Instead of using Beats Audio software (which the iPhone does not have), I switched the EQ on and off while listening to the same set of songs. I used the "Rock" EQ setting on the iPhone, which pumps up the bass and treble and dials down the mids a bit. It doesn't compress the signal nor boost the volume, as the Beats does. Using this method, I was able to reproduce approximately the same results without spending $300 million on Beats Audio.
The bottom line here is that Beats Audio is using its own equalizer settings and a few other audio tricks and fine-tuning it to sound as good as possible with its own headphones. You can accomplish pretty much the same thing with any 5-band EQ if you don't mind taking the time to tweak things for a while.
Last, remember that sound quality is highly subjective. What one person likes, another may hate. I'd be more impressed with Beats Audio's software if it gave us a few choices, such as Beats Audio Bass Enhancer, or Voice Enhancer, etc.
Media
Music
The Rezound comes with HTC's custom media player application. It offers the same basic tool set that the native Android player does, but it looks a bit nicer and matches the overall theme of the Sense user interface. It's also the only way to access and use the special "Beats" software to enhance the sound.
You can also download the new Google Music application, which is completely different and much better than the old stock music player. Slacker Radio is also preinstalled, as is V CAST Music. There's no FM radio.
Video
The gallery app becomes the default video player application for sideloaded video and video recorded on the Rezound yourself. Verizon's V CAST video store is on board, as is the NFL Mobile app (free to use this season) and HTC Watch.
Watch is HTC's movie rental/download service. The selection is far from fantastic, but it had a number of (near) recent releases, such as Captain America and Transformers: Dark of the Moon. It also had TV episodes from a small number of shows. TV episodes could be purchased for $1.99. Movies could be rented for $4.99, and purchased for $9.99 - $19.99, depending on the title. Using this service requires a credit card. The few trailers that I viewed looked really good on the Rezound's display.
Watch also comes with a home screen widget that lets you sift through your library of purchases, where they can be played directly from the home screen.
Video content that you record, side-load, or download is played back in the gallery application. I didn't have any trouble playing DRM-free side-loaded movies on the Rezound.
Camera
Camera
The Rezound's 8-megapixel camera is solid, though the software is carried forward from other Sense devices and doesn't necessarily bring anything new to the fold. Lack of physical camera key aside, it scores well on pretty much every detail.
The lock screen camera shortcut is still one of my favorite features. You can also launch the camera from the home screen. There are convenient controls on the side of the viewfinder that let you adjust the flash and scene modes without opening the menus. These controls also let you jump to the user-facing camera, or the video camera.
You have to touch the phone's menu button to get at the camera's other controls. These let you adjust the shooting mode, exposure, and add effects. The camera natively shoots in the wide 16:9 aspect ratio. You can manually select 4:3 shooting ratio if you want to be all old-school. Since using the 4:3 mode gives you fewer pixels, you're better off sticking with 16:9. Other options include face detection, panorama, and burst shot.
The Rezound has touch-to-focus; if you see something on the display and you want it to be in focus, press it. The camera will focus on that spot. Press the on-screen button to actually take a picture. The Rezound focuses and shoots pictures very quickly. It returns you to the shooting mode in perhaps one second.
The review screen lets you send the photo off wherever you want with just a few quick taps.
Gallery
As with other Sense phones, the Rezound uses an HTC-made gallery. It can be opened from either the camera or the menu, and presents pictures in either a timeline or via grid. The timeline mixes pictures and videos into one long stream of images and movies.
I really like the sharing tools in the Gallery. While you're browsing your photos, you'll notice some sharing icons at the bottom of the gallery for Facebook, Flickr, or Connected Media (like your HDTV), Peep, Gmail, Picasa, and so on.
Pictures can be cropped and rotated, and select effects can be applied. If you want to edit things such as exposure, you can do so only with these effects, such as Auto-enhance, Overexposed, and High Contrast. You can also add frames to photos.
Photos/Video
Photos
The Rezound's 8-megapixel shooter was mostly accurate with exposure, white balance and color. Focus was surprisingly good, and the Rezound could take close-up shots (macro) that were crisp and detailed. The camera handled lighting changes well. It took consistently good pictures outdoors and indoors.
The photos are definitely worth sharing with friends through the social network and/or image sharing service of your choice.
Video
The Rezound can capture video at a maximum resolution of 1080p. The video I shot was crystal clear and full of sharp details. I was actually surprised at how well the Rezound was able to focus and get things such as exposure and white balance correct. The other not-too-common feature offered by the Rezound is the ability to record stuff that plays back in slow motion. It records at double speed and then plays back at normal speed. I wish this feature were more prevalent. It's not always useful, but it sure opens the door for some creativity.
You can definitely record YouTube-worthy moments with the Rezound.
Browse/Customize
Browser
Browsing the web when covered by LTE 4G is flat-out ridiculous. Web sites load instantly. There's no delay, no hesitating, the pages just appear. Everything from NYTimes.com, CNN.com, ESPN.com, YouTube.com, TheOnion.com, and so on loaded in a snap and looked great on the Rezound's big display. As noted above, download and upload speeds were hugely fast when surfing via LTE. Of course, if you live in a 3G-only areas, browsing is acceptable and consistent.
Customize
We've noted in the past how HTC's Sense user interface is one of the best when it comes to user customization. The Rezound isn't any different in that regard. Sense lets users adjust about every element of the home screens, wallpapers and other behaviors of the phone.
Extras
Apps
The Rezound can access all of the apps in the Android Market and more. Support for Android is not lacking. If you want apps, they are out there. One thing that stinks, though, is that Verizon Wireless has installed tons of bloatware on the Rezound. Some of it can be un-installed, and some of it cannot.
Bluetooth
The Rezound can connect with mono and stereo headsets with no problems. I didn't encounter any issues when pairing different devices, and sound quality through both mono and stereo headsets was quite good. The Rezound can also be used to push pictures (and other files) between devices, such as PCs or other phones.
Clock
When you wake the Rezound from sleep, the time is easy to find and read. There are a host of different digital and analog clock faces from which users can pick. Every clock-related function you can think of is packed in HTC's clock application, such as stopwatch, countdown timer alarms, world clocks, etc. The weather is thrown in for good measure. It looks classy and is a breeze to use.
GPS
Both VZNavigator and Google Maps are installed on the Rezound out of the box. Both offer voice-guided turn-by-turn directions between points, and can re-route you if you get lost. Google Maps 5.0 is particularly impressive because it now offers offline use (in case you roam out of network coverage) as well as 3D maps for a limited number of cities. The VZNavigator software is very good, but it costs $10 per month to use.
Wrap-Up
The HTC Rezound is mostly rock solid. Aside from a couple of crummy buttons, the hardware is nearly perfect. Sure, it isn't as slim as the Motorola RAZR, but the trade-off is better performance than the RAZR in almost every other category.
The 720p HD display looks razor sharp and is crisp and clean, though its LCD isn't as bright as the Super AMOLED's on other phones. The sound quality of voice calls was excellent, and the signal performance on both 3G and 4G networks was as good as can be expected. The Rezound also happens to have a fine camera and video camera.
The Beats Audio integration works mostly because HTC has fine-tuned the software to work with Beats' headphones, which are packaged with the Rezound. There's no doubt that the software makes a difference, though just how good that difference is depends a bit on what type of music you listen to most often.
In the end, the Rezound sounds great, and may be a resounding success for Verizon and HTC. While many an audiophile can sit back and smugly think that they ca recreate Beats' effect on non-Beats phones and headphones, HTC's Rezound will look cooler and serve its users better.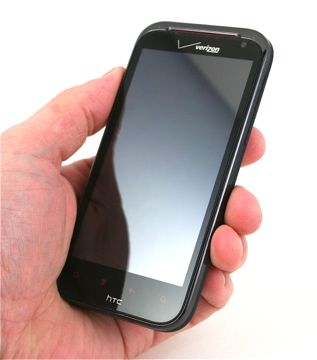 Droid RAZR is a better buy and beats is a gimmick
I played with a Rezound for a few days and ended up returning it. The beats is nice but it's a gimmick. The Phone has a 1.5Ghz snapdragon processor but Sense slows it down. Don't believe me? Quadrant scores say it all. Plus there was a noticeable lag from time to time. Nothing major but it was just here.

The Droid RAZR was snappier and had virtually no lag. It's scores are almost on par witht he Galaxy S II devices. Not to mention better battery life as well than the Rezound as well. It's also much more sexier than this typical HTC chunky device with same tired design and aging Sense.

Guess who will get Ice Cream Sandwich first? You can get it will be the RAZR since not only had Motorola already confirmed but they're also been acquire...
(continues)
Overated
I had this phone for 5 days. I sent it back yesterday. Having had HTC's (rooted of course) in the past (TP2 and an Imagio under WM6.5) I guess I expected more. The level of bloatware in this device and coming from my current rooted DroidX proved to be unbearable. I'm going with the Galaxy Nexus (assuming it can be unlocked).....
Also - I found LTE to be overrated -IF your primary use is tethering a laptop for email and an occasional PDF download.
I did play around with the temp root options that are out there but again compared to a rooted Droid X running a Liberty 2.0 ROM and overclocked to 1.2ghz ... even the dual 1.5 parameter - I consider - OVERATED.
Lastly - the screen resolution -yes better than the I-phone. But my wife who ha...
(continues)
The Beats Software vs. Other Music Player Apps
Nice right up Eric. I've been saying this all along about the Beats software. I was wondering if you've had a change to install other music player apps such as Player Pro or PowerAmp, which have 10 band EQs. I would tend to think these $5 apps would perform equal or if not better than Beats software. Any thoughts?
They probably would. Thanks for reading.