Review: HTC Rezound for Verizon Wireless
Form Basics Extras Wrap-Up Comments 6
Is It Your Type? Body The Three S's
Nov 21, 2011, 5:34 PM by Eric M. Zeman
HTC's first Beats Audio-enhanced phone lands at Verizon's doorstep with LTE 4G, a 720p HD screen, and custom headphones to bring a better audio experience. Here's Phone Scoop's in-depth report, wherein we put Beats Audio to the ultimate test.
Advertisements article continues below...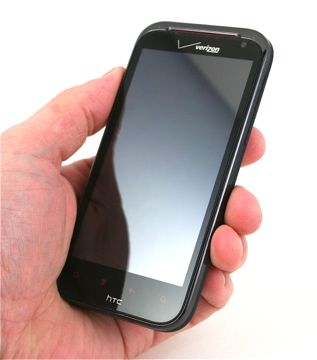 HTC rekindles the appealing design of the original Droid Incredible in the Rezound, a new LTE 4G Android smartphone that promises to put the audio beatdown on music lovers. The Rezound is the first HTC handset to offer Beats Audio integration to a U.S. audience. Has HTC's $300 million investment in Beats Audio led to a better music phone? Phone Scoop digs deep.
Droid RAZR is a better buy and beats is a gimmick
I played with a Rezound for a few days and ended up returning it. The beats is nice but it's a gimmick. The Phone has a 1.5Ghz snapdragon processor but Sense slows it down. Don't believe me? Quadrant scores say it all. Plus there was a noticeable lag from time to time. Nothing major but it was just here.

The Droid RAZR was snappier and had virtually no lag. It's scores are almost on par witht he Galaxy S II devices. Not to mention better battery life as well than the Rezound as well. It's also much more sexier than this typical HTC chunky device with same tired design and aging Sense.

Guess who will get Ice Cream Sandwich first? You can get it will be the RAZR since not only had Motorola already confirmed but they're also been acquire...
(continues)
Overated
I had this phone for 5 days. I sent it back yesterday. Having had HTC's (rooted of course) in the past (TP2 and an Imagio under WM6.5) I guess I expected more. The level of bloatware in this device and coming from my current rooted DroidX proved to be unbearable. I'm going with the Galaxy Nexus (assuming it can be unlocked).....
Also - I found LTE to be overrated -IF your primary use is tethering a laptop for email and an occasional PDF download.
I did play around with the temp root options that are out there but again compared to a rooted Droid X running a Liberty 2.0 ROM and overclocked to 1.2ghz ... even the dual 1.5 parameter - I consider - OVERATED.
Lastly - the screen resolution -yes better than the I-phone. But my wife who ha...
(continues)
The Beats Software vs. Other Music Player Apps
Nice right up Eric. I've been saying this all along about the Beats software. I was wondering if you've had a change to install other music player apps such as Player Pro or PowerAmp, which have 10 band EQs. I would tend to think these $5 apps would perform equal or if not better than Beats software. Any thoughts?
They probably would. Thanks for reading.