HTC Rezound Brings Beats Audio to Verizon Wireless
Article Comments 37
Nov 3, 2011, 2:43 PM by Eric M. Zeman
updated Nov 3, 2011, 3:10 PM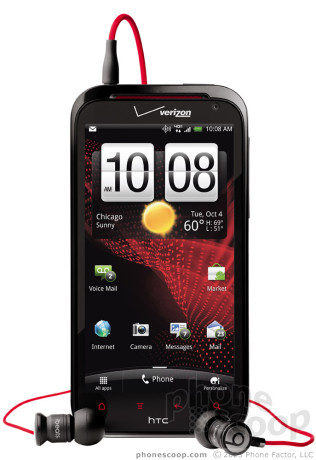 Verizon Wireless and HTC today announced the Rezound, the first Android smartphone to include integration with Beats Audio technology for the U.S. market. Features of the Rezound include Long Term Evolution 4G, 4.3-inch 720p HD display, and both Beats Audio software and a set of Beats Audio headphones that work together to produce a better music experience. Other specs include a dual-core 1.5GHz processor and 1GB of RAM; 8-megapixel camera with f/2.2 lens, action burst, dual-LED flash and 1080p HD video capture; and 2-megapixel user-facing camera. It will ship with 16GB of internal storage and a 16GB microSD card. According to HTC, the Rezound will be updated to Android 4.0 Ice Cream Sandwich in early 2012. The HTC Rezound will be available for sale starting November 14 for $299.99 with a new agreement.
I already have dre beats
on my HTC sensation. Have for over a month now. Its overated
Your real Dad said:
on my HTC sensation. Have for over a month now. Its overated
Very overrated. They're only good for Hip-Hop music as they concentrate more on the bass aspect. People just buy them to be followers....
(continues)
Real headphones dont need a graphic equalizer
I have a pair of Pioneer SE-M390 headphones that could blast me out of the water if I kept cranking them. Didn't cost me $300.00 or even $200.00, not even $150.00 or $100.00, got em for $90.00 after tax, and I have tried beats. I have not used them side by side for a direct comparison, but I will say that my $90 Pioneers sound DAMN good compared to any of those beats headphones.

This sudden fad for these headphones is unfounded, this is pretty much a fad for a graphic equalizer setting, which Dr.Dre is SELLING you. You are paying cash for an O.K. pair of headphones and an equalizer setting. Money well spent eh ?
My Sony MDR-V6's sound better than beats. 🙄
beautiful
The hardware sounds real nice, is it better then the razr you think?
AT least it has a removable battery and memory card. Neither the galaxy nexus nor Droid Razr have both of those. And with dual core 1.5 Ghz processor, and a true HD screen, this is the phone to beat. However, dealbreaker for me, no HDMI port. Why, HTC...
(continues)
I am a huge fan of HTC and Motorola. But I think that the HTC is going to be better than the RAZR. 🙄
Will it have a locked bootloader?
I like HTC's build and style of hardware, but HATE Sense - it just slows down getting OS updates. I do love that they use removable batteries!

Anyway, HTC said they'd be doing unlocked bootloaders, I wonder if this one will be. This hardware running vanilla Android, would ROCK!
OK, its nice, ENOUGH already
No doubt this is a nice phone, but the hype on this is as much if not worse then the ip4s, and if you only include the US, it is far worse. No doubt this is a nice phone. But its not leaps and bounds better then similar offerings. Well maybe if you like bass tweaked music and included better then average ear buds.
yawn
another HTC phone with the same ol boring non AMOLED non IPS, 4.3" display and with the old tired Sense. Only this has the gimmicky beats audio and LTE with the Verizon's usual ridiculous $299 price tag. NEXT!
I can agree with you on the screen, however give this phone a chance the Beats customers will be lined up for that. Its a gimmick but the phone has the hardware and the data speeds to make it worth the price tag. Tell you what, rather have this then a...
(continues)