Review: Kyocera Milano for Sprint
Article Comments 2
Nov 11, 2011, 2:45 PM by Eric M. Zeman
Kyocera kicks out an entry-level Android smartphone for Sprint in the Milano, a chubby sideways slider that has a full QWERTY keyboard for messaging and 3-megapixel camera. Here is Phone Scoop's full review.
Form
Is It Your Type?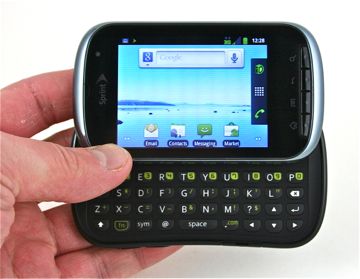 For some, tapping on glass displays just doesn't cut it, and there's simply no replacing a physical QWERTY keyboard. It's with these users in mind that Kyocera crafted the Milano, a sideways slider that looks like a quick messaging device, but packs Android. Here's our take on it.
Body
The Milano, named after the milano cookie in part because of its shape, has obviously been to the buffet table at Guisseppe's a few too many times. It is a chubby little phone. Despite its strengths, the Milano is not all that much to look at and is somewhat lacking when it comes to a sense of fashion.
The Milano is the exact same size and shape as a bar of soap. It is squat, wide, and thick. The curved surfaces and soft-touch finish help it feel comfortable in the hand, though. It's not too heavy, but it is no lightweight, either. It will fit in most pockets, but due to the size you'll probably always be able to feel it there.
The build quality is good, and everything about the Milano feels as though it is put together well. I can't say I like the huge, gaping seam that separates the two halves of the phone, but that's a design issue and not a manufacturing one.
The front of the phone is fairly small. Below the display, there are four physical buttons for accessing the standard Android controls. These buttons are tucked too closely to the bottom edge for my tastes and are unnecessarily small. There's plenty of wasted real estate above them. Otherwise, it is nice to have physical buttons on the front, and the action and feedback of them is good.
The left side of the Milano houses the volume toggle and micro-USB port. The volume toggle is a bit thin and has mushy travel and feedback. The microUSB port is covered by enormous hatch, which must be pried off to plug the phone in.
Kudos to Kyocera for including a physical camera button on the right edge of the Milano. Too few phones include camera buttons these days. The single-stage camera button has a slightly rounded shape and provides excellent travel and feedback. Ditto for the power/lock button, which is on the top of the Milano. On top, you'll also find a 3.5mm headset jack that works with most stereo headphones.
The top half of the Milano slides open easily, and produces a satisfying "thock" thanks to spring assistance. The slider mechanism is solid, and wasn't loose or movable in directions it shouldn't move.
The physical QWERTY keyboard has four rows of keys, which are aligned in a grid rather than offset. The entire surface of the keyboard is covered with a soft-touch finish, which I find helpful as it keeps your thumbs from slipping from key to key. The overall feel of the keyboard is good, and the keys all have satisfying travel and feedback. There is plenty of space between the keys, and it feels roomy and not squished. The keyboard includes four direction keys for on-screen cursor control, as well as a dedicated "@" button. You have to use the function key to get at the numbers and other special characters.
The battery cover peels off easily enough. Kyocera committed a no-no, however, and stuck the memory card slot underneath the battery.
The Three S's
Screen
The Milano's display measures a tight three inches and packs a disappointing 320 x 240 pixels (QVGA). That's the same resolution that was available on the best smartphones back in 2004. Pixels are visible everywhere and the screen door effect is noticeable almost all the time. Of course, it is hard to whittle the price of a smartphone down to just $29.99 if it has a high-rez display. In other words, Kyocera had to sacrifice a better screen in favor of economics. The resolution is so poor, the Sprint logo at the top of the screen is indiscernible and looks like a tropical fish. Brightness is good, though, and the Milano was usable outdoors.
Signal
The Milano performed adequately on Sprint's CDMA network. In my office in northern NJ, it snagged the same signal strength as most Sprint devices. In and around the metro NYC region, it remained consistently connected, and never dropped Sprint's signal entirely. During my testing period, the Milano didn't drop any calls, nor did I miss any. It survived the NJ vault test (local super market), and allowed me to make calls and send texts even when it showed no bars. Data sessions, however, required the MIlano to show at least one bar in order to connect (not unlike LG Marquee). Speeds were a bit on the slow side for an EVDO phone.
Sound
Call quality was very good. I was pleased with the clarity of voices coming through the earpiece, which, by the way, is capable of eardrum-threatening volumes. Even set to max, it didn't distort or break up. I didn't notice any hissing, noises, or other nonsense getting in the way of conversations. Calls routed through the spearkerphone were clear, but the volume wasn't as good as other phones we've tested lately. The vibrate alert and ringtones were a bit on the weak side, too. You'll easily hear the phone from a room away, but if you're several rooms away or on a different floor, you might miss it.
Battery
The Milano has excellent battery life, probably due in part to the smaller, low-rez screen. During my tests, it consistently lasted 36 hours between charges. That means you can unplug it on Monday at 7AM and go to 7PM Tuesday without a problem. No matter how I used the Milano - voice calls, Wi-Fi, Bluetooth, messaging, browsing - battery life remained the same.
Basics
Menus
The Milano runs a nearly stock version of Android 2.3 Gingerbread and also has access to Sprint's iD packs.
Sprint ID packs are collections of applications, home screen settings, wallpapers, shortcuts and widgets that are generally based on a theme. When a Sprint ID pack is activated, it completely reorganizes all the details of the home screen based on that particular theme. Once installed, each theme can be customized itself and then saved.
Aside from the Sprint iD packs and themes, the Milano's stock Android 2.3 experience looks and feels clean. There are five home screen panels, but due to the smaller display they can't hold as many shortcuts or widgets that larger displays can. The main app menu is a simple grid of apps listed in alpha order and it can't be rearranged or altered.
As for performance, it is obvious that the Milano is running a slower processor. It has an 800MHz engine providing motivation, but it's not enough. Screen transitions are slow and stuttery. Apps are slow to open, slow to close, and multitasking is so tortoise-like that it is easier to just exit apps fully and open new ones the old fashioned way.
Calls/Contacts
Calls
The Milano uses the stock Google calling and contacts applications. From the home screen, press the phone icon and the dialer pops open. There is a large number pad in the middle of the screen, and there are four tabs along the top to access the call log, contacts and favorites. The Milano offers haptic feedback when you dial numbers on the touch display.
Contacts
The Milano will import all of your Google and Exchange contacts if you have them. The basic Android contact app works well, and holds plenty of data about each contact, including up to four phone numbers, two email addresses, home address, work address, fax number, notes, etc.
Messaging
The Milano includes only the most essential communications tools. It runs all the stock Android 2.3 Gingerbread messaging applications, and doesn't offer anything new, not even from the Sprint ID packs.
It has the generic email app for POP/IMAP/Exchange email, and the dedicated Gmail application for Google users. Both of these applications are capable and time-tested.
The stock SMS/MMS app is loaded on the Milano, and I didn't notice any different or unusual behavior with it. It offers threaded conversations, as always.
As for IM, the Milano has GTalk on board, and nothing else. If you use Yahoo, Windows Live or AIM, you'll have to seek out third-party apps from the Android Market.
On the social networking front, the Milano is one of the most anemically equipped devices I've seen in a long time. It has zero social networking apps or services on board. You have to do all the heavy lifting and download them yourself if you want to be social. Of course, there are plenty of apps available in the Android Market for social networking, including core apps like Facebook, Twitter, and Google+.
Extras
Media
Music
The Milano uses the the stock Android media player. It is bare bones, but it does get the job done. You can sort through your playlists, artists, albums, and songs easily enough, and album art comes through properly when tagged to the music. The media player can be sent to the background while you do other things such as browse the web.
There are no third-party music applications preinstalled, though they are easy to find in the Android Market.
Video
The Milano has minimal video play back features. Only the stock Android YouTube player is on board out of the box. You'll need to download third-party apps to handle side-loaded video content. The small screen, however, doesn't make the Milano the best playback device.
Camera
Camera
The Milano's camera software is a slight variation of the stock Android 2.3 Gingerbread camera. The camera rates 3 megapixels and includes auto-focus, but no flash. It opens easily when the dedicated camera button is pressed and held. It takes a few seconds to open.
On the left side of the viewfinder, you'll notice four gray icons floating near the edge. Press any of these icons, and a menu bubble pops up so you can access the controls. The top-most bubble accesses all the Milano's camera settings. You can adjust the focus mode, scene mode, resolution, picture quality, color effects, and exposure. The other three offer simpler menus with just a few selections: For example, turning location on/off or setting the white balance quickly.
Pressing either the physical button or the on-screen button will cause the Milano to focus and then shoot the picture. There's no touch to focus; it focuses on whatever is in the center box. The Milano is the slowest camera I've tested in probably a year. It takes several seconds to focus, and another several seconds to take the shot and save it. You're not going to score any action shots with this camera. Forget about catching your kid's first steps; grab a real camera for that.
Gallery
The Milano uses the stock Android 2.3 Gingerbread gallery. Photo albums (both those resident on the Milano and synced to your Google or Picasa account) float in stacks across the screen and are segregated by date. Albums are laid out in grid form once you care to dive into them.
Editing tools are kept to the bare minimum (crop, rotate) and sharing options depend on what services are installed, such as Facebook or Flickr.
It's a usable gallery application, but doesn't offer any special tools or features.
Photos/Video
Photos
Wow, the Milano takes crappy pictures. I don't think the Milano even understands what white balance is, let alone be able to adjust for it appropriately. White balance in indoor shots is off by a mile. Notice the bluish tint on the pumpkins, sit-n-spin, and dinosaur. Disastrous. Amazingly, these shots were in focus, but the white balance and color issues are unforgivable.
You'll have better luck with outdoor shots, especially those captured under strong sunlight. About half of them had correct white balance and good color representation. But some were out of focus and soft. The Milano's camera sensor also had trouble with extremely bright subjects and blew out the detail on occasion.
Bottom line, the Milano's camera isn't good for much other than capturing the most basic evidence of an event.
Video
Don't even bother. The Milano maxes out at 176 x 144 resolution and demonstrates the worst white and color balance problems I've ever seen from a video camera. Sure, you can get the general idea of what's going on, bit it's going to look so awful you won't want to share it. Look how washed out the scenery and sky are in the sample below.
Browse/Customize
Browser
The Milano comes with the stock Android browser. It's a good browser, and running over Sprint's EVDO network, it performed well in most of my tests.
Customize
With access to the Sprint ID packs, the Milano has a bit more customization options than other Android phones, as long as you don't mind someone else doing the customization for you. The ID packs are pre-packaged. Even though you can adjust them after they are installed, they still pull together an odd and not always great selection of apps, widgets, shortcuts, and home screen arrangements.
Personally, I'd much rather design my own, custom home screen and set the Milano up the way I want it. Thankfully, the Milano lets you do this, too.
Extras
Bluetooth
The Milano supports mono and stereo Bluetooth headsets. I had no trouble pairing with either. Sound quality through mono headphones was good, on par with the standard voice calls. Quality through stereo headphones was also good. It also connects with computers and/or other phones for pushing files around.
Clock
The Milano offers the standard Android clock on the lock screen, which is visible when the device is first woken from sleep. It is a nice, large digital read out that's easily visible everywhere except under direct sunlight. It can't be customized, though.
GPS
Google Maps is the only included option for mapping and navigation needs on the Milano. I enjoy Google Maps and think it does a great job of providing directions. The Milano's GPS unit was able to locate me fairly quickly and accurately, but Maps runs fairly slow on the Milano and I found it unreliable for real-time navigation in NJ as it just couldn't respond to the moving vehicle fast enough.
Wrap-Up
There are two basic selling points to the Kyocera Milano: 1. It costs just $29.99 on contract; and 2. It has a keyboard and Android. That's it, though.
While the Milano is a good voice phone, has good battery life, and a great keyboard for pecking out messages, it excels at little else. The slower processor, low-res screen, and diminutive feature list make for a slow phone that doesn't look great or offer much.
This underpowered phone runs native apps poorly. Hardcore gaming apps? No way. The camera software has great features, but is slow and takes horrible images.
In the end, if you're looking for the most basic smartphone and don't plan to use it for much more than calling and messaging, the Milano could work out for you (but then so could a feature phone). If you want more from your device than the basics, I highly suggest you pony up a little bit more cash for a phone with a bit more horsepower. Sprint offers plenty for $99.99, several for $49.99, and even some for free.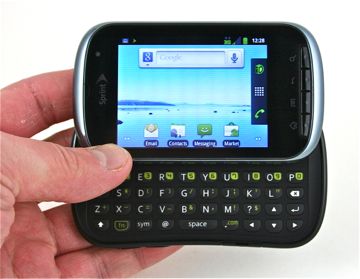 really?
this phone has been out for about 2 months...
Yes.

It's a very busy time of year for new phones.