Review: LG Marquee for Sprint
Article Comments
Nov 7, 2011, 4:20 PM by Eric M. Zeman @phonescooper
LG's Marquee Android smartphone for Sprint is a solid offering from the Korean handset maker. While it may not be a flagship device with every bell and whistle, it performs when and where it counts most.
AD article continues below...
Form
Is It Your Type?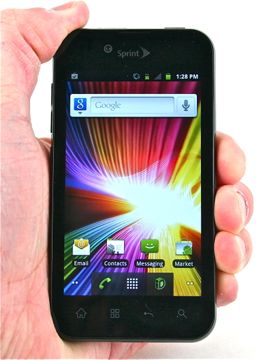 The LG Marquee may not be an A-List device in Sprint's lineup of Android smartphones, but that shouldn't prevent the Marquee's name from appearing in bright lights, either. It is a small and powerful smartphone that may not be a blockbuster, but will please those looking for a refined performance.
Body
The LG Marquee has a great size and shape to it. Its display is limited to four inches, which allows LG to keep the overall footprint a very manageable size. It isn't made from the highest-grade materials, but the plastics that make up its outer skin certainly don't feel cheap. It is comfortable to grip in the hand, and is extremely light. It's the very definition of pocket-friendly.
The Marquee's black and dark chrome accents give it a classy, almost science fiction-y look to it, though from a distance I suppose it doesn't look all that different from the dozens of other black slab phones on the market.
The front face is mostly display. There are four capacitive Android controls tucked up against the bottom of the display. These four buttons offer optional haptic feedback.
The volume toggle doesn't stick out quite far enough to make it easily found by feel, though the travel and feedback are excellent.
Below the volume toggle, LG has given the Marquee a user-assignable action key. The default action is to launch the camera, but you can have it launch pretty much any app on the phone. This action key is way too close to the volume toggle; only several millimeters away. It's also rather small and hard to see. It makes a cheap, "clack-y" sound when pressed.
The lock/unlock button is on the top of the Marquee. Of all the buttons that should be perfect on a modern smartphone, this is the one. Unfortunately, it's too flush with the top of the device, making it hard to find and use. You have to press it deeply into the phone for it to activate. It's accompanied on the top by a 3.5mm headset jack and the microUSB port.
LG is wont to stick the power port on the top of its phones, and honestly there can't be a worse place to jack in your device. I often use my phones while they are charging. With the Marquee, the power cable is sticking out of the top of the phone, making it extremely awkward to use for phone calls. Think about using the Marquee it a car. You can't hold a phone do your head in the car with the cable sticking out the top (not that that you should be driving and talking anyway). It's awkward and annoying. The port itself is covered by a teensy little door that you slide sideways to open.
The battery cover peels off easily enough. Under it, you'll find the battery and microSD slot. The microSD card can be removed without pulling the battery.
The Three S's
Screen
I really like four-inch displays. I find it strikes a good balance between providing enough screen real estate and helping to keep the overall size of the phone from getting out of hand. The Marquee's LCD display has the common 800 x 480 pixel resolution. With this many pixels in the smaller four-inch display, it gives the Marquee a really nice pixel density. Translation: The screen looks great. Widgets, apps, menus, pictures, web pages all look clean and free of jagged edges. The display is plenty bright for indoor use, though I found it washed out a bit under the bright sun.
Signal
The Marquee did a fine job of finding and attaching itself to Sprint's network. In fact, it performed a bit better than most other Sprint 3G devices I've tested in recent months. It showed slightly higher signal strength in my test areas when compared to other Sprint phones. What does that mean in real-world terms? The Marquee didn't miss or drop any calls during my test period. As far as data is concerned, it was able to load web pages even when showing one bar of signal, though if the signal dropped to zero bars web pages often timed out.
Sound
I was pleased with the quality of phone calls with the Marquee. Quality was mostly good. I heard some scratchiness and echos from time to time, but nothing too obtrusive. The earpiece produced plenty of volume, and was painful to hold to your ear set at maximum volume. Phone calls routed to the speakerphone were also plenty loud at full volume, though prone to distortion. Reducing the speakerphone volume to about the 60% mark struck a good balance between volume and clarity. Alert tones and ringers were acceptable, though I'd have preferred them to be a bit louder. The vibrate alert is very strong, certainly jarring enough to make sure you don't miss calls when the device is in your pocket.
Battery
With the slightly smaller display and lack of 4G, the Marquee completely out-classes Sprint's A-List smartphones when it comes to battery life. The Marquee easily powered through a full 36 hours of use. If I unplugged it at 7AM, I had absolutely no fears about leaving my charger at home for the day. Power users will probably want to charge the Marquee every night, but if you don't you'll still have plenty of juice to get you to lunch the next day.
Basics
Menus
The Marquee is yet another Android device from Sprint to offer the Sprint ID concept on top of Android 2.3.4 Gingerbread. Think of the IDs as themes, and you'll be all set. Out of the box, Sprint has left the Marquee with the stock Gingerbread experience installed, and no Sprint IDs on board. You'll have to actively seek out and download new IDs if you're interested.
Sprint ID packs are collections of applications, home screen settings, wallpapers, shortcuts and widgets that are based on a theme, such as "Fantasy Football," "Home Shopping Network," or "Country Music Channel." When a Sprint ID pack is activated, it completely reorganizes all the details of the home screen based on that particular theme.
Once installed, each theme can be customized itself and then saved. Finding and installing the themes isn't difficult. Now that Sprint ID phones have been available for more than a year, the number of ID packs has swollen considerably, with several dozen at the least. I am still annoyed that each ID pack downloads and installs a predetermined set of applications. You can quickly end up with a lot of bloatware and applications/services on your phone that you'll never use. In other words, choose your ID packs carefully, as you can eat through your storage allotment for apps and such pretty quickly
Aside from the Sprint ID packs, the Marquee behaves as any other Android 2.3 Gingerbread device.
It seems like Sprint decided to offer a stock Gingerbread phone, but then threw Sprint ID on at the last minute just for the hell of it.
Calls/Contacts
Calls
The Marquee uses the stock Google calling and contacts applications. From the home screen, press the phone icon and the dialer pops open with the usual options available via tabs running along the top of the screen.
Calling features include speakerphone, add a line, send to Bluetooth, mute, and so on.
Contacts
The Marquee doesn't offer anything unique or special when it comes to managing contacts. It uses the stock Android contact app, and doesn't port contact data into any other apps in a fun or useful way. It is a usable, if somewhat boring, contact app.
Messaging
The Marquee runs all the stock Android 2.3 messaging applications, and doesn't offer anything new, not even from the Sprint ID packs.
It has the generic email app for POP/IMAP/Exchange email, and the dedicated Gmail application for Google users. Both of these applications are capable and time-tested.
The stock SMS/MMS app is loaded on the Marquee, and I didn't notice any different or unusual behavior with it. It offers threaded conversations, as always.
As for IM, the Marquee has GTalk on board, and nothing else. If you use Yahoo, Windows Live or AIM, you'll have to seek out third-party apps from the Android Market.
On the social networking front, the Marquee offers zero, zip, zilch, nothing. Absolutely NO social networking applications or services are pre-installed, not even Facebook and Twitter. You have to go to the Android Market and download them yourself.
Extras
Media
Music
The Marquee uses the stock Android media player. It's bare bones, but it gets the job done. You can sort through your playlists, artists, albums, and songs easily enough, and album art comes through properly when tagged to the music. The media player can be sent to the background while you do other things such as browse the web or check Twitter. It goes without saying that the music player has a decent widget for the home screen, as well.
There are no third-party music applications pre-installed, such as Slacker or Pandora, though they are easy to find in the Android Market.
Video
The Marquee has minimal video play-back features. Only the stock Android YouTube player is on board out of the box. I found that the Marquee handled side-loaded content (movies that I placed on the microSD card) just fine, though it plays that content back via the photo gallery application.
There's no way to purchase or rent video content directly from the Marquee. This thing doesn't even have Sprint TV or NASCAR.
Camera
Camera
The Marquee runs the stock Android 2.3 Gingerbread camera application. To the far right, there is a set of software toggles for jumping to the video camera, the gallery, and a software shutter button. Next to this set of tools, there are five icons sitting in the viewfinder area. Press any of the icons, and a drop-down menu appears next to it for adjusting the cameras settings.
I love the way this software works. It's so much better than having to press the hardware menu button to get at the same bunch of controls. It's easier and you don't have to leave the viewfinder to make any of the adjustments. I wish more Android phones stuck to this stock set-up in the camera application.
Press either the software or the awkwardly-placed physical shutter button (on the bottom of the phone) and the Marquee takes about a second to focus before snapping the picture. There is no touch-to-focus feature; the Marquee focuses on whatever is in the center of the viewfinder.
Rather than offer a review screen, the Marquee takes you right back to the viewfinder. Reviewing images is only possible in the gallery, though you can see a teeny thumbnail of your most recent picture at the top of the screen.
Gallery
The gallery is the stock Android option. Photo albums float in stacks in the main gallery view, and you can sift through them in the chronological timeline in which they are arranged. It has a neat 3D look and feel to it.
Editing options are severely limited. Crop and rotate are all you get. Some of LG's best devices offer more than this, but at least you get the basics. Sharing options include the requisite tools, such as SMS, Bluetooth, Picasa, Facebook, and Twitter.
Photos/Video
Photos
The Marquee has a 5-megapixel camera with auto-focus and flash. I found that it offered mixed results. Under optimum circumstances, it performed well, obtaining sharp focus, good color and white balance, and accurate exposure. But this was rare. More often than not, at least one component was off. I'd have sharp photos with bad white balance or over/under exposed areas; I'd have perfectly exposed photos with soft focus, and so on. Basically, I'd rate most shots a 3 out of 5, with some occasional 4/5s and 5/5s thrown into the mix. Some will certainly be worth sharing.
Video
The highest video quality that the Marquee can capture is 720p HD. Unbelievably, you' can't reduce the resolution of the video camera. The only control you have over the quality is to set the "length" of the video (1 hour, 2 hours, MMS-quality for 30 seconds, or YouTube quality). You can't select 720p or 480, etc. Odd.
At the highest setting, the Marquee's video powers weren't all that great. Colors looked washed out, exposure was often wrong, there was tons of digital noise/artifacts, and the clarity was poor. On top of that, the microphone popped and hissed a lot, giving the recorded video a distinctive "analog" sound.
Browse/Customize
Browser
The Marquee comes with the stock Android browser. It's a good browser, and running over Sprint's 3G network, it performed well in most of my tests.
Customize
With access to the Sprint ID packs, the Marquee has a few more customization options than other Android phones. You can also control much of the typical Android behaviors. There are five home screen panels, for example, that can be populated with widgets and other shortcuts.
Extras
Bluetooth
The Marquee supports mono and stereo Bluetooth headsets. I had no trouble pairing with either. Sound quality through mono headphones was very good, on par with the standard voice calls. Quality through stereo headphones was also good. It also connects with computers and/or other phones for pushing files around. The Marquee also supports Bluetooth 3.0, though I was unable to get the 3.0+HS function to work for really fast device-to-device file transfers.
Clock
The Marquee offers the standard Android clock on the lock screen, which is visible when the device is first woken from sleep. It's a nice, large digital read-out that's easily visible everywhere except under direct sunlight. It can't be customized, though.
GPS
The Marquee only includes Google Maps. Sprint's TeleNav-based navigation service is nowhere to be found. Google Maps and its Navigation and Places features make for a powerful set of tools when it comes to routing directions and discovering nearby points of interest. The trifecta of these applications means there's no excuse to get lost nor to find a great place for dinner. The Marquee's GPS radio performed very well in most circumstances, and was able to pinpoint my location to within 25 feet most of the time.
Sprint Mobile Wallet
Sprint's upcoming Mobile Wallet software for mobile payments is installed on the Marquee, but I was unable to use it to create an account. Since the Marquee doesn't include near-field communications, the usefulness of this app is severely limited, and I'm not quite sure why it is installed at all. The service has launched in a few markets with a few retailers. Sprint will be expanding its availability over time.
Wrap-Up
The Marquee is a solid smartphone from LG that offers a lot for its $99.99 price tag. You get a solid piece of hardware that feels good and works well. Aside from the microUSB port snafu, it's a great little phone.
The nearly 100% stock Android 2.3 Gingerbread experience will surely appeal to many users who don't want to deal with the skins and user interfaces that some manufacturers insist on. If you want, you can completely ignore Sprint ID and enjoy Android in its nearly naked form. The downside is that you get almost zero awesome extra features that might come with a manufacturer-designed skin, such as social networking integration and slightly better media capabilities.
As a basic communications tool, the Marquee performed very well with respect to voice calls, signal, battery, and email/messaging. It's biggest stumble, in my book, is the inconsistent camera and shoddy video camera. Otherwise, the Marquee gets nearly every feature right.
For smartphone shoppers who may be on a budget and don't need or want a 4G device, the LG Marquee satisfied in ways that perhaps Sprint's A-List devices can't. Instead of a Bruce Willis Hollywood blockbuster, you get a Bruce Campbell cult classic that you're more apt to watch again and again.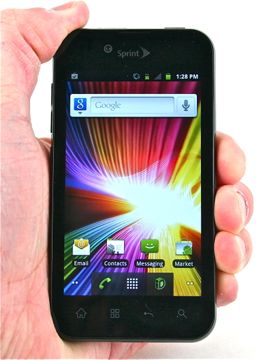 No messages