Hands-On: LG Marquee for Sprint
Article Comments
Sep 15, 2011, 8:42 AM by Eric M. Zeman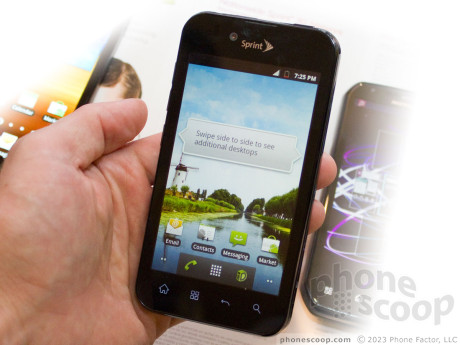 LG has reformulated the Optimus Black for Sprint and now calls it the Marquee. This slim smartphone is perhaps the lightest I've ever held.
Advertisements article continues below...
Wow, the Marquee is light. I had to ask the Sprint representatives showing if off — twice — whether or not the battery was installed. I can't remember a phone feeling so light and airy.
It is a basic-looking slab touch phone with an average-sized display. The materials felt a bit cheap to me, but all the controls were easy to find and use. I disliked the feel of the volume toggle on the side, but otherwise didn't run into any trouble making the Marquee function.
My biggest grip is the battery cover, which felt thinner than a plastic bag. I've felt tougher saran wrap. It came off as flimsy to me.
The software looked to be typical Android 2.3 Gingerbread. I didn't see any over-the-top software customizations from LG, and the user interface was stark and speedy. Sprint iD is on board, but needs to be set up by the user. Out of the box, it isn't set to some annoying theme.
The Marquee has a 4-inch NOVA display with 800 x 480 pixels. The NOVA display looked really good in the dark press event we attended, but I can't say it looked brighter than any other smartphone. When held side-by-side with a Samsung Epic 4G Touch, the Samsung looked brighter.
The Marquee has a 1GHz processor, 5 megapixel main camera, 2-megapixel secondary camera, 2GB of internal storage, and support for microSD cards up to 32GB. It also includes Wi-Fi, GPS, Bluetooth, and supports mobile hotspot.
It will be available with cases specially designed by some fashionistas. Hopefully the version we saw was a pre-production unit at the final shipping version is a bit more solid.
No messages