Hands-On: Nokia Asha Series
Article Comments
Oct 26, 2011, 8:15 AM by Eric M. Zeman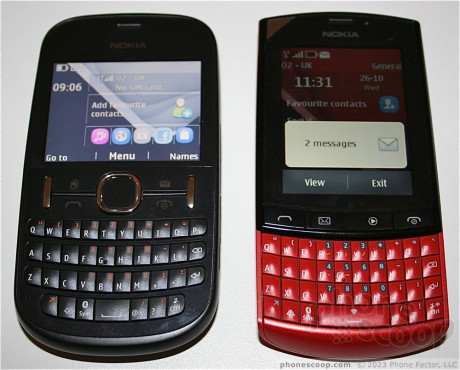 Nokia also debuted three phones for emerging markets today, the Asha Series. Here are some thoughts on these devices.
source: Nokia
Asha 303
Of the four Asha phones announced today, the Asha 303 is the top-of-the-line. It comes with the best combination of features and quality that feature phone users have come to expect from Nokia. The 303 is an interesting animal in that it combines a touch-based version of Series 40 with a full physical QWERTY keyboard.
The display is capacitive, but I found it to be somewhat unresponsive. It looks a little dull, too, and doesn't hold a candle to the amazing AMOLED display of the 800. The touch-based version of Series 40 is capable, and easier to use than I expected it to be. Nokia has done an admirable job of making it as finger friendly as possible, given the smaller size of the display.
The physical QWERTY keyboard felt pretty good, but fell short of excellent in my opinion. The buttons have a good shape and feel to them, but travel and feedback was too loose. The volume toggle, screen lock, and camera buttons on the right side of the phone felt good to use.
It's clear where the Asha 303 falls in Nokia's line-up. Though it targets a mid-range consumer (with its 1GHz processor and 5-megapixel camera) it is clearly not a flagship phone.
Asha 201/200
The Asha 201/200 are targeted at markets that favor dual-SIM devices, such as those in Africa and India. The materials are cheap, the feel is cheap, and, well, the devices cost just 60 Euro without subsidies. This one lacks a touch screen, but the keyboard is pretty good. The Series 40 user interface worked well, and the phone a solid feel to it without being heavy. Will this phone come to the U.S.? Doubtful, though I could easily see it adorning the shelves of a regional, pre-paid carrier.
No messages