Hands On with the Motorola Droid RAZR and ACTV
Article Comments 8
Oct 18, 2011, 1:44 PM by Rich Brome @rbrome
updated Oct 21, 2011, 5:02 PM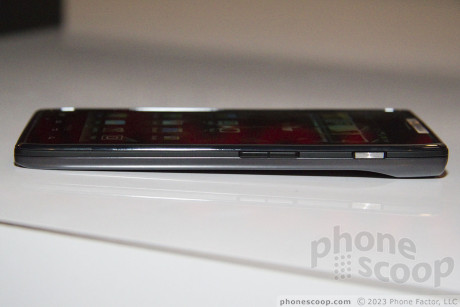 Our hands-on first impressions of the new Motorola Droid RAZR for Verizon Wireless. This super-thin phone sports 4G LTE and a super-thin 7.1mm body. What's beyond the press release, though? Find out as we go hands-on. Plus hands-on with the ACTV fitness companion.
Advertisements article continues below...
Droid RAZR
[ Note: Also be sure to check out our liveblog of the launch event. ]
If the Motorola Droid RAZR looks thin in photos, it feels even thinner in person.
I recall being in NYC for the original Motorola RAZR launch event, which was fittingly just a few blocks away here in NYC. At the time, I recall being amazed at how thin it was, in wondering how they fit everything into such a tiny device. "Where on earth is the battery?", I asked. Here at the Droid RAZR launch, holding the smartphone reincarnation of the iconic RAZR, I had a bit of deja vu. I found myself wondering where the battery could possibly be. The Droid RAZR is so thin at 7.1 mm, you'll wonder the same thing.
Surely Motorola put some clever engineering into making this phone so thin, but there are some compromises behind it, too. Like the iPhone, the battery is sealed inside the Droid RAZR. The microSD and SIM card slots are behind a delicate-feeling little hatch on the side. That's the only part that opens; as much as you may want to know what the other side of the kevlar back looks like, you're never going to see it. The other compromise is the "hump" on the back, near the top, just like a Droid X.
The feel of the device is very nice. The back - kevlar as it may be - feels like a high-quality matte plastic. It's just "grippy" enough, but won't grab onto your pocket lining. It feels great. The sides are slick, and the front, of course, is all glass.
The keys on the side, frankly, aren't that great. They're not horrible, but they're sharp and shallow and stiff. They could be better. There's also no dedicated camera key, but a shortcut to the camera on the lock screen helps.
The screen sounds very impressive, being both Super AMOLED and qHD resolution. The compromise is that it's "PenTile", so the pixels - at least theoretically - aren't as smooth. But before all of you PenTile haters run away screaming, I have to say that the qHD resolution mitigates the PenTile effect considerably. I generally dislike PenTile displays because it's very noticeable to me. But on the Droid RAZR, the qHD resolution makes the pixels so small that I had to look extremely closely to notice the PenTile effect. At normal viewing distance, I couldn't tell, and it didn't bother me at all. This may be the first PenTile display I've seen that I wouldn't mind using at all. It's a really nice display.
The software is pretty standard Android 2.3 "Gingerbread", but with a lot of nice tweaks. Motorola has given its recent phones a "lite" version of Blur that adds the most-liked parts of Blur, but doesn't attempt to take over the phone with unnecessary bloat. There are enterprise features galore, including the nifty Webtop mode - like the Atrix - that lets it act much like a full-scale PC when connected to a desktop or laptop "dock". And Motorola has new "lapdocks" in 10" and 14" sizes that are compatible across a range of Motorolas, including the Photon, Atrix 2, and Droid Bionic.
It's a shame this isn't an Android 4.0 device at launch, but hard decisions like that are the only way that phones like this get to market on time.
The camera software is one area where manufacturers can really differentiate, and Motorola has done a good job with the camera viewfinder options on the Droid RAZR. There's a little dock of on-screen controls - which we always like - with a little manual toggle to show and hide it on demand, which I like a lot better than other phones that keep hiding the controls after a few seconds. The camera captures 1080p HD video, so Motorola isn't compromising on media features to get the phone to be so thin.
Back to the hardware... the thin size is really impressive. The Droid Bionic seemed like a nice, thin 4G LTE phone, but the RAZR really sets the bar. The thin size is achieved mostly with physical engineering of the steel core, non-removable battery, and kevlar back, but the fact that Motorola makes their own LTE chips must help, as well. While everyone else is sourcing chips from Broadcom and using processors from Qualcomm and Nvidia, Motorola is apparently able to reap benefits from using its own LTE chips with TI processors, as they have in the Droid RAZR.
Look for the Droid RAZR to hit shelves in time for the Thanksgiving start of the holiday shopping season.
MotoACTV
The MotoACTV is a unique device. Well, almost. It looks like a direct copy of the Sony Ericsson LiveView. But the resemblance is only skin-deep. While both are Android-based watch-like devices with music players, the MotoACTV has a strong fitness bent, with GPS, pedometer, and even remote heart-rate monitoring. It connects to your phone with Bluetooth, and to your home network via Wi-Fi.
While Sony Ericsson opened up to the LiveView to developers, Motorola is not doing the same with the ACTV. The fact that it has Android inside is interesting to industry obvservers, but irrelevant to a consumer, since it's not an Android device in the sense that you can add apps to it.
The ACTV can be worn as a watch, or as an armband, or a clothes clip, or even mounted to your bicycle handlebars.
The design is nice. It's not tiny by watch standards, but it's quite tiny for an Android device with a touch screen that happens to be water-resistant.
The side buttons are for volume and lock-unlock. The "back" key is a touch button on the front, which compliments the touch screen well. The top two buttons are shortcuts to fitness and music functions. The buttons are stiff, but large and work well.
...which are pretty much the only functions anyway. There isn't even a "watch" or alarm or timer function at the main menu level, and there's no "tools" menu, etc. The only way to set an alarm is via one of the fitness apps. So this really isn't designed to be a watch you wear all the time. It's strictly a fitness companion.
The fitness options are quite extensive and seem well thought-out. There are separate functions for running, cycling, certain gym machines, etc. It will track your steps, your heart rate (via Bluetooth headset,) and - in outdoor running and cycling modes - your distance via built-in GPS. It uses this - together with info you've input about yourself, like age and weight - to calculate a very accurate calories-burned display, which resets itself each night.
The heart rate monitoring is key to tracking how truly effective your workout is. The ACTV features ANT+ wireless technology (also seen in many Sony Ericsson phones) for connecting to other fitness devices, including heart rate monitors. But the really innovative way to monitor your heart rate is with the special headphones Motorola also introduced, which have built-in heart rate monitors. That's a lot more convenient - and more comfortable - than a dedicated device strapped around your chest or arm.
You can upload all of this data to the web. There's also an Android app, but it's frustratingly limited, serving only as a conduit to get data from the ACTV to the web. The web is where you manage everything, not your phone, which seems like an antiquated way to do it. Why can't you view a map of where you've run, or see a heart rate chart, on your phone? That's just dumb.
One innovative feature is that it will keep track of how hard you're exercising and what you're listening to at each moment, so that over time, it will tell you your "power songs" that seem to motivate you to exercise the hardest. Neat!
You can also use your ACTV together with your phone to view caller-ID info, answer or reject calls, and see incoming text messages. But that's it for phone integration, and the ACTV doesn't connect to cell phone networks itself; only Bluetooth and Wi-Fi. That's fine for a fitness companion, but if you were hoping for a Dick Tracy watch, this isn't it.
Everything has its huge flaw, and in this case...
a non-removable battery. Having a user-replaceable battery is, in my book, a requirement. Dang shame, I was getting rather excited about this one. ☹️
thats the only way they could get the profile so thin. Also check out the battery life if moto's claims are true battery life on this is beyond amazing. 😎
I have to agree . . . I've owned the original Droid and Droid2 and find I regularly pull the battery for a freeze or to refresh the device.

No combo of key presses accomplishes this like removing the battery.

I'm concerned; too bad.
I agree. A replaceable battery is essential for an Android phone. On vacation it has saved me time and time again. Not to mention how many times Verizon tech support tells me to pull the battery to reset the phone. An FM radio is also needed in ph...
(continues)