Motorola and Verizon Announce the 7.1mm Thick Droid RAZR
Article Comments 25
Oct 18, 2011, 11:29 AM by Eric M. Zeman
updated Oct 18, 2011, 11:40 AM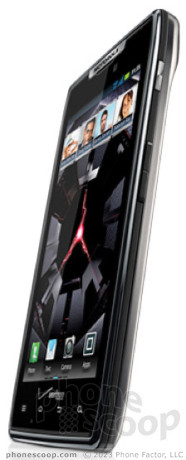 Motorola and Verizon Wireless today announced the Droid RAZR, a new Android-based smartphone that revives Motorola's iconic branding. It has a stainless steel core, Kevlar back, Gorilla Glass front, and Splashguard nanotech coatings both inside and out. The Droid RAZR features a slim design measuring 7.1mm at its thinnest point and a 4.3-inch qHD display. The RAZR has a dual-core 1.2GHz processor, 1GB of RAM, 8MP camera with 1080p video capture, and Motorola's MotoCast and Smart Actions software. It is compatible with Verizon's LTE 4G network. Other features include Bluetooth 4.0 Low Energy; 16GB on-board memory and 16GB microSD card included; remote wipe, pin lock, and government-grade encryption for email, calenda,r and contacts; voice and video chat conferencing; and an HD user-facing camera. The Droid RAZR will be available in early November for $299.99 with a new two-year customer agreement.
Advertisements article continues below...
DROID RAZR (Motorola Spyder) FM RADIO
Looks good but no FM radio. Can't stream everything and drain battery just to hear music. The FM radio solved this problem. Too bad. It looks good. Sticken with my Droid X!!!!
I read somewhere that it does have an FM radio. Where are the official specs for this phone??? Couldn't find them on Moto's website.
Apple got beat
Looks like the iPhone 4/4S isn't the thinnest smartphone around anymore.

Go head Verizon and Motorola. Apple is watching, and might have to go back to the drawing board with the so-called re-designed iPhone 5 specs.

You know Apple will be oh heck no.
Nah, Apple will just sue and say they patented "thin".
Announcing the DROID RAZR
Combining the terrible Motorola phones of 2009 with the terrible Motorola phones of 2004!

Although impressively thin, this thing is hard on the eyes. And if it's anything like every other Motorola phone since the Droid, it gets worse the second you turn it on.
I really don't know WTF you're talking about.

The original Razr was THE best selling phone prior to the iPhone.

The recently released Motorola Droid phones (X2, Bionic) have been GREAT overall. This new Razr has the best screen I've ever seen, ...
(continues)
you're just here for argument's sake.


go away, bend over for steve jobs.


oops. he's dead already. oh well ...
The Motorola RAZR had high marks for having a big screen, big buttons, but fitting in your pocket without feeling like a brick. Yeah it had performance problems, the battery was rubbish, and it seems high humidity was enough to short the phone to deat...
(continues)
shouldn't it be called...
Shouldn't it be called the Droid SLVR? 😛 as i recall, the slvr was the bar design for the "razr" lineup.
locked tighter than a chastity belt
that's right..... the bootloader is locked down on this droid 😲
That means nothing, I have a sensation and had S-off running custom roms before they unlooked the bootloader. I think it just takes them longer to find root.
Looks Good
This is a really nice phone, looking at the specs. Too bad Google ended up buying Motorola, I would love to have seen a WP7 Mango version of this device. Although, I do realize that probably would not have happened anyway, considering Motorola seemed to be tucked into bed with Android quite nicely.
Looky there
Super thin with LTE.

Looks like Apple could take a lesson from Motorola, eh?
Well, Motorola did invent the cellphone, so if anyone knows how to make it thin, it oughta be Motorola.