Review: Samsung Exhibit 4G
Article Comments
Jul 8, 2011, 8:53 AM by Eric M. Zeman @zeman_e
The Samsung Exhibit 4G is an excellent Android smartphone for the T-Mobile network. What it may lack in style it makes up for with lots of substance. Read Phone Scoop's full review here.
AD article continues below...
Form
Is It Your Type?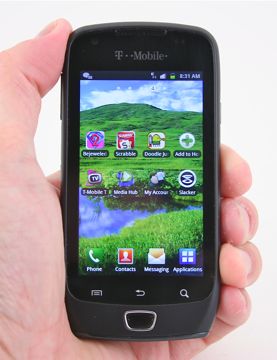 The Samsung Exhibit takes the best features of the Dart and Gravity Smart and merges them into a more powerful and well-rounded phone. If you're in the market for a mid-range Android handset that has a solid camera and a speedy user interface, I present you with Exhibit A, er, the Exhibit 4G.
Body
The Exhibit 4G reeks of averageness with respect to its design. It is as vanilla and me-too as they come. A black face surrounds the display, and plastics form the rest of the body panels. There's nothing distinct about it, it is the Honda Accord of smartphones. Not that I'm saying that's bad, it just is. Whether or not the design turns you on, the Exhibit 4G feels great to hold and use. The materials and manufacture are excellent and the Exhibit 4G has a nice, solid feel to it. It is a good size, not too small, not too large, and the rounded corners and smooth materials make it pocket-friendly.
The display makes up most of the front surface of the Exhibit 4G. As with the recently-reviewed Gravity Smart, Samsung has placed three capacitive buttons below the display for access to the Menu, Back, and Search functions. These three keys work well and offer haptic feedback if you want them to.
The Home key has been pulled out of the typical lineup and given its own space as a stand-alone physical button at the bottom of the front face. Travel and feedback are good, and having a physical home key is great for quickly getting the phone back to the home screen. From time to time I caught myself reaching to the capacitive keys when looking to get back to the home screen, since old habits die hard.
The volume toggle and microSD port are on the left edge of the Exhibit 4G. The volume toggle, placed closer to the top, is quite easy to find and offers excellent travel and feedback. It is a well-designed key. The microSD port is covered by a thin hatch. The microSD card itself is buried a bit too far into the port. My fingernails weren't long enough to reach it. I had to resort to using the tip of a pen.
The lock key is on the right edge of the phone, a location Samsung has been favoring as of late. For a key that will be used dozens of times per day, it is a bit too small, and offers unsatisfying travel and feedback.
The 3.5mm headset jack is on the top edge of the Exhibit 4G, as is the microUSB port. It is covered by a hatch, and the hatch is easily peeled away from the port.
Though the Exhibit 4G isn't an inspired piece of smartphone kit, it feels good to hold and use.
The Three S's
Screen
The Exhibit 4G has a 3.5-inch display with 800 x 480 pixels. Stuffing so many pixels into this smaller display makes for great pixel density and a really sharp-looking screen. It may not be one of Samsung's stellar Super AMOLED displays, but the Exhibit 4G's LCD gets the job done in fine fashion. Colors pop off the screen, and icons, text, and graphics all look as smooth as a baby's bottom. It isn't blindingly bright, but is more than adequate for indoor use. Outdoors in bright sunlight, the Exhibit 4G's display doesn't hold up so well. I found it very difficult to read and noticed that I was often looking for shade outdoors to see anything.
Signal
The Exhibit 4G performed well for a T-Mobile device in the metropolitan New York City area. In my home, it captured two bars, which is pretty typical there. As I traveled around with the Exhibit 4G to points across New Jersey, it ranged the gamut from zero to five bars. It was connected to T-Mobile's 4G network most of the time, and hardly ever dropped to EDGE. The Exhibit 4G remained connected to T-Mobile's network reliably enough that it didn't drop any calls. It missed several, though, and I had to re-dial a handful as well. Other than that, I had no problems. Data sessions were mostly jackrabbit fast. When under T-Mobile's fastest HSPA+ network, the Exhibit 4G was very quick to download web pages.
Sound
Phone calls sounded excellent through the Exhibit 4G's earpiece. Not only were they clear of static and noise, they were also present and warm sounding. There weren't any robotic or digital overtones clouding up conversations. The earpiece is also capable of producing painfully loud volumes. This means hearing calls in noisy environments won't be a problem. Ringtones and other alerts can be set to near-concert levels, ensuring that your neighbors will wake up every time you get a call. Use that volume button cautiously. The speakerphone is also insanely loud, and calls via speakerphone were clear, though prone to distortion if the volume is cranked too high. The vibrate alert was good, but not excellent.
Battery
The Exhibit 4G performs just fine when it comes to battery life. The device typically lasted about 1.5 days between charges. I found it needed to be plugged in by the afternoon of the second day. This is more than enough battery life for most users, who will likely charge each night anyway. Even some seriously heavy usage, including GPS navigation with Wi-Fi and Bluetooth on, didn't sap the battery too much.
Basics
Menus
From here on out, the Exhibit 4G mirrors other Samsung devices with respect to the software experience. It runs the same version of TouchWiz on top of Android 2.3.3 Gingerbread that other Samsung devices, such as the Droid Charge and Infuse 4G, use.
There are five home screen panels loaded out of the box, but the Exhibit 4G supports up to seven of them if you wish. Adding/deleting them is a breeze. Samsung has placed four permanent apps in a dock at the bottom of the home screen panels: Phone, Contacts, Messages, and Menu. The home screen panels can, of course, be customized with user apps, shortcuts and widgets.
The main app menu is laid out in 4 x 4 grids that slide from side to side rather than up and down. Applications are listed alphabetically by default, but it is easy to rearrange them into any order you like. The main menu can also be set to appear in a single list view.
The notification shade includes shortcuts for turning off the Exhibit 4G's various radios (such as Wi-Fi and Bluetooth) to save power, as well as a quick "silence" key, and a screen rotation control button. Otherwise, the overall menu architecture is about what you might be used to with Android.
The Exhibit 4G is a quick performer. It never felt slow or bogged down.
Calls/Contacts
Calls
The calling application is the stock Android app. From the dialpad, you also have access to voicemail.
In-call options include the typical features, such as adding a line, sending the call to Bluetooth or speakerphone, turning the dialpad on/off, etc. All of the features worked properly.
The Exhibit 4G also supports T-Mobile's Wi-Fi calling feature. When the Exhibit 4G's Wi-Fi radio is active, it can make calls via your home Wi-Fi network. The Exhibit 4G will not roam onto the cellular network if you step out of range from your Wi-Fi hotspot, however.
Contacts
The contact app, too, is stock Android. The Exhibit 4G makes it easy to search through the contact database with but a few taps, as well as sort contacts into groups and/or favorites.
The Exhibit 4G also includes the Samsung "Buddies Now" home screen widget that can be populated with links to up to nine buddies. It loads up a full-screen carousel with the faces of your nine top friends. Scroll through the list for easy access to calling and messaging tasks via the action bubbles that appear in the widget next to your friends' avatars.
If you want to look at a buddy's entire contact card, simply press their avatar and you'll be taken into the contact application. This app can be used instead of setting a handful of contact shortcuts to the home screen.
Messaging
The Exhibit 4G offers the same stock Android messaging apps as found on the Dart and Gravity Smart, but, puzzlingly, it ditches T-Mobile's Group Text and Cloud Text features.
There are three email programs (Gmail, Email, T-Mobile Email) from which users can choose. I still prefer the native Gmail app, though the generic email application works fine for non-Gmail email services (such as Exchange).
The SMS application offers threaded, conversational texting and the GTalk application serves as the Google instant messaging client. You'll need to hit the Android Market to find support for AIM, Windows Live or Yahoo IM.
Facebook is pre-installed, but Twitter isn't. Google's Latitude is also pre-installed, as are some catch-all social networking applications from Samsung. The catch-all app can access Twitter, Facebook, MySpace, and RSS if you want to get all your updates in one place.
The Exhibit 4G is pre-loaded with Qik's video chatting service, and includes a user-facing camera to use with it. My experiences with Qik continue to be hit-or-miss, and it can only be used with other Qikkers.
Extras
Media
Music
The Exhibit 4G has the Android music player, but several welcome features have been added to it. You can sideload music directly to the device or via the microSD card, and it will automatically appear in the Exhibit 4G's music library. The app lets you sort through playlists, genres, albums, artists, recently played, and so on.
The best thing about the app, though, is that Samsung has included a powerful equalizer. I realize this is something most people will ignore, but for this music aficionado, it is great. There are a dozen preset equalizers, and there is a user-adjustable 8-band custom EQ. That's a rarity on smartphones.
Slacker is preloaded for your music streaming needs, as is Samsung's Media Hub. The Media Hub can be used to purchase/rent TV shows and movies, but not music. If you want to purchase music from the Exhibit 4G, you'll have to download the Amazon MP3 app all on your own.
Video
For video playback, the Exhibit 4G includes the stock Android YouTube application, T-Mobile TV, and a video player app. T-Mobile TV is a video streaming service and offers snack-sized bits of TV shows and sporting events. The video player app is used for movies downloaded from the Media Hub or sideloaded by the user. It works fine, though it doesn't offer anything special or unique in terms of playback features.
The Exhibit 4G also has AllShare DLNA software on board, which lets the phone send/receive video, music, and photo content to/from other similarly equipped devices.
Camera
Camera
The Exhibit 4G's camera viewfinder window is busy with controls running down either side. On the left, users can switch to the front camera, select shooting mode (single, panorama, continuous), the camcorder, and the exposure, On the right, you can access the full settings tools and the gallery. One glaring flaw with this menu set-up is that Samsung moved access to the flash from the quick-access screens to the full settings menu. This means it takes longer to toggle the flash settings. Boo, Samsung!
The main camera settings menu is extensive and lets advanced users adjust nearly every facet of the camera and picture-taking experience. Exposure, scene/setting, metering, ISO, and more can all be tweaked.
The Exhibit 4G has touch-to-focus, and will lock onto anything you want in the viewfinder. Focusing takes about a second, and once the focusing box turns green, you can shoot the image.
About my only serious complaint is that the Exhibit doesn't have a physical shutter button.
Gallery
The Exhibit makes use of the stock Android 2.3 photo gallery. Images are stored in floating stacks based on date. The view of the gallery can also be switched to a more linear timeline view. Once you dive into the gallery or photo you want, you'll find more of the same standard Android experience.
The only editing options available on the Exhibit are crop and rotate. Photos can be shared with a number of the most popular social networking and photo sharing services.
Photos/Video
Photos
The Exhibit has a 3.2 megapixel camera. As with the Gravity Smart, the Exhibit takes exceptionally good photos for such a mid-range handset.
Outdoors, nearly all the images I took were perfectly in focus, with little visible grain. The touch-to-focus feature helps a lot in this respect, as it lets you focus on exactly what you want. White balance and color were accurate, and the Exhibit did well when shooting extremely bright subjects. Indoors, focus and sharpness suffer a bit, and there's more grain than I'd like to see, but white balance and color accuracy is spot on.
Images captured by the Exhibit are definitely worth sharing via social networks.
Video
The Exhibit can shoot video at a maximum resolution of 480 x 720. When at this highest setting, the Exhibit 4G does a good — but not great — job of capturing video. The video was mostly clear of blocks and choppiness, and color, focus, and clarity were very good.
Browse/Customize
Browser
The Exhibit comes with the stock Android browser. Paired with T-Mobile's HSPA+ network, it worked well, and most data sessions were fast enough to satisfy your inner speed demon. I didn't notice any additional features or functionality added by Samsung. The Android browser continues to be a good piece of software and the Exhibit's solid connection to T-Mobile's data network led to a pleasurable web browsing experience.
Customize
The Exhibit can be customized to the same extent that most Android phones can. The home screen panels can be left blank or stuffed to the gills with apps, shortcuts, and widgets.
Extras
Apps
The Exhibit is packed with applications. It has a number of games, such as Scrabble and DoodleJump. They are fun to play. The Exhibit also includes the new DriveSmart application for managing your phone when in the car. Other notable applications include Swype, LookOut, and Mini Diary. LookOut is a free security program. Mini Diary is similar to Evernote, and serves as a way for users to record thoughts and images in a diary-esque format. The Exhibit also ships with T-Mobile's AppPacks, which makes recommendations on what you might be interested in.
Bluetooth
The Samsung Exhibit has Bluetooth 3.0 on board. Pairing with devices such as mono and stereo headsets, as well as laptops was no problem. Call quality through mono headsets was quite good, though not as loud as through the earpiece on the phone itself. Playing music via Bluetooth speakers, the Exhibit sounded really good. The connection didn't cut out, as sometimes happens, and the clarity of music was excellent.
Clock
Press the power/lock key and you'll see a nice, large digital clock on the Exhibit's home screen. It's perfectly visible indoors, but much harder to see outside. In fact, I often couldn't see it when under a sunny sky. This clock can't be altered or changed. The clock application found in the main menu only shows you alarms, time zones, and such.
GPS
The Exhibit comes loaded with Google Maps/Navigation and TeleNav. Both are capable pieces of software for creating maps between points. TeleNav's navigation services makes it a bit easier to find nearby points of interest, and is faster at re-routing you if you get lost. The most recent update to Google Maps version 5.7 includes some great features, such as transit navigation for city-bound folk and offline map caching. Google Maps is free, of course, and TeleNav's services cost $10 per month.
Wrap-Up
In the recent tri-fecta of Samsung Android smartphones for T-Mobile, the Exhibit 4G is clearly the best. While the Dart and Gravity Smart each have their own strengths, the Exhibit 4G rates above average in almost every way we test phones.
The display looks great, call quality is excellent, data performance is zippy, and even battery life rates well. The TouchWiz user interface isn't too intrusive and gives the system software its own, non-stock look. The 1GHz processor means the Exhibit 4G is a speedy device, and the media playback/capture tools perform with pizazz.
About the only complaint I can lodge against the Exhibit 4G is its ho-hum design. Like the Honda Accord, it may be a bit on the boring side to look at, but it will get you where you want to go, reliably, time and again. There's a lot to like about the Exhibit 4G, including the low, $80 price point. Go ahead, buy one, you can thank me later.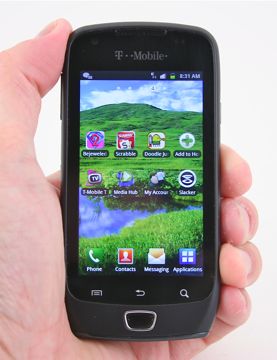 No messages