U.S. Cellular Announces Its First Windows Phone
Article Comments 4
Jun 13, 2011, 1:49 PM by Eric M. Zeman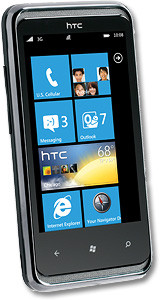 U.S. Cellular today announced the HTC 7 Pro, the company's first Windows Phone 7 smartphone. THe HTC 7 Pro is a rebadged version of Sprint's HTC Arrive. It has a slide-out, tilt-up QWERTY; a 5 megapixel camera with flash, autofocus and 720p HD video capture; stereo Bluetooth 2.1 EDR, Wi-Fi and GPS. The 7 Pro has a 3.6-inch display with 800 x 480 pixels, and a 1GHz Qualcomm SnapDragon processor. U.S. Cellular is selling it for $199.99 after a $100 mail-in rebate s tarting June 14.
So, in other words ... 299.99 before mail in rebate?
Seems a bit steep.
PaulAlcohol said:
Seems a bit steep.
Yup. It's bad enough Windows phones aren't selling as much as they hoped but when they pull $hit like this, it's like they're committing suicide.
Yeah I agree...this is a bit steep. Especially considering they just launched the Merge and the Genesis and both of those are cheaper than the 7Pro...don't get me wrong...the 7Pro is a great device...but why is it more than 2 devices that are better?!...
(continues)